Dear Senator Whitehouse,
In response to your latest email A Moral Urgency To Act On Climate, I would like to let you know that I have a hard time reconciling your writing with your support of natural gas as a bridge fuel.  The problem with your email is not with what you write, but with what you omit.
Here is the video that shows Pope Francis holding up that t-shirt saying "NO AL FRACKING."  The conclusion is clear, Senator Whitehouse, you do not have the Pope on your side.  Indeed, in his Encyclical Letter Laudato Si'  he quotes Patriarch Bartholomew:
[F]or human beings to degrade the integrity of the earth by causing changes in its climate, by stripping the earth of its natural forests or destroying its wetlands; for human beings to contaminate the earth's

water

s, its land, its air, and its life – these are sins.
The secular humanists among us might not have chosen the word "sin," but that's not the point.
I uploaded several papers for your perusal on my web site.  The titles of the first two say it all:
A bridge to nowhere: methane emissions and the greenhouse gas footprint of natural gas
A crack in the natural-gas bridge
These two papers are not all that new, but they are just as relevant now as when they were first published.  They demonstrate that your support for natural gas as a bridge fuel is extremely ill-conceived.  A third paper, A Comprehensive Analysis of Groundwater Quality in The Barnett Shale Region, has just been accepted in Enviromental Science and Technology.
This paper only scratches the surface of the reality that comes with the wholesale destruction of the environment that you support.  This, Senator Whitehouse, is its human face:
The late Randy Udall estimated in 2013 that the oil and gas industry had leased 10% of the Lower 48—wholesale destruction indeed.
Look at this from the perspective of Pope Francis' encyclical:
We all know that it is not possible to sustain the present level of consumption in developed countries and wealthier sectors of society, where the habit of wasting and discarding has reached unprecedented levels. The exploitation of the planet has already exceeded acceptable limits and we still have not solved the problem of poverty.
Shrill is the contrast with the economic ideology that can can come up with nothing but a carbon fee "to adjust the market."
The papers you'll find are just a tiny fraction of the science that led to a ban on fracking in New York and Maryland. If you are interested, I can supply you with quite a few  more. Science is having a hard time keeping up with the pace of the industrial developments.  As a consequence, little of it is definitive, but what is known is extremely disconcerting. One thing is clear: fracking poses a serious threat for the environment and for the health of vulnerable communities that are sacrificed to the pernicious ideology of perpetual, reckless growth.
With the impending start of the build-out of the compressor station in Burrillville and the construction of the rest of the AIM Project, it is particularly distressing that you have remained silent while the Federal Energy Regulatory Commission has ignored numerous requests for rehearing of the AIM Project.  Mayor Martin Walsh of Boston—see #4 on my list—and  your colleagues, Senators Warren and Markey of Massachusetts have weighed in, but the RI congressional delegation, which seems to take its lead from you in this matter, is nowhere to be found.
Your realization that the AIM Project was driven by the industry's desire to export gas to the world market came too late, years after it was front page news in the American Oil and Gas Reporter.
We have brought up these issues before, but unfortunately you have never provided a reasoned response. You appear to have delegated your fiduciary responsibility to protect the environment to federal agencies that operate following statutes written by the very corporate interests that they are supposed to regulate. One of the most egregious examples of this regulatory capture is the "Halliburton Loophole."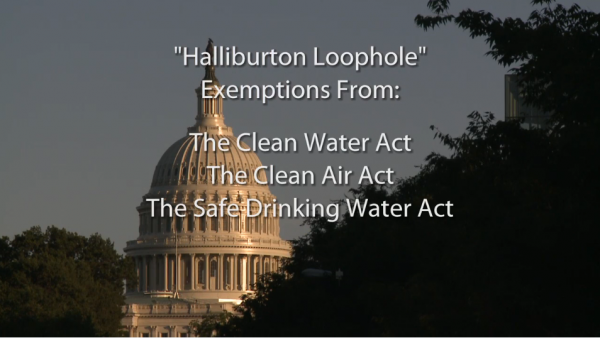 Here is the relevant, perverted section of the Safe Drinking Water Act on fluid injection, which together with the resulting "produced water" backflow, is essential to fracking:
"The term 'underground injection' –

(A) means the subsurface emplacement of fluids by well injection; and
(B) excludes –
(i) the underground injection of natural gas for purposes of storage; and
(ii) the underground injection of fluids or propping agents (other than diesel fuels) pursuant to hydraulic fracturing operations related to oil, gas, or geothermal production activities."
While the SDWA specifically excludes hydraulic fracturing from UIC regulation under SDWA § 1421 (d)(1), the use of diesel fuel during hydraulic fracturing is still regulated by the UIC [Underground Injection Control] program.
The effect of the destruction visited on American Frackland does not stay there.  As James Hansen on page 7, line 15, of his Friend of the Court Brief (number 5 on my list) wrote:
[F]ailure to act with all deliberate speed in the face of the clear scientific evidence of the danger functionally becomes a decision to eliminate the option of preserving a habitable climate system.
This brief was part of 2011 Atmospheric Trust Litigation, designed to address government's delinquency as a trustee of the environment, and to secure "the legal right to a healthy atmosphere and stable climate for all present and future generations."  Here is a more detailed and more recent presentation of the science that led Hansen to the statement quoted above.
Four years have gone by since Hansen wrote his brief, but we continue our relentless wrecking of the global climate.  Those who mistake feel-good rhetoric for reality might see progress, but I'm a simple physicist; I measure progress by numbers not adjectives.
As of today, we have to reduce our greenhouse gas emissions globally by 7 percent per year, a number that does not even begin to account for the additional immediate threat posed by the fugitive methane that will be emitted as a consequence the natural gas policy that you support.
Few understand what a yearly 7 percent global greenhouse gas reduction would look like; I certainly do not.  All I know is that "Mother Nature is not a kindly grandmother," as Randy Udall put it.  She is not moved by my lack of understanding nor by your apparent political pragmatism.
When you write about moral urgency, this causes a painful clash with the fact that National Grid is one of your biggest energy sponsors.  This is just a relatively minor example of the legalized corruption we still call democracy.  This kind of sponsorship allows the elites to perpetuate a racist, neo-colonial empire in which superpowers thrive while the many suffer, recognized as nothing but unpeople.  Maybe, Senator Whitehouse, you prefer Pope Francis' more delicate formulation:
There has been a tragic rise in the number of migrants seeking to flee from the growing

poverty

caused by environmental degradation. They are not recognized by international conventions as refugees; they bear the loss of the lives they have left behind, without enjoying any legal protection whatsoever. Sadly, there is widespread indifference to such suffering, which is even now taking place throughout our world.
Yours respectfully,
Peter Nightingale
Open letter to Senator Whitehouse: Mother Nature not moved by political pragmatism

,