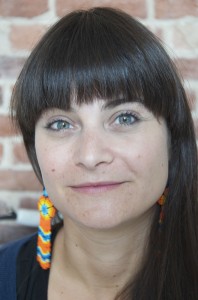 In a day and age when newspapers and magazines are going out of business at a record pace, Providence is home to a new magazine created by Manya Kay called Outpost Journal. You don't have to look very far on the Internet to find web sites to the death of both newspapers and magazines; sites, such as www.magazinedeathpool.com/ and newspaperdeathwatch.com/ have tracked these developments closely.
But what some see as adversity others, like Manya, see the opportunity. Outpost Journal personifies simple elegance in its look and feel with a healthy blend of citizen journalism mixed in. If there ever was such a thing as a magazine made to be in plain view on your coffee table, this is the one!
The following is an interview I recently had with Manya regarding the launch of her new venture and what it means to Rhode Island and beyond.
1) Can you speak about the origins of Outpost Journal and recent decision to launch the publication?
We've been kicking around the idea for Outpost in various formats for almost a decade, but started working earnestly on getting it together in its magazine format in the summer of 2010 with my NYC-based co-founder Pete Oyler. My husband, Clay, works on the publication formally as a photographer and informally in too many ways to count.
The idea for Outpost came about because we are obsessed with creative living and change-making, and because we know a couple of simple things:
1) People in Providence inspire us! The artists living and working here are producing some really interesting, top notch work and the sense of community is incredible. There are also lots of great creative collaborative efforts.
2) People outside Providence don't always immediately understand what is so great about living here. Again, we are inspired every day by individuals living and working in Rhode Island, and recognize the importance of ambassadorship (in representing our city and state's unique and innovative qualities) beyond our borders.
3) Whenever we visit other cities, which we really like to do, we discover people and projects that also inspire us- both by reminding us of stuff in Providence, and showing us how we could do better/might do things differently.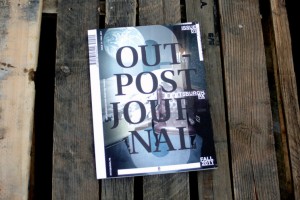 2) Why this venture (and why now)?
Because we feel that no one else is covering this subject matter in such a multidimensional way. We thought it was really important to embody what we were talking about by creating each issue as a work of art in itself, essentially, an interpretive snapshot of art and change in smaller urban centers across the nation.
3) What do you hope to get out of this experience?
One of the most enjoyable parts for us is making connections with folks in other cities- we get really energized by discovering new projects and meeting new people. It's also really interesting to gain an understanding of how the arts ecologies of different cities function (in what ways are local institutions supportive or not supportive, where does the funding comes from, how do artists live in that particular place, what kind of work do they make, who participates in public projects, what does the face of the city looks like both in public and private spaces, etc.).
4) Assistance you may need?
We need help raising funds to print issue 2, as well as to commission a public art installation (for Issue 1, we commissioned an artist to knit a giant cardigan for an 11-ft statue of hometown hero Mr. Rogers in Pittsburgh). We are currently in the process of obtaining our 501c(3) [Subsequent to this interview, Outpost Journal received its 501c(3) designation] and until we receive it are umbrellaed under the amazing AS220. We accept donations and pre-orders of the issue, and will be running a Kickstarter campaign in May that we will need help promoting. We need help organizing our launch party in Providence for the second issue (next fall). We need people to like us on facebook, follow us on twitter, and generally spread the word!
5) How people can subscribe to the publication?
Go to www.outpostjournal.org/#shop and you can purchase Issue 1, and pre-order issue 2 (scroll down for Issue 2).
6) Who are you engaging to help you in these efforts (i.e., interns, where they are from)?
We have had two great interns from Brown- Sophie Soloway, who also helped organize A Better World by Design conference, and now Maggie Lange, who recently graduated and has been helping out on the editorial side. Our Design Director lives in the South Bronx but is a RISD grad and would love to come back here and teach someday. We also have a great group of supporters and contributors and contributing editors and artists, many of whom are from Providence.  Putting the publication together is a true team effort and we are forever grateful to everyone that has made Outpost possible!
This column is as much about civicism than anything else; a word, which looks and sounds a lot like its nemesis, cynicism (the scourge which inhibits our creative actions, evolutionary change, and ultimately our own economic and cultural sustainability). So let's hear it for our civicism!