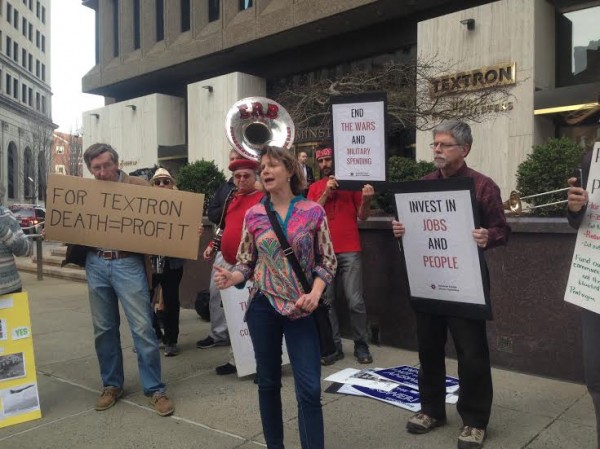 Peace activists took to the sidewalks in front of Textron's world headquarters in downtown Providence yesterday to protest the conglomerate for making and selling cluster bombs.
"These weapons should never be used," said Megan Burke, the director of the Cluster Munitions Coalition who traveled to Rhode Island for the event. "They are a relic of the past and they have no place in the modern world. And yet the United States government buys them from Textron and sends them to Saudi Arabia. What does Saudi Arabia do with them? They drop them over the capital city in Yemen where they hit hospitals, they hit schools, they hit marketplaces and the kill and injure civilians."
Textron's cluster bombs, one of the world's most controversial weapons of war, made international news recently after Human Rights Watch exposed that Saudi Arabia is indiscriminately using them in Yemen. Cluster bombs are outlawed by 119 nations, but not by the United States which buys them from Textron and sells them to Saudi Arabia.
Read RI Future's full coverage of Textron's cluster bombs here:
"Right now Textron is fulfilling an order fom the US government to send to Saudi Arabia," Burke said. "And this is after we already know how Saudi Arabia is using these weapons. We have evidence, we have proof."
She said Americans "need to tell our government that this needs to change. If we can convince our government that this needs to change, Textron won't have a market."
About 25 protesters stood in contemplative silence with signs, played joyous music and/or delivered impassioned speeches while Textron employees filed out of their office building.
"I don't have an opinion on that," one Textron employee said when asked about the anti-cluster bomb action targeting her employer. A Textron security guard watched the entire event, and threatened to have activists arrested if they attempted to deliver a petition with more than 3,000 names on it to Textron executives. There were four Providence police officers on hand.
The activists lamented the grip the military industrial complex has on the American and Rhode Island economy.
"I put it to you that whether you are a Democratic or Republican, a supply-sider or a bleeding heart welfare stater that the fat to trim is in the Pentagon," said Bob Short, of PAX Christi, a Catholic peace group. "For not only is each dollar spent there a betrayal of our needs and hopes but each dollar spend there is a destabilizing influence on the order of things abroad. the cult of expertise and masters of war are not making us more safe but are making us less safe each day."
He added, "Our discretionary military spending is nine times greater than our education budget [and] our health budget. No more! Our discretionary military spending is 50 times greater than our food budget. Not one dollar more!"
Pat Fontes, also of PAX Christi, broke down the economics of cluster munitions. By her estimates, each cluster bomb sells for about $700,00 and Saudi Arabia has bought close to $1billion worth of cluster bombs. She also described how cluster bombs work.
"Another one of the articles I read called these 'heinously smart' bombs," she said. "If it hits the top of a tank it destroys it and it messes up the insides. That's human beings. It messes up the insides. How much more revolting can you get? This is a shameful business they are in. I'm not proud to be an American."
The great @Peter_Night. pic.twitter.com/v0Ae7cWzhs

— Bob Plain (@bobplain) April 18, 2016
At the @Textron protest. pic.twitter.com/kWQjRpanMW

— Bob Plain (@bobplain) April 18, 2016
Protest at @textron is now protesting @textron all over downtown #PVD. pic.twitter.com/Zybn0mQ4uU

— Bob Plain (@bobplain) April 18, 2016
Read RI Future's full coverage of Textron's cluster bombs here:
Peace activists call attention to Textron cluster bombs

,