"The love of money is the root of all evil: which while some coveted after, they have erred from the faith, and pierced themselves through with many sorrows."

-First Epistle to Timothy, Chapter 6, Verse 10; King James Version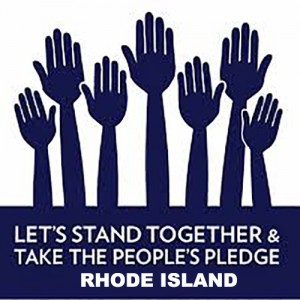 So proclaims the KJV, and ponder that the famous part, "the love of money is the root of all evil," is a proverb older than Christianity itself.
"Issues of campaign finance have taken a front seat in this election," John Marion told RI Future earlier. Marion should know; as executive director of Common Cause RI the task of keeping the three big Democratic primary campaigns of Pell, Raimondo, and Taveras at the table falls to him as they meet to hammer out the details of a People's Pledge. Raimondo and Taveras also swatted at one another over campaign donations this week.
It is beginning to sound like negotiating a Pledge will be akin to a Herculean labor. The Raimondo campaign hit with a one-two punch of an expansive Pledge, covering all outside expenditures, not simply the Super PAC spending; and also requested that the negotiations be open to the media.
It's a canny move, given that it's likely the Raimondo campaign won't just be facing campaign operations, but also public sector union operations aimed at ending her career. The "typical" Pledge used by during Massachusetts' Warren-Brown race for Senate certainly seems to harm Raimondo the most, and the blanket outside spending ban will prevent her opponents from mitigating her significant fundraising lead.
As intelligent as that may be in the immediate future, it seems to ignore that limiting the resources campaigns have will probably lead to negative advertising (because it unfortunately works); and then it becomes a race to see who can emerge the least-bloodied in September. Hopefully, instead of these being ironclad demands, the Raimondo team is merely staking out its ideal position, and will allow itself to be bargained down.
Similarly, the call for opening negotiations to the media sounds like a great idea; until you think that few negotiations of consequence have ever been hammered out in the public eye. Negotiations call for discretion and humility, and the court of public opinion rarely rewards those characteristics, especially for politicians.
But a call for transparency about a Pledge aimed at increasing transparency is good politics, and it's a fine line to walk between voicing legitimate concerns and sounding like you've got something to hide.
Make no mistake about it, this is a war of position right now, with each side marshaling what it needs to hammer at each other come the summer and early fall when voters start actually paying attention.
That's partly why campaign finance has received media attention at all. It is the season of fundraisers and campaign finance reports. With little to report on beyond money, the political scene will be mostly focused on the big political campaigns until the General Assembly starts to take up bills, at which point the media will keep one eye on both.
The problem is that the state is not electing a fundraiser-in-chief, but rather a governor. Ultimately the Pledge is subservient to that goal, providing the voters the ability to select who they think would govern best. Until then, we may find ourselves, like the ancients, pierced through with many sorrows.