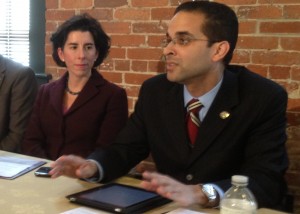 General Treasurer Gina Raimondo is not only interested in coming to the table with her fellow Democrats seeking to be governor and agree to a People's Pledge, but she's also upping the ante to include other campaign-related activities like opposition research and door-to-door canvassing.
"Let's keep all outside money off of the airwaves, out of our mail boxes and away from our phones and doors," said campaign manager Eric Hyers in a statement released this morning. "We have a historic opportunity to come to an agreement that keeps all third-party spending out of this race and ensures that the Democratic primary for governor is just between the candidates running."
Hyers suggested all negotiations be public and that it include "a complete ban on any and all outside spending, including advertising by groups that have not endorsed a candidate in this race in order to prevent outside groups from exploiting loopholes" and "cover all TV, radio and web advertising, all direct mail, paid phones, paid canvassers and opposition research."
Agreeing to limit third party direct mail could hurt Clay Pell, who would seem to have the support of organized labor so far. A limit on canvassing could handicap Angel Taveras, who is said to have an advantage when it comes to boots on the ground.
Hyers said, "Rhode Island can be a national leader in crafting an airtight pledge and we strongly believe that these negotiations should not be conducted behind closed doors."
UPDATE: Pell spokesman Bill Fischer said in a statement sent out this evening: "Clay Pell believes the impact of Super PAC money on our elections is a serious matter and should be treated as such. This process should be facilitated by Common Cause according to their protocols.  The public will be best served by a deliberate process, not by dueling press releases. It's hard to imagine that a fruitful discussion can be accomplished with a roomful of campaign operatives playing to the camera, but this is a call best left to John Marion," said Bill Fischer, Pell campaign spokesperson."
RI Common Cause Executive Director John Marion said in an email, "Issues of campaign finance have taken a front seat in this election."
A People's Pledge is a tool to control outside spending in local elections. First used in Massachusetts, candidates agree to make a donation to their rival's chairty of choice if an outside group pays for an attack ad. John Marion, of Common Cause RI, and Sam Howard, a contributor to this blog, were first to raise the issue and Angel Taveras was the first candidate to suggest it be used. Since then, Raimondo and Clay Pell have both agreed, while Republicans have been less enthusiastic.
The three Democrats now need to find a time to get together.
"Common Cause is communicating with the campaigns of Clay Pell, Gina Raimondo, and Angel Taveras to try and find a mutually accommodating time to sit down and begin discussion of a People's Pledge that all three can agree to," Marion said.