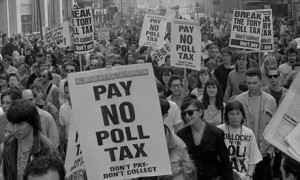 Mitt Romney could still win this election. The other day I was reading an article by Robert Reich on Four Reasons Why Romney Might Win. Reason #4:
As they've displayed before, the Republican Party will do whatever it can to win — even if it means disenfranchising certain voters. To date, 11 states have enacted voter identification laws, all designed by Republican legislatures and governors to dampen Democratic turnout.

The GOP is also encouraging what can only be termed "voter vigilante" groups to "monitor polling stations to prevent fraud" – which means intimidating minorities who have every right to vote. We can't know at this point how successful these efforts may be but it's a dangerous wildcard.
Except in RI where it was a Democratic legislature and an Independent Governor!! It struck me again how strange it is that RI is one of the 11 states.
The Voter ID laws are simply a new form of voter suppression, being sold as a way to end non-existent voter fraud. That's why I created a petition to The Rhode Island State House of Representatives, The Rhode Island State Senate and Governor Lincoln Chafee, which says: "The undersigned urge the RI State legislature and the Governor to vote to repeal the state's discriminatory Voter ID law."
Will you sign my petition? Click here to add your name.
Please Sign: Petition to Repeal RI Voter ID Law

,