Devastation similar to that wrought by a gas pipeline explosion Friday in Salem Township, Pennsylvania is a real possibility in Burrillville, Rhode Island, and discounting this danger would be irresponsible. For a view of the damage done, in which one person was "badly burned," see this footage from Pittsburgh Action News 4. The photos here are taken from this video.
Ashlee Hardway at Action News 4, wrote, "The explosion happened around 8:30 a.m. and involved a 30-inch pipeline owned by Texas Eastern, a unit of Spectra Energy, according to the Pennsylvania Department of Environmental Protection."
The explosion means that Spectra Energy will not be able to deliver the gas it has been contracted for, and the company has declared force majeure, which temporarily voids a contract for reasons outside a company's control. This might mean that a dual fuel power plant, like the one planned by Invenergy for Burrillville, will have to start burning diesel oil until the gas pipeline is repaired.
The cause of the explosion has not yet been determined, but it's hard not to think about a conversation I had with two Spectra Energy inspectors in November who claimed that the company cut corners in building their pipelines.
The safety inspectors essentially predicted this disaster.
"Right now, what they're hoping to do, is they're hoping to slam all this through, and then at the end ask for forgiveness," said one of the former inspectors. "Oops, sorry about that, I didn't know, let me write you a check. Because once this thing's turning meter, they're going to be making millions of dollars a day. It doesn't matter what your problems are…"
Perhaps suspecting their days are numbered, fossil fuel companies are rushing to build the infrastructure required to keep us dependent on methane or "natural" gas for the next 50 years or more, even as evidence mounts that methane is a major contributor to climate change. This gives lie to the claim that methane will serve as a bridge fuel, something to ease the transition from fossil fuels to green energy sources, as the infrastructure investments being made are long term and permanent. Companies are investing billions laying pipelines, building compressor stations, and constructing energy plants and other infrastructure ahead of industry-wide extinction.
In their rush to build, safety and environmental concerns are being brushed aside, suspect many experts. A recent "Pipeline Safety Trust analysis of federal data," shows that, "new pipelines are failing at a rate on par with gas transmission lines installed before the 1940s."  Sarah Smith writes that Carl Weimer, director of the Pipeline Safety Trust, told attendees at a National Association of Pipeline Safety Representatives annual meeting in Tempe, AZ that, "The new pipelines are failing even worse than the oldest pipelines."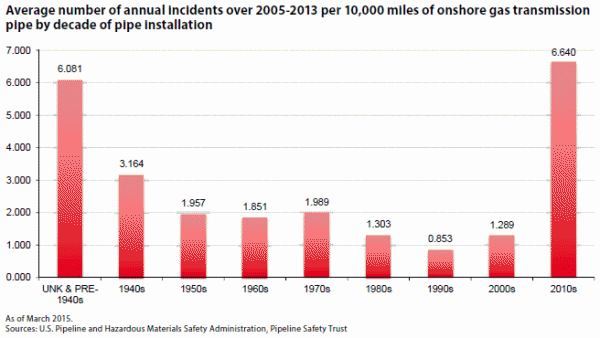 Though some of the problems may be related to workers learning how to implement the latest technologies, Weimar says, "there's also some suggestions that we're trying to put so many new miles of pipeline in the ground so fast that people aren't doing construction … the way they ought to."
In the same piece Smith quotes Robert Hall, of the National Transportation Safety Board Office of Railroad, Pipeline and Hazardous Materials Investigations, who agreed that, "the rapid construction of pipelines in the U.S. is likely a contributing factor to 'people … out there possibly taking shortcuts or not being as diligent' as they would be if the pace of construction were less fervent."
According to the whistleblowers I talked to:
These pipes have to last underground for at least 50 years. If there's the smallest mistake in their cathodic protection, that's what's going to corrode. All of a sudden you've got, even at 800-900 pounds of pressure, doesn't sound like much, but when you've got a 42 inch pipe, traveling that distance and it goes ka-bang, you're not talking about taking out a block, you're talking about taking out a large area. You're talking about a humongous ecological impact, you're talking about displacing hundreds of families, you're talking about leveling homes, killing people instantly, I mean, if one of those places were to go up, it's going to be a bad day."

In 2011 a cast-iron gas pipe cracked, causing an explosion that killed five people in Allentown, PA. Pipes like those are no longer used. But when work is rushed, construction is sloppy and disaster is possible.

"There's a reason we do what we do," said Inspector One, "Every bolt is torqued. I know when you torqued it, I know what torque wrench you used, what model number, when it was calibrated. That's how serious every flange has to be. Because if one of these points blow up you're talking about a humongous issue. These guys are making those kind of mistakes. They're short-cutting things, they're not inspecting things properly, they're covering stuff up before an inspector's had a chance to look at it.

"I have had inspectors that have come up to me in the field and have said to me that there is a pipe buried under ground that was not inspected appropriately. And the reason that it was not excavated and inspected is that it cost too much money."

All pipeline welds are examined with x-rays to make sure they are up to code. After the weld is x-rayed the inspector waits for the film to come back from the lab. "How is it that you have a pipe already buried before you receive the film?" Inspector One asks, noting that he had a tech "receiving the film (on Tuesday) for a pipe buried last Wednesday."
Spectra "has a checkered history of accidents and violations of federal safety rules in the U.S. and Canada dating back decades," says Dan Christensen writing in the Miami Herald.  "Since 2006, the U.S. Pipeline and Hazardous Materials Safety Administration recorded 25 incidents that caused more than $12 million in property damage along Spectra's main line — the 9,000-mile Texas Eastern Transmission that connects Texas and the Gulf Coast with big urban markets in the Northeast. The causes ranged from equipment failure and incorrect operations to pipe corrosion."
SpectraBusters has a long list of links to stories about Spectra's poor performance record.
Spectra, a multibillion dollar company, will likely cut a check to cover the damage in Pennsylvania. That check might amount to a day's earnings for the company, maybe less. Meanwhile, what is the cost in human terms?
The victim "told us that he heard a loud noise and compared it to a tornado. All he saw was fire and started running up the roadway and a passerby picked him up," [Forbes Road Fire Chief Bob] Rosatti said.

"The heat was so intense that it was burning him as he was running," he said.

A quarter-mile evacuation zone was established. Rosatti said the explosion and fire "damaged all the trees, all the utilities going down the roadway — the phone, cable, electric. Burned all the telephone poles off. It kind of looks like a bomb went off."
PA gas pipeline explosion predicted by whistleblowers

,