Thursday Dec 5, 2013
North Kingstown, RI – Good morning, Ocean State. This is Bob Plain, editor and publisher of the RI Future blog podcasting to you from The Hideaway on the banks of the Mattatuxet River behind the Shady Lea Mill in North Kingstown, Rhode Island.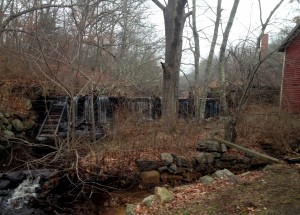 It's Wednesday, December 5th … and all across the country today fast food employees will be walking off the job. Here in Rhode Island, Warwick Wendy's employees who protested outside their workplace in November plan to walk out of work at noon, organizers tell me. RI Future will be there capturing video of the action….
The emerging nation-wide movement of fast food workers is seeking $15 an hour … an average 67 percent in pay, according to the New York Times.
The Providence Journal is for sale! And according to publisher Howard Sutton that news "…opens a new chapter in the history of our news organization." Indeed, all of Rhode Island.
In a post on this blog last night, Sam Howard suggested the people of Rhode Island should buy the ProJo. This is actually really really doable. The paper is expected the fetch somewhere between 10 and 50 million … or, 25 million less than we gave a baseball player to make a video game. I'm not suggesting the state buy the paper, but rather that numbers aren't an unheard of investment in these parts. I bet both Linc Chafee and Ken Block gave serious consideration to making a play for our paper of record last night …. much more on this idea to come…
More positive economic development news: the Newport Jazz Festival is adding a third day to feature less-well-known musicians. The Rhode Island Foundation is helping to fund the Friday performances and Executive Director Neil Steinberg, said, "we're leveraging a treasure." ….Same could be said of big old grant from the Foundation to buy the ProJo…
In a victory over NIMBYism, Rhode Island approved a transmission line from the Block Island wind farm to meet the mainland near Scarborough Beach. Some neighbors and tea party-types were fighting against the transmission line….
And according to a new poll, 46 percent of respondents said the plastic bag ban in Barrington encouraged them to use reusable bags, 56 percent said they support the new rule and half of respondents said they support a state-wide ban … meanwhile 28 percent said they shop less in Barrington because of the lack of plastic bags …. I would love to interview the Barrington resident who is driving to Warren or Portsmouth for groceries because they need their plastic bags!
A Westerly zoning board member resigned over the COPAR quarry fiasco yesterday saying lawyers for both sides have caused unnecessary delays. According to the Westerly Sun, he said, "Neither I, nor the other members of the Zoning Board, are the reason that this appeal has repeatedly been continued and not heard. It has apparently been determined by attorneys on both sides of the appeal that there has been a mutual benefit to the continuances."
A pod of pilot whales has become stuck in the shallow flats of the Everglades in south Florida … several have died, and so-far the surviving some-odd 40 whales are still swimming, but they won't leave the shallow water and scientists don't understand why not…
NPR had a story on payday loans this morning and Morning Edition host David Greene called the interest rates "ridiculously high" …Ridiculously, that was adverb NPR, not RI Future, used, a news organization that is often ridiculously unbiased.
And the New York Times reports that the five major oil companies are prepared to build a carbon tax into their cost of doing business … this is noteworthy because Republicans have long claimed that industry would refuse to do so … so in this case, and maybe others, free enterprise is more amenable to paying for its consequences than the political party who defends them would have America believe … go figure…