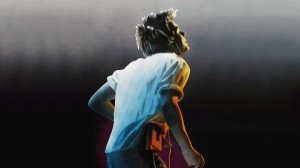 Footloose has come to Middletown High School. Educators there banned a sexually explicit kind of dancing called grinding and at the homecoming dance Saturday night students protested causing the principal to cancel the dance and send the students home early. Amazing! I promise you the students did much worse than grinding once they were unchaperoned outside of the dance than they did while at the dance.
I say let 'em dance, and have a big long talk with them about how to treat potential sex partners with honor and respect. That said, get ready for a culture war over this one. Middletown Patch has a great story on what happened, with some really fascinating comments from the local parents.
It seems we aren't the only members of the media who thinks the Doherty campaign is falling short of uncommon integrity. ProJo columnist Ed Fitzpatrick  takes Doherty to task for manipulating Cicilline's career as a defense attorney in a robocall writing, "the GOP robocall hits below the belt, and it calls for someone to state the obvious: Defense lawyers play an essential role in our criminal justice system and the sins of the client are not visited upon the attorney." Scott MacKay, of RIPR, lambasts Doherty for getting facts wrong on Simpson-Bowles politics and for the paper tiger Democrats for Doherty, which looks more like a PC Friar alumni group than a political powerhouse.
While Doherty has more money, as Ted Nesi reports, it seems the rest of the media has concluded that – amazingly – Cicilline has the truth on his. The two debate live at PPAC tonight, 7 p.m.
Want to know how to fix Rhode Island's economy? Sink every resource we can into the I-195 redevelopment project. There is no city or state in the country that wouldn't love the opportunity to re-develop its cultural and commercial center.
Treasurer Gina Raimondo's financial literacy program to help Rhode Islanders better manage their money (or lack thereof) is a fantastic idea, and we're thrilled she is working with the Capital Good Fund. Financial literacy is one of the huge natural advantages the haves enjoy and the have-nots often do not.
Rhode Island is exporting progressives!! Cynthia Dill is a progressive Democrat, who grew up in Barrington, hoping to win the Maine Senate seat formerly occupied by moderate Republican Olympia Snow.
Dan Barry has the best beat in America. If you aren't, you should read his multi-part profile on a small town in Ohio.
"The person with the hardest task [in tonight's debate] probably isn't President Obama: it's moderator and CNN anchor Candy Crowley."