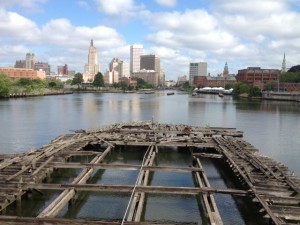 The cable networks may have cut away from Linc Chafee's speech at the DNC last night, but trust those of us who were streaming it on the internet: Rhode Island's independent governor nailed it.
He spoke about pride in country, love of the land, social responsibility and fiscal responsibility, and then said, "The values I have spoken of tonight aren't Republican or Democratic values – they're American values."
You can read his speech here or watch it here.
Meanwhile over at the Salty Shrine, David Cicilline and Anthony Gemma had a much more substantive and subdued debate than they did last week. Gemma scored some points for not engaging in his smear campaign (talk about a low bar!) and he also finally addressed his phony following on Twitter and Facebook. He said his fake followers have nothing to do with his campaign. Not true: his social networking fraud has everything to do with his character, which he himself has made an issue.
Let's all take a moment to enjoy the irony of WPRO hosting a more subdued and substantive debate than anyone, let alone WPRI, which offers some of the fairest political coverage in the state. The lack of a crowd was a giant factor in this, but so was the professionalism with which Bill Halberman handled last night's debate.
Check out this really cool interactive graphic of the most common words being used at the DNC, and who is using them.
One of the most moving parts of the evening was a video tribute to Ted Kennedy … if you missed it you can watch it here.
It's more expensive to run for a seat in the State House than one might think … or at least, in some races it is.
New affordable housing is coming to Southern Rhode Island – good news seeing how this is one of the areas of the state that suffers the most from economic inequality.
On this day in 1957, Jack Kerouac's "On the Road" was first published. Here's what the New York Times review thought if it then.