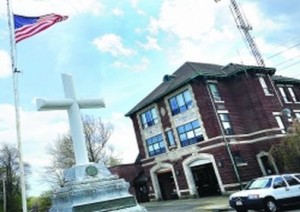 There is a major and potentially very ugly battle brewing in the Ocean State that has nothing to do with tax rates, struggling cities or bankrupt ballplayers: I'm talking about religious symbols on public property, and it's getting out of control.
The most recent example (which you learned about first from RI Future), a cross that a car wash owner put on a strip of city-owned land that he has long taken care of, is an interesting example: is it a religious symbol, a memorial or an act of protest? The business owner, Peter Montaquila, told WPRO yesterday he put it up to stand in solidarity with the Woonsocket Cross, also a less-than-Constitutionally-clear case.
But issues of legality are relatively easy to sort out … the danger is that the non-legal battle lines are being drawn in the sand – and the situation is getting tense. Montaquila, like the owner of the flower shop who refused to deliver a bouquet to Jessica Ahlquist when she won her case against a religious symbol in Cranston West High School, said he doesn't want to do business with those who don't agree with him on this issue. Could we start seeing signs in business windows: "We don't serve atheists."
Politicians, like Rep. John McLaughlin of Central Falls, and shock jocks like John DePetro, are fanning the flames with angry rhetoric against those who see a line between church and state.  Their colleagues should call them out and implore them to be leaders rather than instigators.
People take both their religion and their Constitution protections very, very seriously and this is the third such nasty fight over the nexus of the two in a year here in Rhode Island. Someone should step and act like a leader before something really ugly happens.
Speaking of John DePetro, he is inviting some interesting karma picking on Gov. Chafee's 18-year-old son for having a party … the mean-spirited talk show host could find himself in a similar situation someday…
Don't believe a word Curt Schilling says about Gov. Chafee's public comments about solvency crippling the company … the Associated Press reports that 38 Studios was already considering bankruptcy by the time the story went public.
AP reporter Laura Crimaldi obtained the confidential documents that led to this very telling development. Unfortunately for Rhode Island, today is her last day with the Providence bureau as she is moving on to a job with Boston Globe … what a way to go out Laura and best of luck in Beantown!
Speaking of great local reporting … no one covered the local effects and reactions to the Supreme Court's decision on the Affordable Care Act better than Ted Nesi yesterday (check out his blog for a variety of different stories). We pick on Ted often because of the pro-business/pro-establishment bias he sometimes displays, but it's also well-worth pointing out that he is far and away the most talented journalist covering the Ocean State.
One more note about local reporting … here is Kathy Gregg's lede from her story yesterday on campaigns for seats in the State House: "How many Rhode Island lawmakers will return to the State House next year without having to face an opponent? The answer is: very few."  And here is the lede on her story today: "One out of five General Assembly incumbents is running unopposed."
Is 20 percent "very few"? On the contrary, we think it's a great many. Perhaps the Projo can report this yet another way tomorrow…