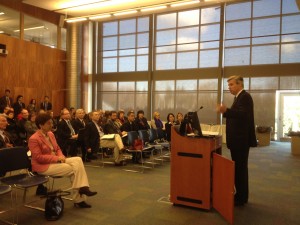 Each month, members of the Progressive Democrats of America across the country send letters to our national representatives. Last month, our top priority was killing the Farm Bill because of its draconian cuts to food stamps.  In a surprise victory, the Farm Bill went down in the House.
By voting against the Senate bill, Senators Jack Reed and Sheldon Whitehouse were crucial players in one of progressives' few national wins. We're very proud of their leadership.
Below is an example of the letters we sent to our congressional delegation, cosponsored by the George Wiley Center:
Thank you for voting against the Senate Farm Bill because of its irresponsible cuts to food stamps!  Your leadership is inspiring.  All around the country, members of the Progressive Democrats of America are delivering letters to their Representatives and Senators urging them to join with you and Senator Reed to stand up for the voiceless millions going hungry in America.  We cannot afford to lose this fight.

In a fit of austerian cruelty, the heartless budget cutters in the House propose to slash $20.5 billion from this vital program.  Democrats cannot let this happen.  If Washington insists on intellectually bankrupt austerity policies that keep millions out of work through no fault of their own, surely the least Congress can do is let the unemployed eat.  We urge you to stay strong and continue to oppose any farm bill that cuts food stamps.

Also known as the Supplemental Nutrition Assistance Program (SNAP), food stamps are one of the most effective government programs.  Average benefits provided under SNAP are only $133.41 per person per month—not even $1.50 per meal.  Yet nutritional assistance is among the most powerful economic stimuli, with benefits that flow directly and immediately into the economy, boosting aggregate demand and creating jobs. Secretary of Agriculture Tom Vilsack confirmed, "Every dollar of SNAP benefits generates $1.84 in the economy." Conversely, decreasing SNAP would cause increased health care costs and incite crime, diminish productivity, stunt childhood development, and impose other collateral damage on innocent American families.

We are proud to be represented by the two Democratic Senators who refuse to vote for a farm bill that cuts this critical lifeline.  Please keep fighting!

Thank you for your time and attention,

The Rhode Island Progressive Democrats of America and the George Wiley Center.