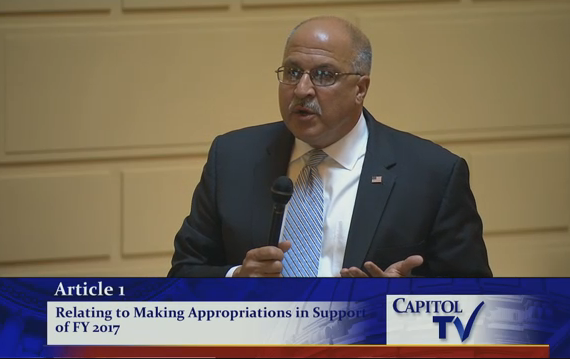 As far as the $8 billion state budget goes, an additional $900,000 to fund free RIPTA rides for the elderly, disabled and destitute through the fiscal year seems like a small ask. But in this year's House budget bill, it was the only evidence of dissent between progressives and the more conservative Democrats who control the chamber.
Even at that, House Republicans were more united in their support of the free RIPTA rides program than were several left-leaning legislators. The smaller but demonstrably more vocal GOP caucus spent Wednesday's marathon budget session offering amendments and peppering Finance Committee Chairman Marvin Abney with questions and concerns. The only amendment from the progressive left came from Rep. John Lombardi, who represents the Federal Hill section of Providence. He made an impassioned plea to restore free bus service to Rhode Island's most vulnerable residents.
"Some of my constituents earn about between $700 and $800 a month and believe it or not 50 cents can make the difference," he said, suggesting the money could come from the General Assembly's own budget. "I'll tell you what, many of my constituents are alone. They just received their citizenship from other countries. They're here. They're from the islands, they're Russians, they're Albanians, they're people from Africa. That's who my constituency looks like and I'm sure many of you are starting to see that in your neighborhoods. I think we have a duty to help these people. I think we have to assist these people because they are most in need."
The RIPTA Board of Directors decided to end free rides for the elderly, disabled and destitute earlier this year. The House budget keeps it alive until January, while Governor Gina Raimondo's proposed budget did not fund it at all. The governor and House Speaker Nick Mattiello have each indicated the Rhode Island Public Transit Authority is in need of a full overhaul. Lombardi's amendment would have funded the free rides for the entire fiscal year, regardless of a systemic overhaul.
The amendment failed, 41 voted against it and 27 supported it. House Republicans, who spent most of the evening trying to shrink government spending, were unanimous in their support of the social welfare program. Progressives, on the other hand, were not. Reps Teresa Tanzi, Art Handy, Chris Blazejewski and Shelby Maldonado all voted against extending free RIPTA rides to the elderly, disabled and destitute.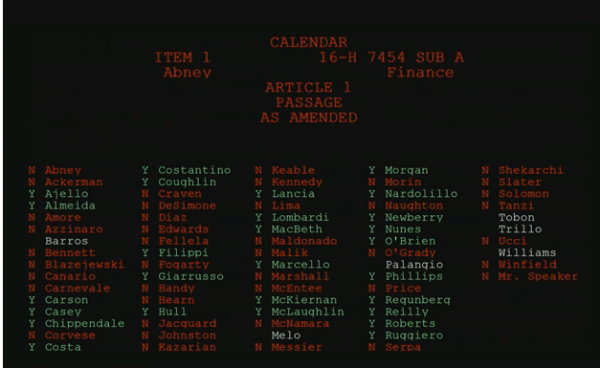 Tanzi, who represents Narragansett and South Kingstown, offered her own impassioned plea on why RIPTA shouldn't receive additional funding.
"It is with a heavy heart that I urge folks not to support this amendment because it's not the best thing to do with the limited funds that we have," she said. "Believe me I would love to make a $900,000 investment in RIPTA this is not the best way to do it."
Tanzi explained, "The problem is the state was forced to contract with a third party vendor. That third party vendor is called Logisticare and since they have taken over the number of people who have qualified for these free passes has grown. And while that has happened they have changed it so they are no longer billing those passes the way that RIPTA used to … when RIPTA was in charge of it they billed so that medicare would be reimbursing the state, so we lost significant federal dollars to match it."
She continued, "I think what the committee heard at the end of the night heard was that throwing $800,000 more dollars at a program that is being very poorly run is not the solution and that giving them six months to renegotiate the contract with this third party vendor, giving them six months under perhaps oversight under Chairwoman [Pat] Serpa's guidance or under a subcommittee through finance, we're going to look at this holistically and try to come up with a solution. So nobody wants this program to end in January, nobody wants people isolated and locked up in their homes in the middle of winter. We're looking for a solution and right now throwing $893,000 more dollars at a program that we know is being mismanaged is not the best answer."
Tanzi is making a concerted effort today to get Speaker Mattiello to bring to a floor vote her bill that would limit the ability of felony domestic abusers to possess guns, and her advocacy against the amendment may have been part of the deal making that happens as the legislative session draws to a close.
Nonetheless, her stand drew some measure ire. Sam Bell, director of the Rhode Island Progressive Democrats, tweeted. "I rarely publicly criticize our legislative allies, but I personally think @tanzister made an error here." When it was Lombardi's turn to speak, he shot back sarcastically, "I'm so glad people in this chamber have heavy hearts."
Rep. Joe Almeida, who also represents a poor neighborhood in Providence, said if the attempt to outsource the program has failed, the state should waste no more time with the private company.
"If this third party can't run a business right, why do we still have to wait six months?" he asked. "Why do people gotta be left on the sidewalk and can't get nowhere? If this third party can't do it, they should have been fired a long time ago. In business we wouldn't have waited this long. I hope RIPTA has the common sense not to bring this company back if they can't do the job."
Meanwhile Majority Leader John DeSimone, known for parroting the will of Speaker Mattiello, tacked to the right of Tanzi – who herself took a more conservative position than the GOP caucus.
"We need to take a comprehensive look at what we are doing," he said. "We are the only state in the country currently that has no fare and as a result we are losing millions of dollars from the federal government. But the usage of the bus is not as good as the states that charge so there is obviously something wrong. At this point we have to be responsible, we have to get the federal money that is available to us and RIPTA may need to be revamped or remanaged or something has to happen. But the answer is not to just keep the fares free. While the motives of having a free fare are fantastic, it's just not working."
The RIPTA Riders Alliance held a rally outside the State House earlier this week at which an elderly woman said, "I know there is money in the budget, they just want to squander it on their friends."
Progressives mixed on standing against RIPTA fare increase

,