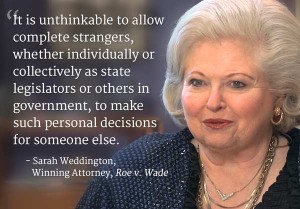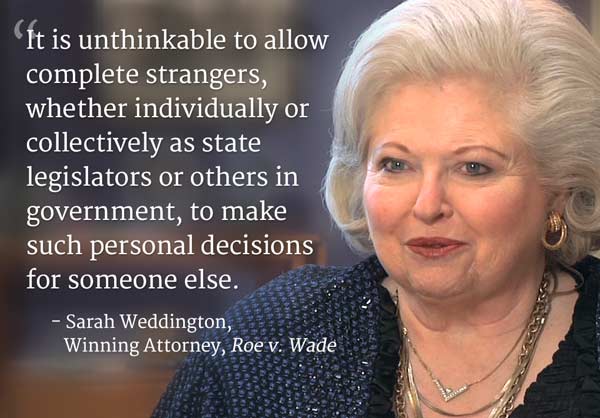 It's been 40 years since the U.S. Supreme Court confirmed that the constitutionally protected right to privacy includes every woman's right to make her own personal medical decisions, without the interference of politicians – including the right to end a pregnancy. Leading up to today there has been a lot of talk about the next generation of abortion rights activists and whether or not millennials appreciate the hard fought right to a safe and legal abortion.
Speaking as a "millennial" myself, I can say that young women value the impact of Roe but recognize that the present day conversation rests within issues of sexual identity, health insurance coverage for birth control with no co-pays and the need to push past labels like "pro-choice" and "pro-life."  It's clear to me that the next generation of activists is ready and willing to build off the hard work of those who've come before us – and expand the conversation to those who have felt left out of the "choice" conversation for too long.
Forty years may have passed but Planned Parenthood's mission remains the same: to protect the fundamental right of all individuals to manage their own fertility and sexual health and to ensure access to the services, education and information to realize that right. In Rhode Island, we recognize the need to not only protect the right to abortion but also to ensure access to a wide range of reproductive health care – including well woman exams, STI testing and treatment and access to all methods of contraception from the pill to intrauterine devices.
So, although Planned Parenthood advocates for access to a wide range of preventative family planning programs, Rhode Island lags behind our New England neighbors when it comes to unintended pregnancy rates.  Even though we know that for every dollar invested in family planning services, the state saves $3.75, we're forced to waste time fighting unnecessary, shaming legislation like mandatory-waiting periods and ultrasounds.
Rhode Island is one of 22 states – and the only state in New England – that the Guttmacher Institute designates as "hostile" to women's reproductive health.   NARAL Pro-Choice America gives Rhode Island a D+ rating on their national score card.  How could this be you might ask?  Rhode Island has dozens of archaic laws on the book some of which include:
An unconstitutional and unenforceable criminal ban on abortion;
"Informed consent" laws that subject women seeking abortion to biased-counseling requirements;
Restrictive insurance coverage of abortion for some (state employees) and unenforceable laws that restrict private insurance coverage for abortion for all;
Laws that allow certain individuals, health care providers and entities to refuse to provide specific reproductive health services, referrals or information including information and prescriptions for birth control.
It's time that the Rhode Island legislature understand that investing in prevention and comprehensive sex education is the only proven way to address unintended pregnancy.  We encourage you to take action and share your stories with friends, family members and elected officials.  To get you started, here are three actions you can take today:
Contact your state legislators.  Tell them to support access to preventative family planning programs and NOT to support shaming legislation like mandatory ultrasounds or any politically motivated abortion ban.
Tell Planned Parenthood your story.   One in five women have visited a Planned Parenthood in their lifetime.  With anti-choice politicians determined to take away women's access to healthcare, it's never been more important to share your story and show that Planned Parenthood is a vital organization in your community.
Join the Planned Parenthood Action Network.  Stay informed about current events and legislation on the national and state level.
Paula Hodges is the Public Policy & Advocacy Director for Planned Parenthood Southern New England and Planned Parenthood Votes! Rhode Island.
Protecting Roe: What Every Rhode Islander Can Do

,