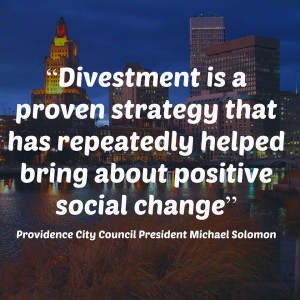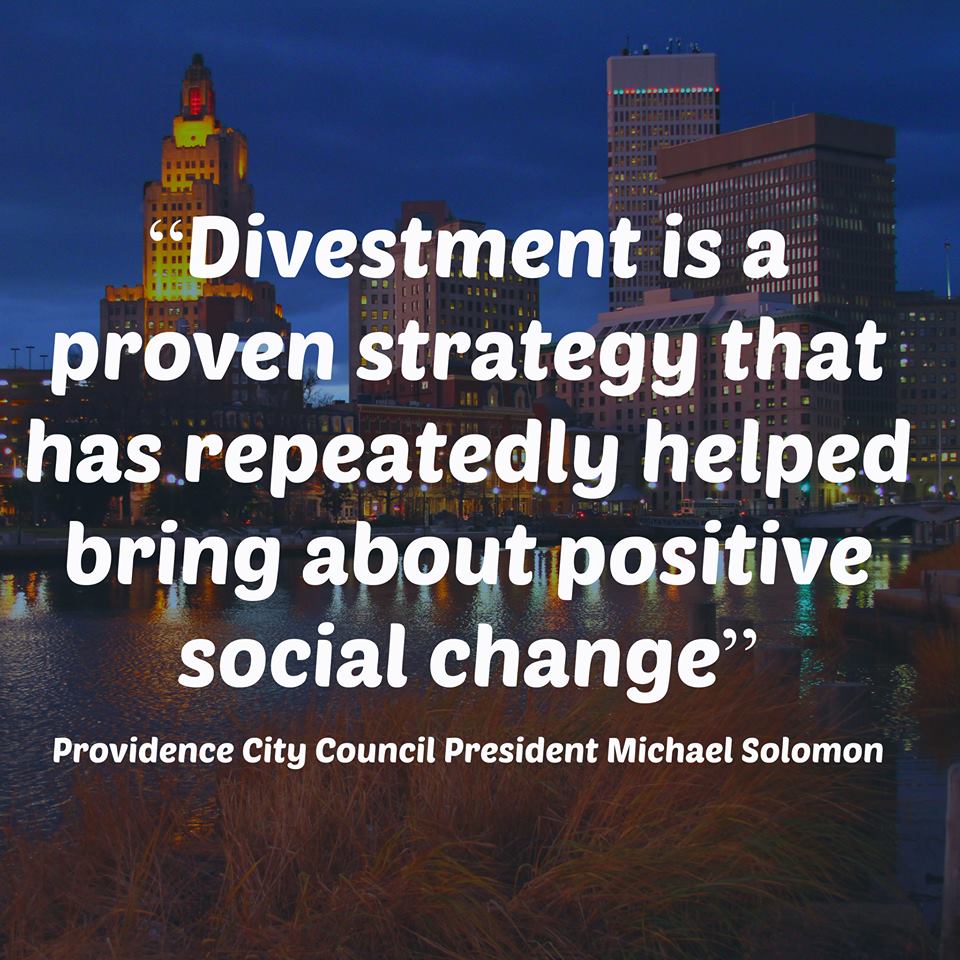 In a victory for the national movement urging colleges and cities to divest from fossil fuels, the Providence City Council voted this Thursday to divest from the fossil fuel industry. The resolution, introduced by Council President Michael Solomon and Council Majority Leader Seth Yurdin, commits the city to divesting its assets from the top 200 fossil fuel companies because of the industry's contribution to the climate crisis.
"The Council has a moral obligation to ensure that no public money is being used to promote industries or practices that harm the health and well-being of the people of Providence," said Yurdin. "Fossil fuels are a major contributor to rising amounts of carbon dioxide, and global warming is already approaching dangerous levels."
With this resolution, Providence joins 15 other municipalities –including Seattle, San Francisco, and Madison– as well as 6 colleges that have already pledged to divest. Amongst the cities, Providence is the first state capital and the largest east coast city to divest.
Abel Collins, manager of the Rhode Island Chapter of the Sierra Club, celebrated the council's decision. "Cities around the country will follow the leadership of Providence, the schools of the city too. In the process, more people will be educated about the danger posed by the fossil fuel industry, and perhaps even the political will to deal with the problem in Washington will at last be found. The City Council should be applauded for being on the right side of history."
At the vote on Thursday, a group of Rhode Island climate activists rallied outside the council chambers in City Hall to show their support for divestment. The group, called Fossil Free Rhode Island (FFRI), is calling for divestment of the state, as well as all Rhode Island municipalities and public universities. To date, Fossil Free Rhode Island has collected over 400 petition signature in support of divestment, and has received the endorsement of a number of local business and nonprofits, including the South-East New England Program of the American Friends Service Committee (AFSC-SENE). FFRI is part of a national fossil fuel divestment campaign that has spread to over 300 colleges and 100 cities, states, and religious institutions over the last 9 months.
"The growth of the national Fossil Free movement has been incredibly quick, and the victory in Providence will inspire the divestment movement at Rhode Island's colleges. Divesting from fossil fuels is crucial for institutions truly dedicated to providing their students with a sustainable future." said Peter Nightingale, a professor at The University of Rhode Island and a member of Fossil Free Rhode Island.
(The material presented above is from a press release issued by Fossil Free Rhode Island yesterday. For the resolution of the Providence City Council follow this link.)