More than 200 people watched as the Providence mayoral candidates took the stage at the Southside Cultural Center on Broad St for The People's Forum. The candidates were asked about their responses to a questionnaire prepared by various* community groups that addressed three issues of major concern to citizens interested social and economic justice.
The three parts of the questionnaire were:
1. Providence Community Safety Act, an ordinance submitted to the City Council on June 19 that makes our communities safer by protecting civil and human rights and addressing the tension between police and community.

2. Public Money for the Public Good, a policy proposal from community groups and labor unions to make sure that when corporations get tax breaks, workers and the community get concrete benefits like living wage jobs and apprenticeships, money for affordable housing, and accountability.

3. Community Agenda to Address Violence, a comprehensive set of principles and action steps by Concerned Citizens of Providence to address the root causes of violence in our communities by strengthening youth recreation, targeting workforce development initiatives, and improving police-community relations.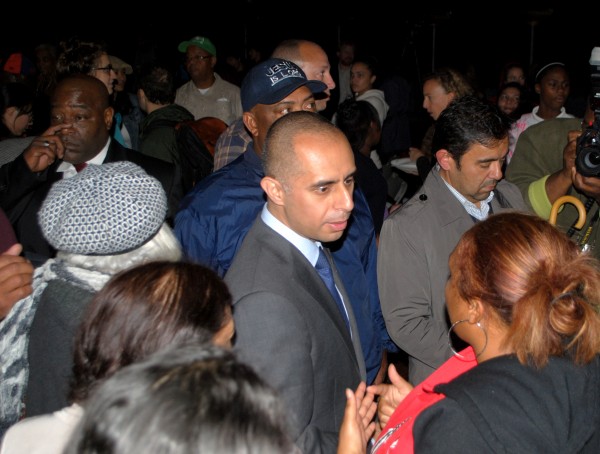 The candidates, Democrat Jorge Elorza, Republican Dan Harrop and Independent Buddy Cianci, gave remarkably similar answers to all the questions and largely supported all the suggestions the community groups proposed. Even when the candidates disagreed with the ideas presented by the community, they mostly agreed with each other.
When talking about a living wage, for instance, all three candidates initially opposed the idea, with Elorza saying that raising the minimum wage citywide is impossible under state law, but he would be willing to partner with community leaders to pressure the state to change the statute.
Cianci said that he agrees with Elorza, and thinks a $15 minimum wage is fine, at least for companies that employ more than 3 or 4 people. Harrop rejected the idea of a living wage outright, focusing instead on job creation and tax breaks. This represented the only real policy difference among the three candidates.
Despite being the most controversial figure running for any office in New England, Buddy Cianci got the biggest applause and cheers of the night, just for walking up to the microphone. From my vantage point in the balcony of the theater, it seemed that Cianci supporters were scattered throughout the crowd and ready to rise in applause at a moment's notice. Whether they were planted there or sincere followers was impossible to tell.
Dan Harrop made the biggest impressions of the night, making the crowd furious by attacking Cianci. "If you want to decrease violence in this city, you cannot have a mayor at City Hall who has a continuous history of violence…" was all Harrop could get out before he was booed and drowned out by the crowd.
Harrop, who is a distant third in the race, has nothing to lose by speaking the truth, and he lately seems to be not so much running for mayor himself as he is working against Cianci. Harrop went so far as to practically endorse Elorza outright, offering to give up 30 seconds of his speaking time so that Elorza might discuss details of his housing plan. When told he could not give up his time, Harrop said that Elorza has a great plan for reclaiming abandoned houses in Providence, one Harrop will steal if elected mayor.
In a race in which the Republican candidate stumps for his Democratic opponent during a campaign event, we're no longer talking about about issues and ideas. Instead, we're talking about personalities and public perception, and that gives an advantage to Cianci.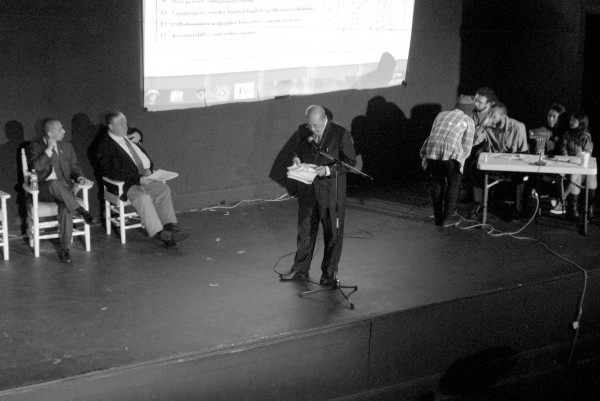 *Groups such as: DARE- Direct Action for Rights and Equality, Providence Youth Student Movement Prysm Fam, RI JobswithJustice, Mt. Hope Neighborhood Association (MHNA), Ona Vecinos de Olneyville/Olneyville Neighborhood Association, AFSC Sene American Friends Service Committee, Unite Here Local 217, Comité de Inmigrantes en Acción, Black PAC, and the National Lawyers Guild RI Chapter
Providence mayoral candidates agree on almost everything

,