Last Wednesday, the #RubberStampRebellion participated in a #FlushTheTPP protest, exposing the U.S. International Trade Commission's (USITC) report on the Trans-Pacific Partnership (TPP) as a cover-up of a transnational, corporate coup d'état. The USITC's Economic Impact Report glorifies the TPP and fails to mention that it will significantly worsen the economic impact of the climate crisis.  In response, TPP resisters have issued People's Economic Statement.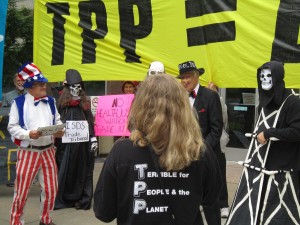 The same day,  commissioners of the Federal Energy Regulatory Commission (FERC) closed their regularly scheduled May 19 meeting to the public due to "security concerns," with just 16 hours' notice. They then held their meeting with members of the press and "invited guests," some of whom were representatives of the fossil fuel industry FERC is supposed to regulate.
On Thursday, day four and the last day of the beginning of its Rubber Stamp Rebellion, Beyond Extreme Energy (BXE) held a previously scheduled rally​ from 8-10 a.m., calling on FERC to issue no new permits and to transition to an agency promoting non-polluting, renewable energy and efficiency.
After the rally, three members of BXE tried to get into the building that houses FERC, but were turned away by security guards. They were told that only government employees and invited guests could get into the meeting.
"It's our understanding," said BXE member Melinda Tuhus, "that the invited guests from industry were allowed into the meeting and only the public was kept out; that we could've pre-registered for the meeting, but of course to do that one would've had to know that the meeting was going to be closed, which wasn't announced until the night before."
From the FERC webcast, for example, the CEO of So Cal Gas, the director of So Cal Edison and others made a presentation about "preparations for LA basin gas-electric reliability and market impacts."
BXE held a meeting in front of FERC that was open to the public, where activists spoke about the harms they have suffered from fracked gas infrastructure approved by FERC and climate leaders added their support to BXE's efforts to stop FERC from issuing new permits.
The Rev. Lennox Yearwood of the HipHop Caucus criticized President Obama, California Gov. Jerry Brown and Canadian Prime Minister Justin Trudeau for claiming to be climate heroes while backing fracking and fracked gas.
"They are not climate leaders," he said, "until they realize we must transition to 100% renewable energy." After listing several fossil fuel projects that have been defeated through public opposition, Yearwood pointed toward the FERC offices and said, "The folks inside are losing. We are winning — for the next generation."
Mary Wildfire drove from West Virginia hoping to speak out at the FERC meeting. She told the crowd outside that coal, oil and gas all have climate change in common. "The impacts are already severe. The issue is how are we going to prevent catastrophic climate change." FERC is "permitting well into the twenty-teens because we don't want to bother changing our habits."
Jane Kleeb, founder of Bold Nebraska, which played a critical role in defeating the Keystone XL pipeline, said she is now working with people in other states to fight fossil fuel projects​. She said that she and others recently planted sacred corn seeds along the paths of the proposed Atlantic Coast Pipeline and Mountain Valley Pipeline ​through several mid-Atlantic states.
"The seeds of resistance are growing everywhere," she said.
Peter Nightingale of Fossil Free RI spoke and mentioned that a BXE delegation had invited Senator Sheldon Whitehouse to attend the rally to defend his support for fracked gas as a bridge fuel, which is both scientifically and morally wrong.  The invitation was also intended to provide the senator with an opportunity to announce what he will do to make sure that FERC does not approve National Grid's proposed fracked-gas liquefaction facility at Fields Point in Providence.  Shockingly, the senator did not show.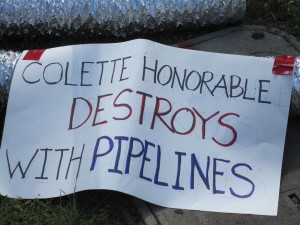 The final event of the day was a visit to FERC commissioner Colette Honorable's residence in Virginia.  This was the final visit of four to hold tFERC commisioners personally responsible for the local and global destruction caused by their decisions.  Local police, which was awaiting them,  told the rubber-stamp rebels that the neighborhood was posted as private property.   They set up banners and a faux pipeline, and handed out fliers at a nearby intersection.  Before leaving, protesters arranged for a pizza delivery to Commissioner Honorable.  As a special treat, the pizza was served up with eminent domain papers informing the commissioner that her property had been seized to make way for a fracked-gas pipeline.
#VIDEO: #RubberStampRebellion #pipeline crew #EminentDomain delivery #FERC @CHonorableFERC #keepitintheground pic.twitter.com/jbqVh7oRnB

— BeyondExtremeEnergy (@BXEAction) May 19, 2016
This concluded the week of actions marking the beginning of the #RubberStampRebellion.
[Based in part on a BXE press release]
For more see this BXE blog.
Public excluded from FERC public meeting

,