More than 30 people entered the RI Public Utilities Commission (PUC) yesterday to demand an end to the epidemic of unfair utility shut-offs. Many in attendance have been victims of these shut-offs, even though they complied with the law and produced letters from their doctors indicating that their health would be seriously compromised by shut-offs. The protest was lead by the George Wiley Center and culminated in an action where dozens of protesters entered PUC offices to deliver a letter to the PUC board.
No one from the board would consent to meet with the protesters. Instead, Kevin Lynch, who works for the PUC, fed the crowd bureaucratic folderol for 30 minutes. (Readers with a peculiar masochistic streak can watch the entirety of that interaction in the last video below.) Mind you, this was after making the protesters wait in the tiny receiving room/staircase for nearly ten minutes. Ultimately, the letter was time stamped by a clerk before being filed away unread by board members.
Those among the protesters with specific issues left with those issues unresolved.
Though Lynch was professional and polite, he did nothing to resolve any issues that anyone in the crowd brought up. At first Lynch tried to dismiss the protesters by saying that since the George Wiley Center and the Rhode Island Center for Justice was suing over the issue, he would not be able comment, but Camilo Viveiros, lead organizer of the George Wiley Center, countered that the George Wiley center was not a plaintiff in the suit.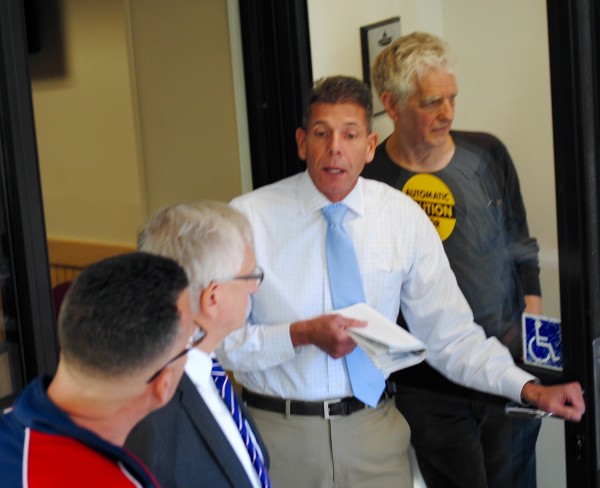 According to a George Wiley Center press release, "Every year tens of thousands of households in Rhode Island experience the stress of utility service termination due to unaffordable bills. It is shocking that in many of these homes live people struggling with medical conditions. This injustice is due to a loophole that allows the state's Division of Public Utilities to grant National Grid permission to shut off households, even when their medical status is on file."
The Wiley Center says such shut-off are, "inhumane and a threat to public health and safety."
"Stopping utility shut-offs on people with medical conditions has been recommended by medical professionals who seek to protect and improve health," says the George Wiley Center, "With access to utility service patients can be warm or cool as needed, see and not stumble in the dark, refrigerate medications, use nebulizers and oxygen tanks, take a warm bath. When service is shut off, basic needs are not met and medical conditions will likely worsen, sometimes leading to hospitalization and other serious consequences."
Alan Costa has a medical condition that literally stops his heart a hundred times a minute. Without electricity, he dies. He fell behind on his electrical bills while undergoing two complex medical procedures in a very short period of time. He wonders why Governor Gina Raimondo doesn't use her executive power, as the person who nominates people to the PUC board, to push for enforcement of laws that protect the health and well being of Rhode Island citizens instead on the profits of National Grid.
Annabel Alexander is 77 years old and suffers from a long list of ailments. (She showed me the list!) She has had her heat and her electricity turned off, and sleeps in her overcoat in her bed at night. National Grid will not make a deal with her to catch up on her bills for less than 50 percent of her income. "It's a damn shame," she says, "that we have to suffer while they are up there getting paychecks and living in mansions!"
In the next two videos we meet Kevin, who survived the Station Night Club fire. He pulled people out of that building that night, but today suffers from post traumatic stress and other ailments. On Saturday night he ran out of oil. On Monday morning his electricity was turned off. He needs to keep his medication chilled. He was promised that his condition would prevent a shut-off.
"I feel I'm being punished now, for things that people called me a hero for."
Kevin was invited into the offices to see if there was a possibility of resolving his issue. He left disappointed, his case still pending.
Diane has asked her daughter for help with her bills. National Grid wants to take more than half her paycheck to turn her power back on. She has a host of ailments, and told the crowd that people with arthritis need a hot shower, as opposed to washing yourself of in water you've heated up in your microwave…
Camilo Viveiros, lead organizer of the George Wiley Center, rallied the crowd and explained the costs of these utility shut-offs in terms of human misery, but also in terms of dollars wasted.
Here is the full letter the protesters attempted to deliver to the PUC board, and it was signed by a long list of health care professionals, including Dr. Michael Fine, MD, former RI State Director of Health.
I'm writing to express my support for the Lifeline Project's work to improve protection from utility termination for medically vulnerable households in our State. Unaffordable utility bills are especially prevalent among low-income medically vulnerable households because these households lack the financial resources to make ends meet and often require utility service for ongoing treatment of chronic illness. As a medical professional, I see first-hand the way that termination of utility service can lead to disastrous consequences for families such as an unexpected trip to the emergency room, the loss of a housing voucher, or eviction. Households with a permanently disabled individual, or a person with a pre-existing, serious medical condition such as asthma, chronic obstructive pulmonary disorder, or diabetes, are among the most at risk because these conditions require electric medical devices or refrigerated medication.

The Lifeline Project is a collaboration between the Rhode Island Center for Justice and the George Wiley Center, which aims to protect and expand the rights of medically vulnerable households facing gas and electric utility shut off through the provision of legal assistance and community organizing. The Lifeline Project has identified a host of routinized, unfair and illegal practices and procedures on the part of the public utility company, National Grid, and the state regulatory agencies, the Division of Public Utilities and the Public Utilities Commission with respect to residential utility termination. These practices need to be fixed and in the meantime, medically vulnerable households need protection from shut-off.

I am specifically writing to support the Lifeline Project's current campaign to challenge these illegal practices and urge National Grid and the state regulatory agencies to meet the following demands:

1. A one-year moratorium on termination for all accounts that are coded as 'medical'.

2. The engagement of an independent third party monitor to review the Division of Public Utility's approval of petitions for permission to terminate for all accounts coded as medical. The monitor will be selected by a joint committee composed of members of the George Wiley Center, the medical community, the Department of Health and the Public Utilities Commission.

3. The Public Utilities Commission immediately begin requiring data submissions from National Grid that are consistent with those requirements placed on the company in Massachusetts, as per the George Wiley Center's formal request from March of 2015.

4. The Public Utilities Commission immediately begin accepting and thoroughly reviewing petitions for emergency restoration and providing timely responses to each request.

As a medical professional in this state, I understand the dire need to protect these consumers from the dangerous impacts of utility shutoff.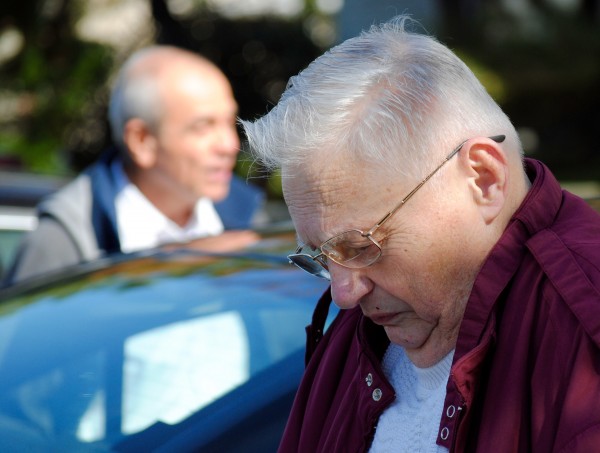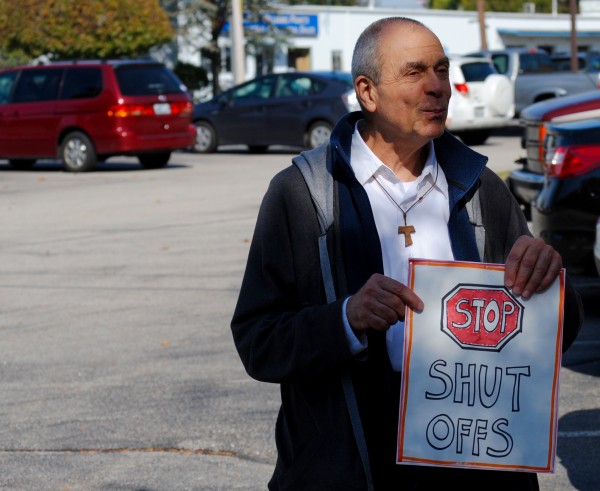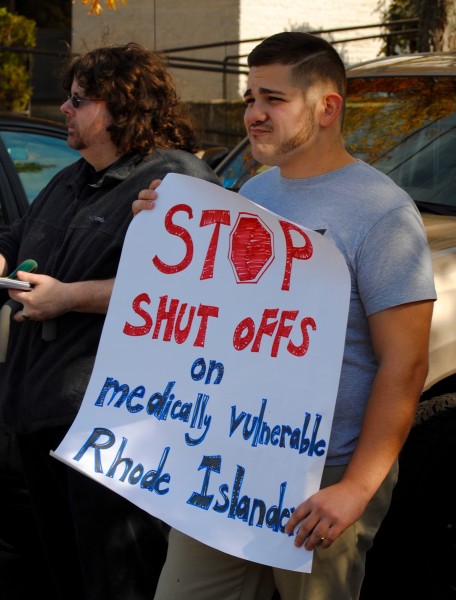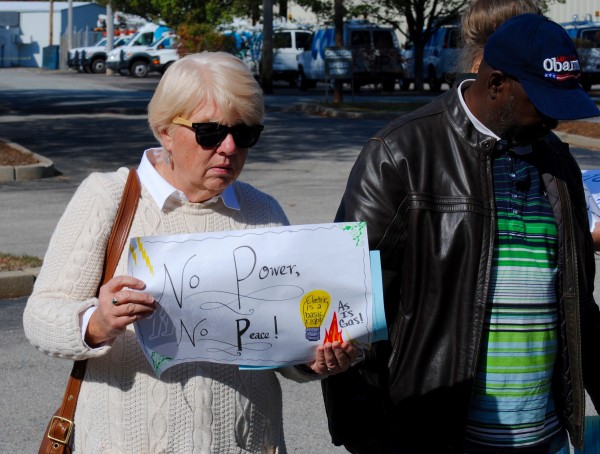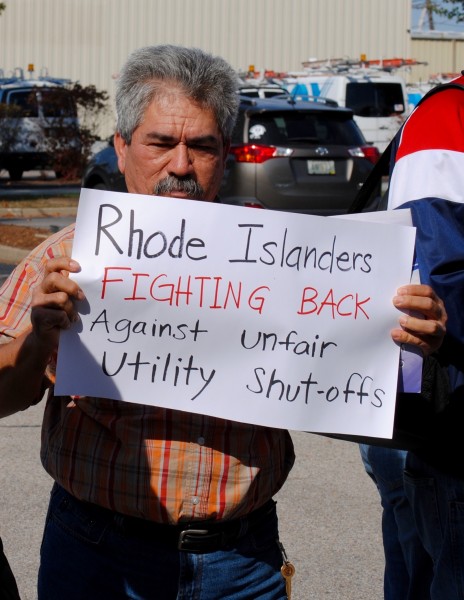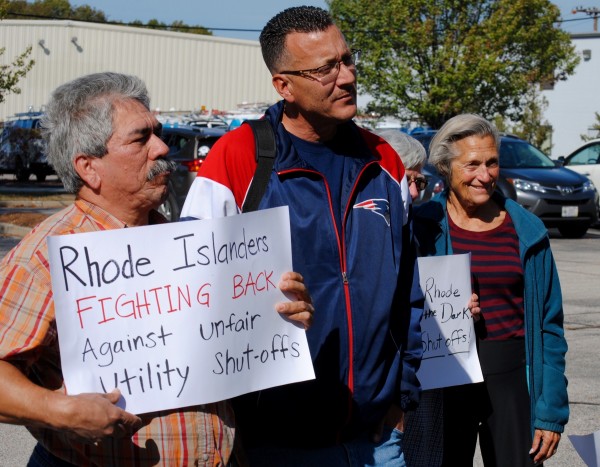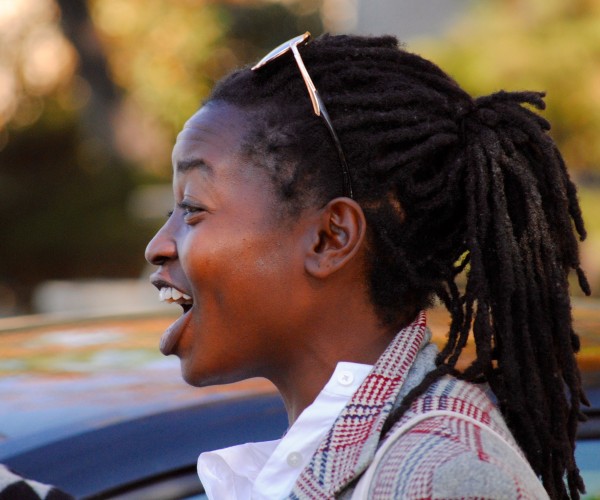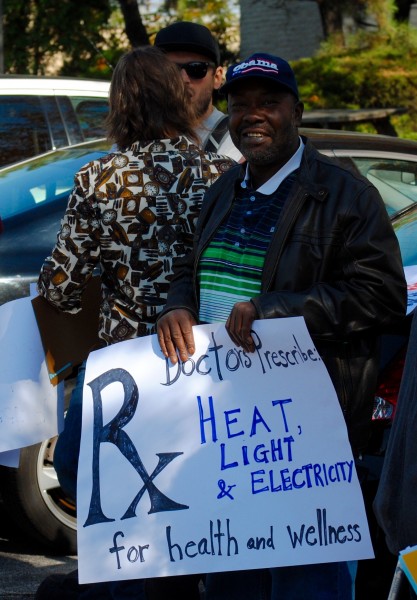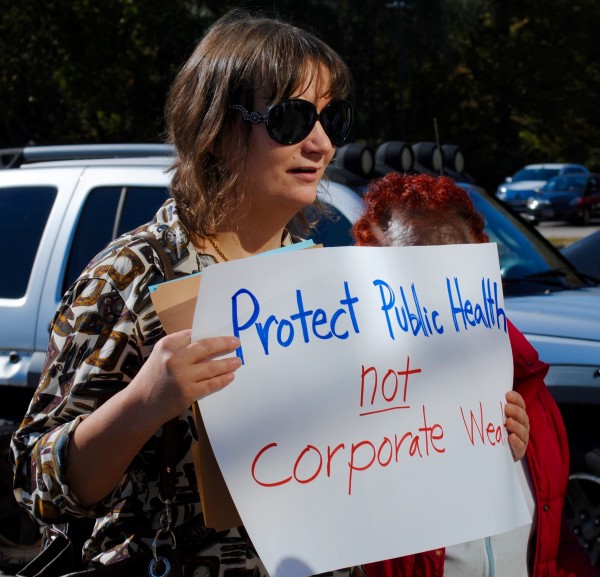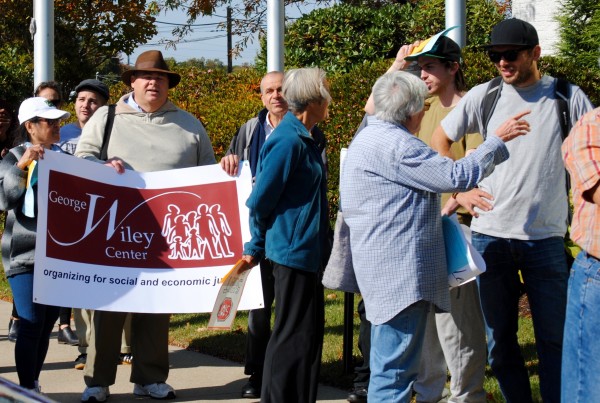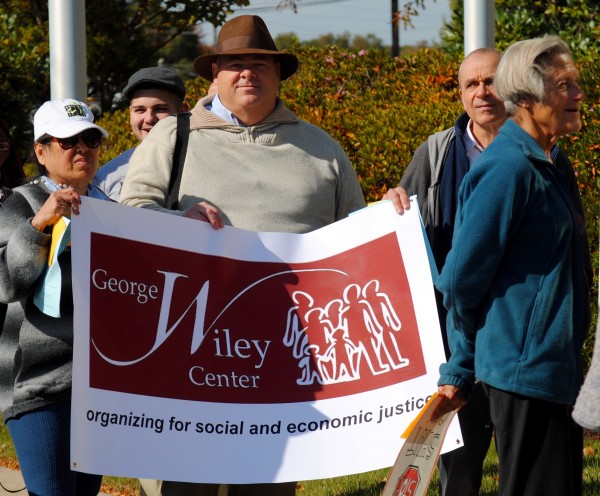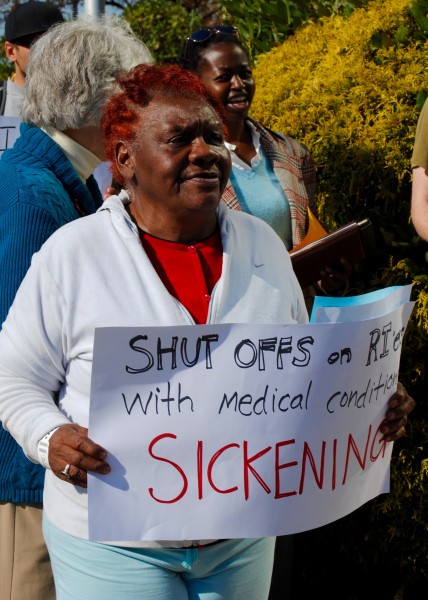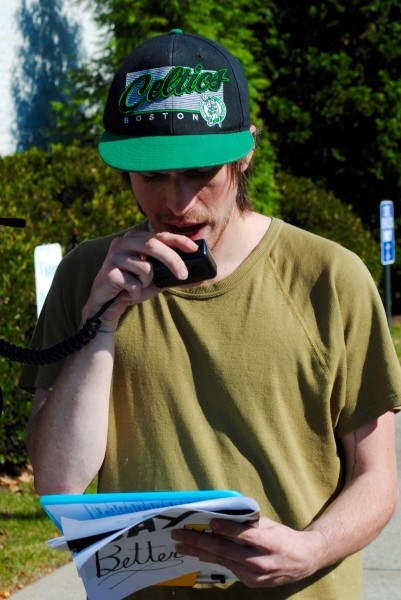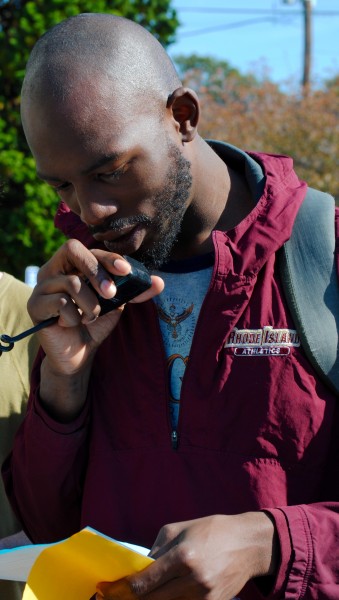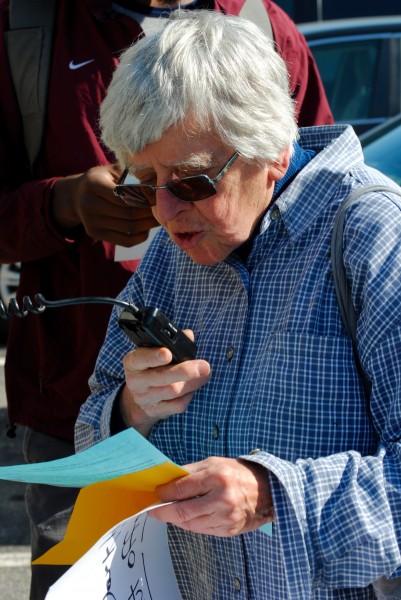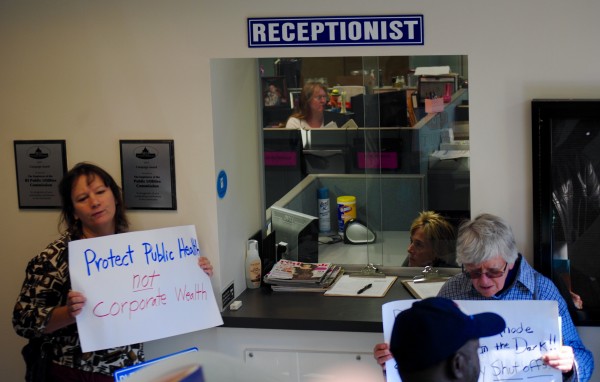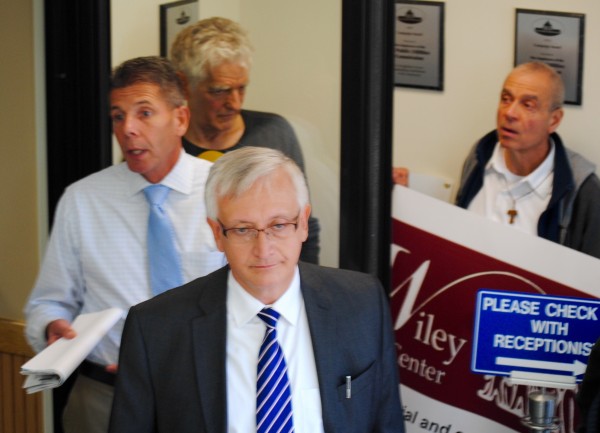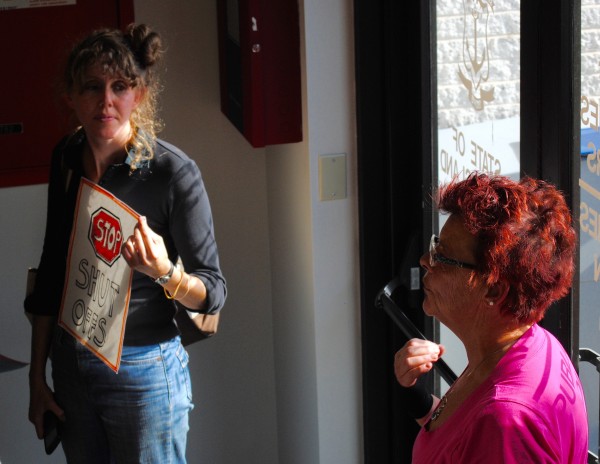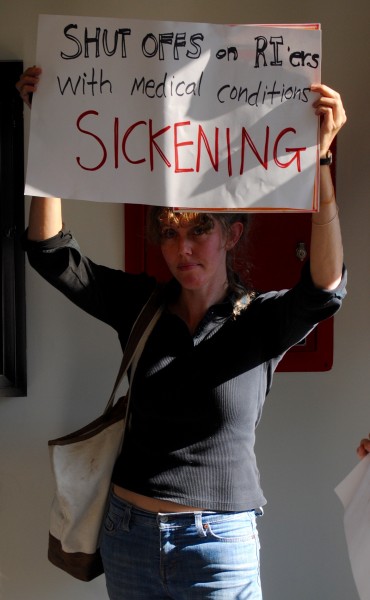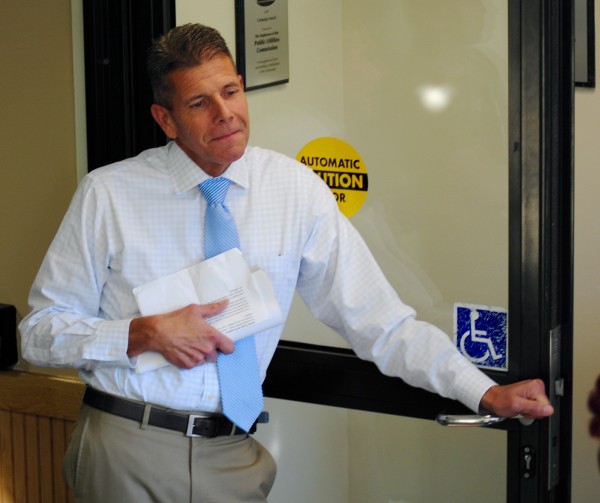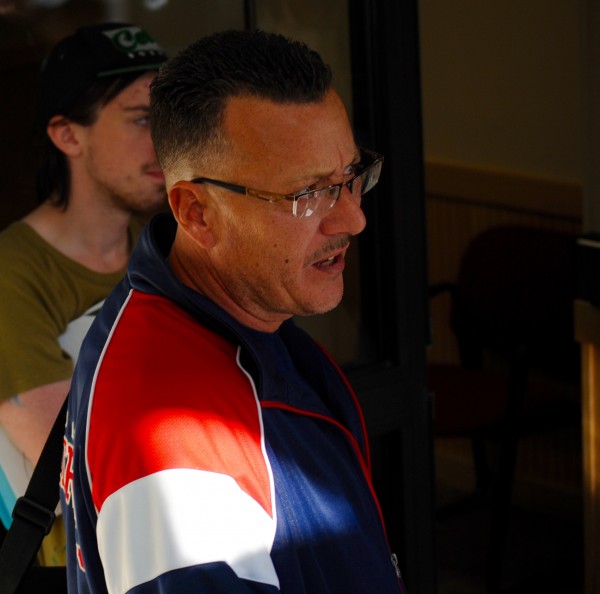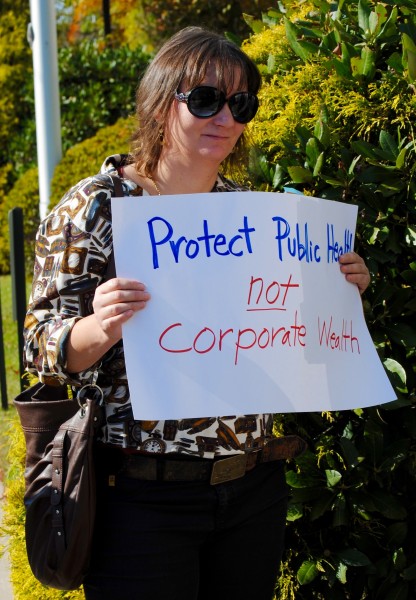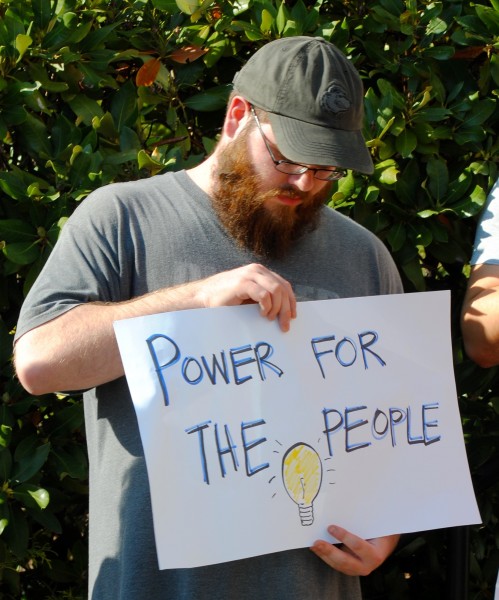 PUC protesters repelled by bureaucratic disinterest

,