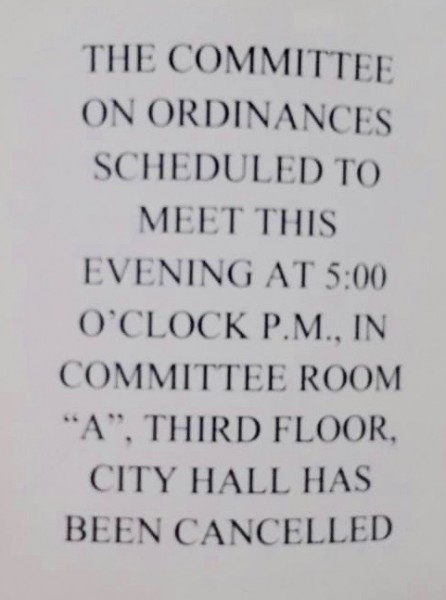 The Providence City Council Ordinance Committee meeting scheduled for 5pm on Monday was cancelled at 4:30pm, what one City Hall worker called, "at the last minute," by Committee Chair Terrence Hassett. The cancellation effectively stalls the discussion of Councillor Seth Yurdin's resolution opposing the construction of National Grid's proposed liquefaction facility for Fields Point in the Port of Providence.
More than a dozen people showed up for the event, only to learn from the hastily printed signs that the meeting was cancelled. People told me that they had made great efforts to be at this meeting. One man brought his six year old daughter with him, others arranged to leave work early. A nurse handed off a patient to her co-worker, and lost out a couple of hours of pay.
Several people, expecting a long meeting, paid for two hours of parking, as the on street parking, which used to be free at 6pm, is now free after 9pm. In all I talked to six people who paid for parking, including Sister Mary Pendergast, who said she's "on a very limited budget."
Representative Aaron Regunberg showed up. But even he, when asking various City Hall workers, including the Council President Chief of Staff Cyd McKenna, couldn't get an adequate answer as to why the meeting suffered a last minute cancellation.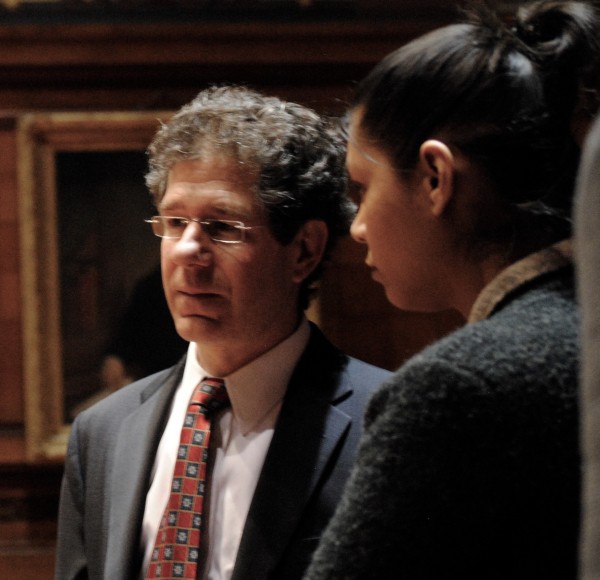 Councillor Seth Yurdin arrived ten minutes before the meeting was due to start. He had received a text ten minutes before arriving telling him the meeting was cancelled. He said he didn't know why the meeting was cancelled. He had no more insight, it seems, than anyone else.
The people who arrived for the meeting were all prepared to give testimony on the resolution concerning the project at Fields Point, a center of toxic industry located in one of the poorest neighborhoods of color in New England. This was Councillor Seth Yurdin's second resolution in opposition to the facility, and it was a much stronger statement.
Though Yurdin's resolution was co-sponsored by half the City Council, passage of the resolution was prevented when Councilors Jo-Ann Ryan and Terrence Hassett flipped their votes.
The resolution was sent to the Ordinance Committee which Hassett chairs. Hassett said at the time that, "I co-sponsored it but a committee review is necessary for a proper vetting and discussion before it is transmitted to the full Council."
When I asked about why he cancelled the Monday evening meeting that would have allowed for "proper vetting and discussion," Hassett said, in a written statement:
"The LNG ban, as proposed by Councilman Yurdin, has merit. I co-sponsored it on the floor of the City Council Session.
"However, we have not heard sufficient testimony from the energy developers on the plan itself – the productive results, the environmental impact – what is good versus bad. I'm an environmentally sensitive citizen and public servant, as most of us are. A new and productive proposal, as promised, is certainly worthy of discussion."
Note that the "energy developers" Hassett is referring to is National Grid, a company that had just as much time and notice to make it to this meeting as the environmental advocates who made the effort to show up for the meeting did. In fact, National Grid has more time, if you take into account the fact that the company employs a full time legal staff.
"My difficulty," continued Hassett, "is simply approving a resolution banning it until proper testimony is presented. Its akin to a court case. We cannot indict until and unless proper and verified evidence is presented and the jury agrees. Legislative language presents an argument.
"In this case I co-sponsored it on the floor of the City Council. My concern or our general concern is this….we need discussions in an open forum from those proposing the LNG and receive any counter testimony on the plan or proposal.
"Many have advocated transparency in government. I believe in it. It's how the best decisions are made. So we will carefully review this proposal, a $40 million effort  should it meet our needs, our environmental protections and city economy.
"That's my assessment based on your inquiry. It will be heard. Just better prepared for our decision makers and the public."
Many who arrived at the City Hall to find the meeting cancelled are convinced that there were some backroom shenanigans involved. But no proof of these speculations will ever materialize. Instead, the blame for cancelling this meeting rests solely on Hassett and his decision, as he explains above.
I asked Hassett a follow up.
"The meeting was cancelled at 4:30. When meetings are scheduled on Friday afternoon and cancelled moments before they are to start on Monday, many people feel that there are shenanigans going on behind the scenes. At the very least, it shows a lack of concern for those who make the effort to attend. Do you have a comment on this?"
I received no answer.
I've experienced something like this before. Back in May 2014 a Providence City Council Ordinance Committee meeting that was to discuss the proposed $15 minimum wage for hotel workers was cancelled at the last minute, leaving dozens of working women in the lurch. At the time I wrote, "Working women secured childcare or brought their kids with them. They skipped meals, skipped overtime and traveled to the City Hall on foot, on buses or in carpools, only to find out that the Ordinance Committee meeting had been abruptly cancelled."
The cancellation of this meeting allowed the General Assembly the time it needed to include an amendment in the State Budget to prevent municipalities like Providence from setting their own minimum wages, frustrating months of activism on the part of the hotel workers. The chair of the Ordinance Committee then was Seth Yurdin.
Terrence Hassett cancels meeting on LNG facility resolution

,