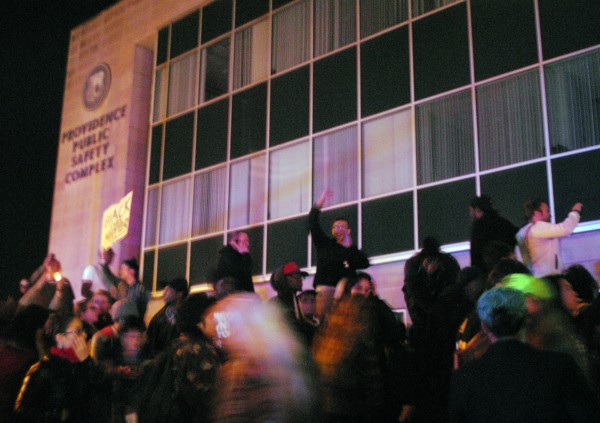 Providence Public Safety Commissioner Stephen Pare said there were between 400 and 600 protesters in Providence last night, and "100 or so" who occupied and shut down Interstate 95 southbound for between 15 and 30 minutes.
"When we started getting reports they were heading down the the highway," he said, "we had some concerns about those efforts. We were with the state police. Once we learned they were heading to the highway there were additional troopers who responded."
There were 4 or 5 activists arrests by state police, he said, and two arrested by Providence police – which had more than 50 officers on duty prepared to respond to the incident.
In an wide-ranging interview he spoke about the dangers of shutting down an interstate, the John Prince assault accusation and the potential for Providence police officers to wear body cameras, which he supports.
Highway shutdown
John Prince
In September, unrelated to Ferguson protests in particular, DARE activist John Prince says Providence police officers prevented him from videoing them and took his camera. Pare avoided speaking about Prince's complaint because it under investigation. But he did talk about how the investigation happened, and conceded the process leaves something to be desired.
Body cameras
Activists in Providence want police officers to wear body cameras. Pare says he supports the idea, and says within three to five years officers will wear body cameras as a matter of course, as they now have cameras in their vehicles. He says they often help police exonerate themselves.
PVD Police Commissioner on Ferguson protest, John Prince, body cameras

,