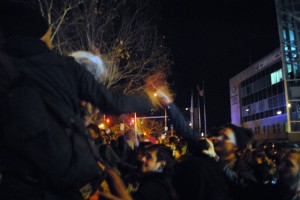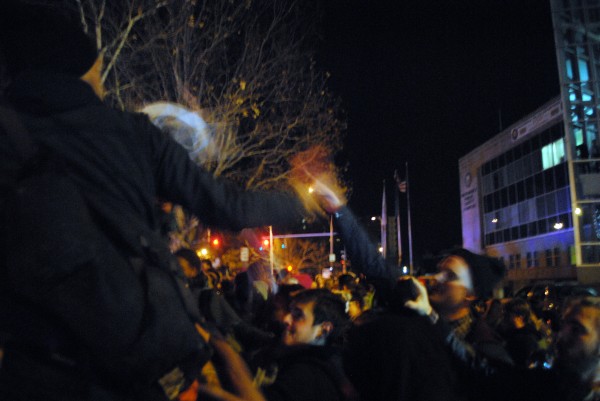 If the protesters in Tuesday night's Ferguson March in Providence hadn't marched out onto the highway and blocked traffic, the most confrontational and controversial action of the evening would have been the burning of an American Flag in front of the Providence Public Safety Complex. After the flag starts burning, protesters noticed a silhouetted figure in the windows of the complex, raising a fist in solidarity. Then, towards the end of the video, as the protesters try to decide what they should do next, someone suggests blocking the highway…
Here's a fuller video, which includes the protesters arriving at the Providence Public safety Complex to see a phalanx of police officers guarding the entrance.
Attentive RI Future readers might recognize Adrienne Jones in this clip.  Adrienne was fired from the Providence Hilton for her efforts in trying to organize a union there.
And for people who enjoy 70 minutes of jittery, random, nonstop imagery: Here's all 71 minutes of the actual march, from the beginning, right up to the marches entry into the Public Safety Complex parking lot.
---
---
This was the most complete coverage you're likely to find, anywhere.
Is this kind of journalism worth supporting?
Consider donating directly to Steve Ahlquist
Video: PVD activists burn American flag

,