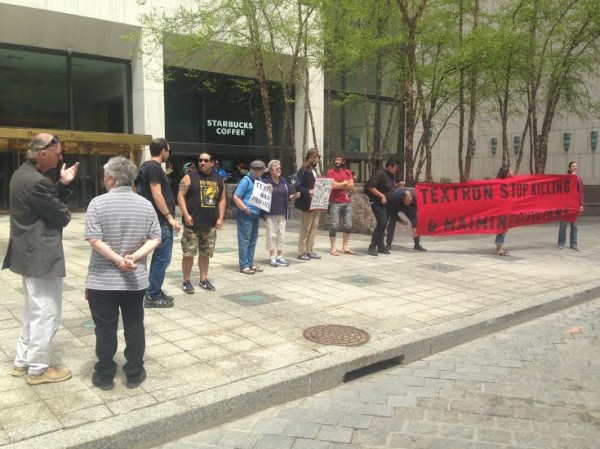 Radicals, Quakers, a few hippies and at least one nun joined together today to protest Textron because the Rhode Island-based conglomerate makes cluster bombs that Saudi Arabia is using in civilian-populated areas of Yemen.
Some 13 people held signs and informed passersby as they stood across the street from Textron's world headquarters in downtown Providence. Organizers said this was the first of actions against Textron that will happen weekly.
"We are going to be here every week until they stop making cluster bombs," said Pia Ward, an organizer with the Fang Collective. Ward said she has personal reasons for protesting collateral damage in Middle Eastern wars.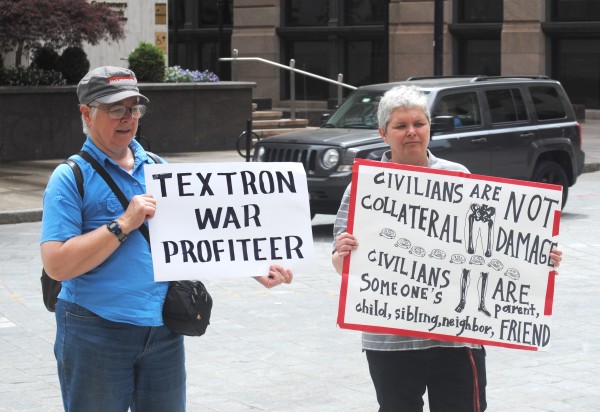 The Fang Collective is co-organizing the weekly protests against Textron with the Americans Friends Service Committee Southeastern New England, a Quaker group. Fang formed to fight the Burrillville power plant proposal and has since branched out to other issues, such as opposing Textron. AFSC-SENE has long been organizing against Textron for it's role in the military industrial complex.
This is the third action at Textron since RI Future began reporting on the local company's role in producing cluster bombs for Saudi Arabia. Three activists, including Ward, were arrested for chaining their necks to Textron's front doors at the second action.
Ward wouldn't tell me what future Textron actions will consist of, but she said, "I think more and more people will want to participate."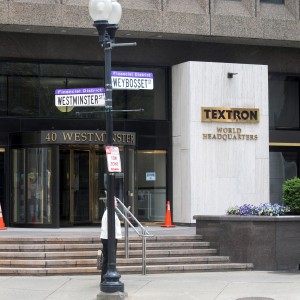 Textron has become a target of not only local peace activists but also of the global human rights community. Human Rights Watch focused squarely on Textron in its latest report on cluster bomb casualties in Yemen. And the International Campaign to Ban Land Mine and Cluster Munitions plans a global day of action on June 16 to call attention to the damage cluster bombs cause.
Cluster bombs are banned by 119 nations, but not by the United States or Saudi Arabia. Textron is the only North American manufacturer of cluster bombs and one of the last private sector manufacturers of them on the planet. Textron has long supplied Saudi Arabia and other countries with cluster bombs, through the US government.
Saudi Arabia has been using Textron-made cluster bombs near civilian-populated areas of Yemen, according to Human Rights Watch.
Read RI Future's full coverage of Textron's cluster bombs here: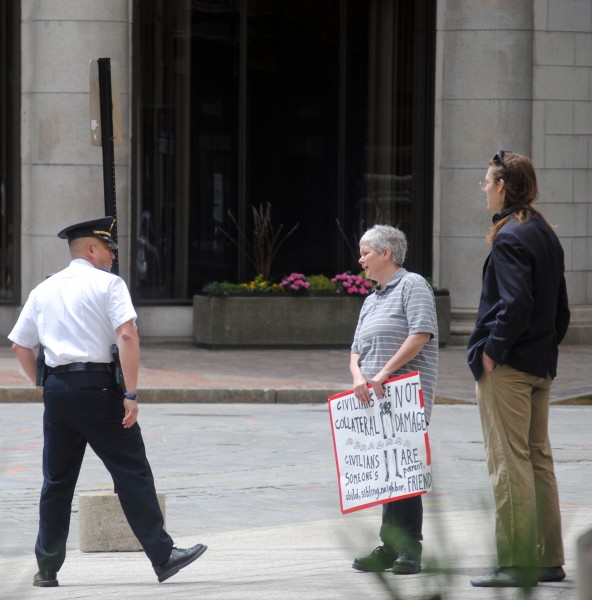 Quakers, radicals, others protest Textron cluster bombs

,