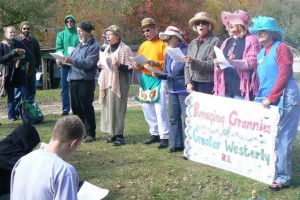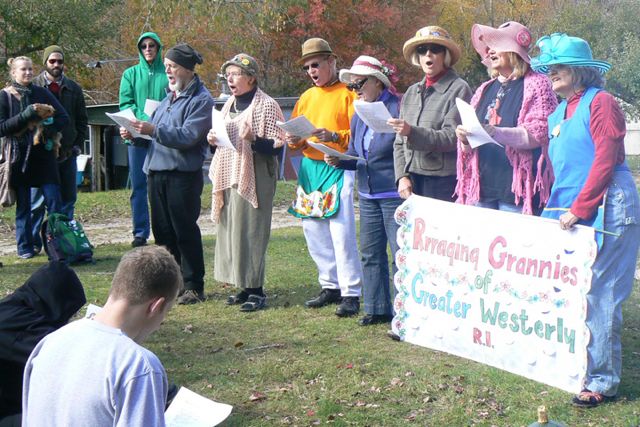 Steve Forbes, a multi-failed candidate for the presidential nomination of the Republican Party, will be hosting a fundraiser for Barry Hinckley's campaign and the Raging Grannies of Greater Westerly will be present at 4:45pm to welcome them.
The event will be at The Ocean House in Watch Hill on Wednesday, August 29.
Mr. Forbes is famous for supporting many proposed reforms of entitlement plans. He has been a time-honored supporter of a program called Trickle-Up Economics, one of the major bipartisan productions that, during the last thirty years, has allowed the rich to appropriate a disproportionate fraction of the wealth of the USA, where the richest 400 people now own more collective wealth than the bottom 150 million.
Mr. Hinckley's candidacy will continue in this tradition of entitlement programs designed to serve the wealthy. For instance, he told the Providence Journal in April of 2011 that he would cut Social Security benefits: "Citing Social Security as an example, [Hinckley] said he would not change benefits for people already collecting, but would change the assumptions for people who are still years away from collecting. 'Future generations that are not in the program have to have their expectations reset. End of story,' he said."
Instead of receiving social security, in the world according to Mr. Hinckley, people will be doing their own private investing. In so doing, they will pay for an entitlement program for unearned income and bonuses of Wall Street bankers.
Mr. Hinckley is also on record supporting plans to turn Medicare into yet another entitlement program for the 1% by transforming Medicare into a voucher system as of 2022. This will leave seniors at the mercy of private insurers. His plans would do for Medicare what has already been accomplished for the health care insurance industry, where 20 cents of every premium dollar goes toward administrative costs and profit, so that only 80 cents is left to pay for actual health care. Medicare, by comparison, currently pays out more than 98 cents of each premium dollar for actual health care. The difference between the current corporate health care system, on the one hand, and Medicare For All, if it existed, on the other, costs every single one of us about $2,000 per year.
The Raging Grannies note that in spite of the already excessive contribution of the People to entitlement programs benefiting the wealthy, Mr. Hinckley and Mr. Forbes plan to hand over more and more of the nation's wealth to their corporate paymasters and their criminal Wall Street friends.