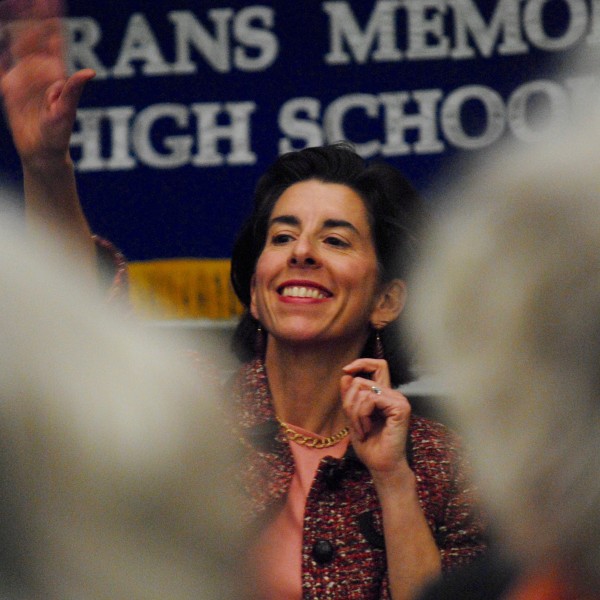 After months of protests, phone calls and civil disobedience from anti-power plant activists and Burrillville residents, Governor Raimondo has scheduled a visit to Burrillville for an open community meeting. The open meeting, which will be held at the Burrillville High School on July 18th from 6-9pm, will focus on Invenergy's proposed fracked-gas and diesel fuel power plant.
"Since the power plant proposal was first announced last August, we have been asking the Governor to come meet with Burrillville residents. We are happy that the Governor has agreed to this and hear from the people who would be most impacted by the power plant project". Kathy Martley who lives a quarter mile from the proposed power plant site.
BASE (Burrillville Against Spectra Expansion), The FANG Collective and others have been targeting the Governor for several months over her support of the plant. The groups have shown up at dozens of the Governor's public events with "Save Burrillville: No New Power Plant" signs and have led multiple call-in days to the Governor's office. On April 19th the groups held a sit-in at the Governor's office where one person was arrested after refusing to leave. One of the demands of the sit-in was that the Governor travel to Burrillville and meet with residents.
But activists say that tone of the visit to Burrillville will largely be dependent on whether the Governor vetoes or signs into law a Bill moving through the State House that would give residents more control of the power plant approval process. The Bill is being championed by Representative Cale Keable and Senator Paul Fogarty, both of Burrillville.
"We want the Governor's visit to Burrillville to be informative but also be a celebration of the Keable/Fogarty bill becoming law. This is the Governor's climate legacy moment. To veto this bill, and take away the voice of Burrillville residents, would forever tarnish her environmental record". Nick Katkevich of the FANG Collective.
The Bill, which would let Burrillville residents vote on any tax agreement made between the power plant company and the town council, passed the House of Representatives 64-7 and is scheduled for second hearing in the Senate Judiciary Committee on Wednesday.
[From a press release]
Governor Raimondo to visit Burrillville, meet with residents to discuss proposed power plant

,