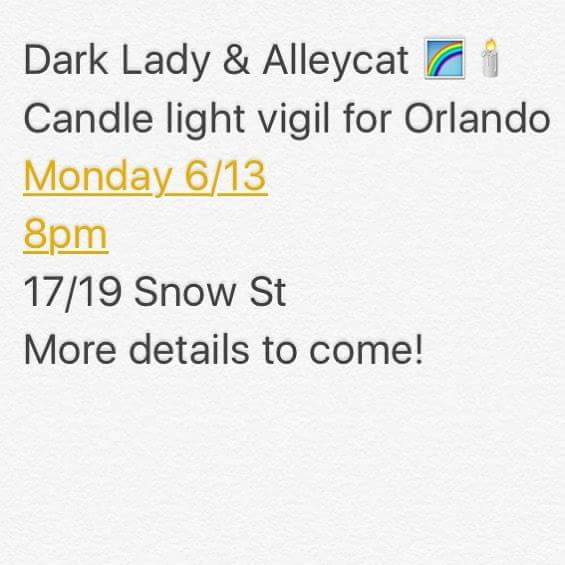 The Dark Lady/Alley Cat are holding a vigil tonight (Monday 8pm).  Folks will gather at 17 Snow St. Providence and as of this writing march to the State House.
"Please join us for a candellight vigil Monday in honor of those lost, injured, families, friends, and community. We will meet between 8:00-8:30pm and walk to the State House. More details will follow please share and feel free to post here. xoxo, The Dark Lady & Alleycat and Stable Family"
---
A Memorial Service for Pulse Massacre is being planned for Tuesday, June 14, from 6-8pm at the Roger Williams National Memorial, 282 North Main Street,  Providence.  Directions: https://www.nps.gov/rowi/planyourvisit/directions.htm
The service is being co-planned by RI Pride, the Religious Coalition for a Violence-Free Rhode Island and others.
Governor Raimondo is scheduled to be at the vigil on Tuesday.
Members of the LGBTQ community, and allies from throughout the state will gather to mourn the dead, remember the wounded in body and spirit, and proclaim our strength, our hope, and our love.
Please join your brothers and sisters, in this important moment.
We are Pulse; we are Orlando; we are Rhode Island.
---
RI Pride statement on Rhode Island PrideFest and Night Parade Safety Concerns
"In the wake of the tragic killings in Orlando, Rhode Island Pride has reviewed its Safety Plan for this weekend's PrideFest and Parade. Prior to this past weekend's tragedy, Rhode Island Pride had already recognized that growing attendance numbers required significant improvements and took steps to supplement our all-volunteer Safety Team with a trained, private security firm, and worked more closely with the Providence Police Department to ensure their police detail were better positioned throughout the event. Our First Aid Station is provided by the RI Disaster Medical Assistance Team and they are fully prepared and trained for any incidents. We are confident that we already had coverage in place that to make our attendees feel safe and secure."Today, Rhode Island Pride representatives met with Providence Police, Rhode Island State Police, the Providence Emergency Management Association, other public safety officials, and our local business owners, to review our safety plan and coordinate our efforts and communication. There will be a significantly increased law enforcement presence at this year's PrideFest and Parade with the RI State Police supplementing the Providence Police, and we have every reason to believe this will be a safe and enjoyable 40th anniversary celebration."For those attending PrideFest and the Parade, we ask that if you see something suspicious, say something immediately to a law enforcement officer or a RI Pride volunteer. Be aware of your surroundings, limit the size of your bags and do not leave them unattended. Most importantly, remember that this is a celebration of our community and the progress that we have made in the past 40 years – we will not let hate and fear send us back to the closet. Be proud!"
---
The Rhode Island State Council of Churches issued the following statement:
"Our nation is reeling in the wake of yet another horrific mass shooting, this time our nation's deadliest. In response to this heinous event that ended at least fifty lives, left many more wounded, and broke hearts worldwide, we, the religious leaders of Rhode Island, call on our communities to pray for healing and wholeness amidst our brokenness. Empowered by our relationship to the Divine, we endeavor to stand up and speak out against all acts of violence."As people of faith, we voice our loving support for the people of Orlando, the LGBTQ community and our Muslim neighbors. The terror that ensued has affected us all and we will not rest until we assure that such terror will not happen again."We are inherently concerned about the increasing violence in our society and we commit to bringing it to an end. Working in solidarity we will move our nation from darkness to light. Together we will bring our communities from despair to hope. We will not give in to fear!"In the face of such hatred and anger, we are called to elevate love. We are called to pursue justice, and we are called to bring about an enduring peace for all people in all places, regardless of faith tradition, ethnicity, gender identity, or sexual orientation."
---
RI celebrates Pride this weekend. Pride will be reviewing security for the event with city and state officials today.
There is also an effort underway to remember the victims of the Pulse shooting by wearing black armbands at Pride this weekend. The following note has been making the rounds on Facebook.
"In response to the hate crime at Pulse Orlando, Rhode Island community members have entered a group in the Pride Parade this Saturday, to remember the victims of hate crimes and celebrate Queer and Trans resilience.
You will recognize us at the staging area by our signs. All are welcome to join. All are also encouraged to make signs.
"This is an apolitical contingent, so please let your signage reflect the theme of remembrance and resilience.
Please note that the night of the attack was Latinx night, and largely attended by People of Color, who are not only disproportionately victims of this attack but of anti-Queer/Trans hate crimes in general. So let your signage reflect themes of intersectionality in addition to remembrance and resilience.
"There will be black arm bands available for everyone, including those who are already committed to other groups but wish to observe in that way."
---
Representative James Langevin issued the following statement:
"We awoke today to another headline about senseless violence, and yet we are astonished and heartbroken once again with news of the worst mass shooting in United States history. We can never understand or explain the hate that drives someone to commit an atrocity such as this. What we need right now is to reach out to those affected and show our support, because while we mourn as a nation, we cannot allow hate to invade our own hearts or minds. America is better than that.
"This is a tragedy beyond comprehension, and I join the chorus of prayers for both the families of the victims and also the injured who continue to suffer. I pray that no more lives are lost in the wake of this attack.
"My heart breaks for Orlando, and for the LGBT community nationwide. We recognize Pride Month in June, and last night's shooting was an attack on the very values for which Pride Month stands. The victims were gathered in what should have been a safe space for them to be true to themselves and celebrate our shared belief that all people should be treated equally, and no one should be subjected to violence or discrimination.
"The details of the case continue to unfold, but I have every confidence that local law enforcement, in conjunction with the FBI, will fully investigate what is believed to be an act of terrorism. As a senior member of the House Committee on Homeland Security, I will monitor the investigation closely and in the coming weeks and months I hope my colleagues will come together and take action to ensure we no longer have to wake to headlines of violence. For now, we pray for Orlando, but prayers alone are not enough."
---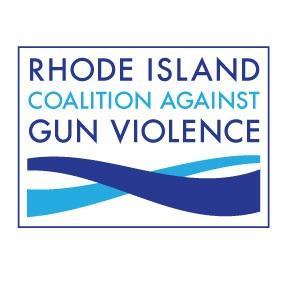 The Rhode Island Coalition Against Gun Violence (RICAGV) has issued the following statement:
"The  tragedy in Orlando, Florida is  just the latest reminder that   access to deadly weapons of war  like  the AR-15 has irreversible consequences. The families and friends of the 103 victims will be forever affected and forever wondering why.  Our lax gun laws  turned hatred into horrific violence in Orlando last night.
"Once again, our Senators and Congressmen send out their tweets, "Our thoughts and prayers are with the families of the victims of this horrendous act in ______________________(fill in the blank).
"The RI Coalition Against Gun Violence is demanding that instead of offering "thoughts and prayers" to the 103 victims of the recent Florida shooting, the general assembly starts voting bills out of committee to make all Rhode Islanders safer.
"Many States including Massachusetts and Connecticut have laws to prevent domestic violence abusers from access to guns. Many States including Massachusetts and Connecticut have banned High capacity magazines. Almost every State including Massachusetts and Connecticut do not allow  concealed carry of firearms on K-12 School property.
"Yet, for 3 years in a row, these bills  are being "held for further study" here in Rhode Island.  You can study your way through law school in three years.
"How much more study do we need to pass common sense legislation to keep guns away from domestic violence abusers (HB 7283, SB2730)? Do we need to wait any longer to ban high capacity magazines over 10 rounds (HB 7199/SB 2835)? Do we need to wait for a tragedy at our K-12 School grounds before we pass HB 7243/ SB 2761)?
"We are urging the Governor, the Speaker and the Senate President to do everything necessary to have these bills voted out of committee.  It is time for the Judiciary Committees to stop hiding behind a pretext of study. In a recent poll, the vast majority of Rhode Islanders said they want a vote.  It is time to respect not only their wishes but their health and safety as well.  We want a vote.
"The Rhode Island Coalition Against Gun Violence is an organization that was created by concerned citizens of Rhode Island. The organization came to be in 2013 after the Rhode Island General Assembly failed to pass common sense gun legislation. We recognize gun violence as a public health issue. Using common sense means and methods, we seek to reduce injuries and deaths from gun violence."
---
Representative David Cicilline's statement on the Pulse Tragedy:
"Like all Rhode Islanders, I am keeping the people of Orlando, the victims, their families and loved ones in my thoughts and prayers today."
"It's outrageous that LGBT Americans continue to be the targets of such horrific hatred and violence in 2016. Don't let anyone tell you that we have full equality in this country. LGBT people are not political wedge issues – we are human beings and we are entitled to full equality under the law. I hope that, in the aftermath of this horrific shooting, our country will move towards greater love and acceptance of all Americans."
"Lastly, it is absolutely infuriating to read reports that this shooter used an assault weapon to murder 50 innocent people and wound 53 more. It just should not be this easy for someone to walk into a gun store and walk out armed with a weapon of war that is designed to kill as many people as quickly as possible."
"As we saw in Charleston last year, lone wolf terrorists are a threat to all of us. We simply cannot continue to live in a country where it's easier to buy an AR-15 than it is to buy cold medicine.
"Access to these weapons is a threat to our public safety, and it's time for Republicans in Congress to come to the table and restore some sanity to our nation's gun laws."
---
Full video and statement from President Barrack Obama on the tragedy here.
---
Senator Jack Reed writes, "This was a horrific attack.  Our condolences go out to the victims and their families, and our thanks to the brave first responders and fellow citizens who did everything they could to help. While investigators are still gathering all the facts, the shooter was clearly a hate-filled individual.  His bigotry has no place in our society.  We are a resilient nation and we stand in solidarity with the LGBT community.  Right now there are more questions than answers, but law enforcement will get to the bottom of this and every federal resource will be made available to ensure they do."
---
Speaker Nicholas Mattiello wrote his first ever tweet about the tragedy, but some took issue with the Speaker, asking him to pass some common sense gun bills out of committee and bring them to the floor for a vote.
GPSJenn wrote, "@RISpeaker thoughts & prayers? That's all you got? U r a lawmaker. Make some laws. Shooter was a wife beater. Pass H7575 to make #RI safer."
His A+ rating from the NRA was noted as well.

---
Governor Gina Raimondo has ordered that all flags be lowered to half-mast "until sunset on June 16, 2016 in honor of the victims of the shooting in Orlando." This is in accordance with President Barrack Obama's national proclamation.
Her full statement:
"In accordance with a Presidential Proclamation, Governor Gina M. Raimondo has ordered U.S. and Rhode Island flags to be flown at half-staff at all state facilities and buildings. The flags will remain at half-staff until sunset on June 16, 2016 in honor of the victims of the shooting in Orlando.
"'We woke up this morning to horrific news – a senseless, cowardly mass shooting in Orlando. It's an act of terror. It's an act of hatred. And it has no place in our communities. Like so many, I feel incredible sadness and outrage,' Raimondo said.
"'Our prayers are with the victims and their loved ones, but we must do more than pray. It is time to take greater action to keep America safe,' Raimondo continued. 'I also want our LGBT brothers and sisters in Rhode Island to know that our hearts are with you – we will redouble our efforts to keep you safe and free from fear, and commit to building a more peaceful, more tolerant society.'
"There are no specific threats in Rhode Island at this time, but the Governor remains in close touch with Colonel O'Donnell of the State Police, and security efforts will be increased around Pride festivities.
"Raimondo also asks Rhode Islanders to lower their flags as a mark of respect."
---
RI Pride's statement on the tragedy in Orlando can be read here.
---
In the wake of the terrible incident at the Orlando nightclub, AIDS Project RI and the Family Services of RI shared some tips:
S.A.F.E.T.Y. tips in a 

Rhode Island Parent Magazine

article written by Family Service of RI's Dr. Susan Erstling. Read the article by clicking

here

.
---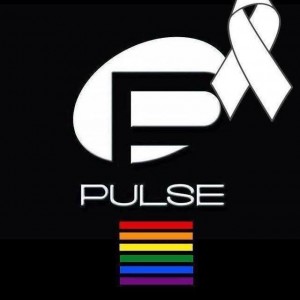 Rhode Island responds to the Pulse tragedy

,