With the opposition to Invenergy's proposed $700 million fracked gas and diesel oil burning power plant intensifying every day, Governor Gina Raimondo might be worrying about the reception she's likely to receive when she visits Burrillville Monday evening. Having visited Burrillville many times myself, and having met and chatted with dozens of residents there, I can safely say that the Governor can expect a strong rebuttal to her support for the plant, but also a courteous and respectful reception.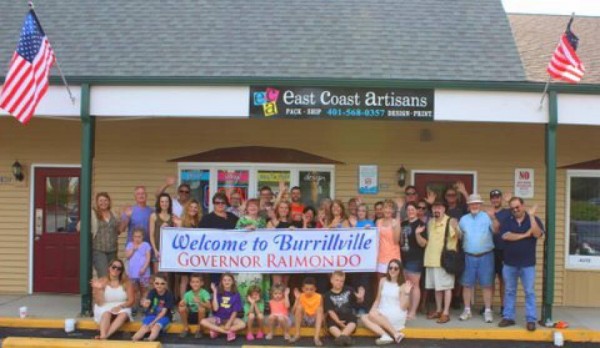 This may be a career defining moment for Governor Raimondo. Does she listen to the concerns of her constituents, or does she cave to the desires of foreign billionaires? She says that the ultimate decision as to whether the plant gets built is in the hands of the Energy Facilities Siting Board (EFSB), but if she drops her support, that will go a long way towards stopping the plant.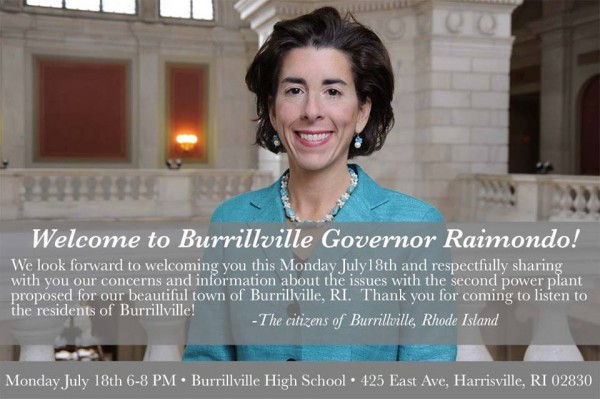 Residents are looking forward to her visit. It's not often that the state's leaders get to Burrillville, especially on an issue of such grave concern. Residents are rolling out the red carpet for her visit. She can expect to be well treated.
The residents of Burrillville have been polite to a fault when dealing with Governor Raimondo. Her invitation, by Kathy Martley from Burrillville Against Spectra Expansion (BASE) was accompanied by a flower and a home made card. When protesters hold signs at her events, they don't attempt to disrupt the event, they simply remind the governor of the public's concern.
This is not to say that Governor Raimondo can expect to charm Burrillvillians into accepting the power plant. The residents there have done their research, and they know that Invenergy has not been honest about the proposed plant's environmental impact or about the need for the plant in the first place. She should expect to be confronted by the recent RIDEM data requests, which accuses Invenergy of submitting an application that contains, "several confusing and conflicting assertions about the purpose and need for the project." She should expect to hear about the research that's been done, the environmental tragedies Burrillville residents have already endured, and a case for saving the world from the ravages of the fossil fuel industry.
But though the meeting is bound to be emotional and the arguments will be made with passion, Burrillville is a town of good people.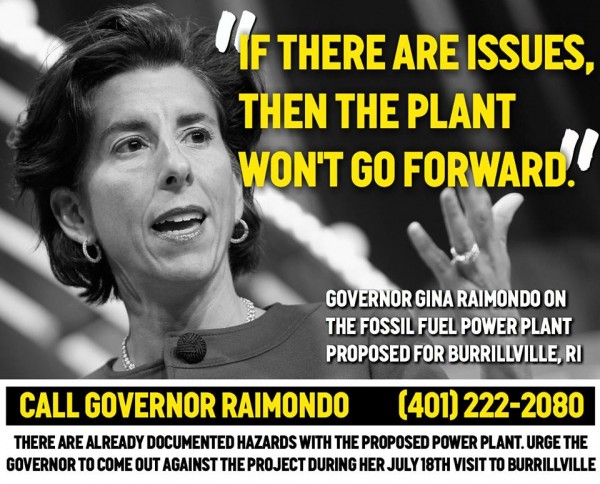 What Governor Raimondo should expect in Burrillville

,