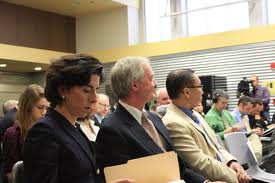 As we predicted yesterday morning, the growing feud between Gov. Chafee and Treasurer Gina Raimondo was indeed Wednesday's narrative – and after Raimondo stoked the fire by disparaging the governor on the Dan Yorke Show, Chafee fired back later in day.
"She's free to be critical but she better be factually accurate," Chafee said at a late afternoon press conference. "On this one she isn't."
Raimondo told Yorke that Chafee should have done a better job overseeing the loan made to 38 Studios. "How has the Governor and his staff in his capacity as chair of the EDC board been monitoring this investment? These problems to the extent they exist with this company have been simmering for a number of months and I think at some point tax payers deserve accountability."
Chafee disagrees with her assessment of the situation.
"This is a really something that occurred in the last few weeks," he said at the press conference. "I asked industry experts that question: could we have done more and they said no no one at EDC is qualified to say whether a game is going to be successful or not to get involved in the creative aspect of a game."
The governor went on to say that Raimondo's energy could be more useful if applied to municipal pension reform.
"I'd really appreciate her help on help with some of these cities and towns issues especially on pensions," he said. "It's in her bailiwick."
It's still unclear why Raimondo hasn't helped more with municipal pension reform, but several mayors feel betrayed by her because they have said she promised to help them with their pension reform efforts if they helped her with state pension reform.
It's also unclear how she knows that 38 Studios has been "simmering for a number of months" as she was very selective in which reporters she would speak with. She went on WPRO and did a sit down with WPRI. But, through a spokesperson, told five journalists waiting outside her office that she didn't have time to speak with them.
It's also unclear why she has inserted herself into the 38 Studios debacle. Ted Nesi reports: "Asked last Monday whether Raimondo's office knew anything about what was happening with the 38 Studios deal, her spokeswoman emphasized that it was an EDC situation and that the treasurer had no involvement."
Raimondo Snips at Chafee; Governor Fires Back

,