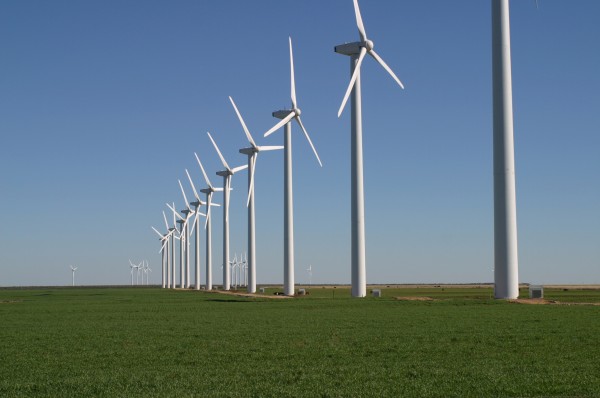 The Governors' Wind Energy Coalition announced that it "will pair its advocacy work for wind with work for solar energy as well" and has changed its name to the Governors' Wind and Solar Energy Coalition (GWSC).
Rhode Island Governor Gina Raimondo, who serves as Vice Chair of the Coalition, said, "I support the foresight of my colleagues to broaden the Coalition's focus and include solar energy development as a policy priority. Wind and solar provide complementary benefits to the U.S. electric grid and will help diversify the country's energy mix. The need for states to take a broader view of renewable power is clear."
Raimondo's support of wind and solar seems at odds with her support for Invenergy's proposed Clear River Energy Center, a fossil fuel power plant slated to be built in Burrillville. John Niland, vice president of business development at Invenergy said in an interview with Ted Nesi that his company is "very keen on renewable energy" but not, apparently for Rhode Island. Is this new embrace of solar and wind power a sign that Raimondo is shifting her position on methane gas?

According to an American Wind Energy Association (AWEA) press release:
"This bipartisan governors' coalition has been highly effective at getting policy results and have helped grow wind energy for nearly a decade," said Tom Kiernan, CEO of the AWEA. "The governors' decision to combine forces with solar energy reflects the economic and environmental value of diversifying our nation's grid with clean, reliable renewable energy."

Technological innovations and performance-based policy continue to help lower wind and solar energy's costs, making both homegrown technologies more affordable than ever. Wind and solar power are important job creators, putting Americans to work in all 50 states.

Wind and solar energy added 61 percent of all new generation capacity in 2015 through November according to SNL Energy. As states make plans to comply with the Environmental Protection Agency's (EPA) Clean Power Plan, the nation's first-ever rule to reduce carbon emissions from existing power plants, zero-emission wind and solar power are expected to continue supplying large amounts new electricity in the years ahead, resulting in numerous consumer and environmental benefits.

American wind power now supplies enough electricity for 19 million American homes after surpassing the 70 gigawatt (GW) mark of installed wind capacity late last year. Wind energy could double to supply 10 percent of the U.S. electricity mix by 2020, and double again to supply 20 percent of U.S. electricity by 2030. It can become one of the largest sources of electricity in the U.S. by supplying 35 percent by 2050. According to the Department of Energy's Wind Vision report, by meeting the 2030 scenario American wind power could support 380,000 well-paying jobs, a number that could grow to 600,000 by 2050.

Emerging opportunities to invest in the rapid growth of the U.S. wind energy industry will be on full display at this year's WINDPOWER 2016 in New Orleans from May 23 – May 26. The event is the Western Hemisphere's largest annual wind power trade show.
Raimondo: States need 'broader view' of renewable power

,