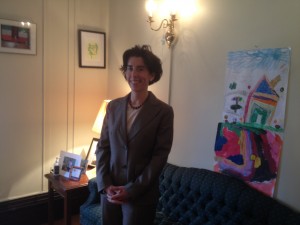 One of the most interesting aspects of the Washington Post op/ed about Gina Raimondo is not that another fiscal conservative has lauded the pension-cutting treasurer for taking benefits away from retirees, it's that Raimondo invoked progressive politics in her defense of balancing Rhode Island's pension problems squarely on the backs of public sector retirees.
"That was my mantra the whole time: Progressives care about public services," she is quoted as saying in the piece.
I certainly don't recall that being Raimondo's mantra the whole time. I recall her mantra being that she had to investigate the actuarial numbers closely before determining a policy proscription, and that she wanted to do what was fair.
Part of the progressive community's mistrust of Raimondo stems from her penchant for tailoring her message to different constituencies. Last year, I witnessed first hand her tell a chamber of commerce crowd in the morning that Rhode Islanders needed them to lobby legislators to cut pensions because Rhode Island had the most unfunded system in the country. Later in the day, she told a union crowd at a Portuguese American Club that fairness was her top concern, and she still didn't know what the reforms would look like.
To that end, I have been requesting an interview since the early spring about how Raimondo's pension efforts fit with her assertion that she is a progressive and still haven't heard back one way or another.
We'd like to hear more about Raimondo's mantra about what progressives care about, and hope she agrees to talk to this organization about that topic.
I also found it interesting that Ted Nesi, who never misses an opportunity to talk up the treasurer, described the author of the piece as being "relentlessly centrist."
This isn't quite Fred Hiatt's reputation. In 2009, Harper's ran a story about Hyatt's attempts to "push the WaPo editorial page to the Neocon right." And in 2010, Media Matters (which, like this website, has a decidedly progressive bent) posted an article titled, "The myth of the 'liberal' Washington Post opinion pages."
Here's how that piece described Hiatt:
Finally, we come to Fred Hiatt, the so-called "traditional liberal in all matters domestic." He's the kind of "traditional liberal" who thinks health care reform is too expensive — all while disregarding liberal reform proposals that would reduce the cost. The kind who distorted Barack Obama's comments while praising John McCain's strongly held "principles" on issues on which McCain had shifted and displayed inconsistency. The kind who allows Will to mislead readers about climate change, over and over again. And Hiatt, of course, opposed a special prosecutor examination of Bush terror practices. (Argue, if you like, that applying the rule of law to government officials is not a domestic matter — but I don't buy it.)

A few of the guest op-eds published by Hiatt are worthy of mention. Last summer, the Post published an op-ed in which Martin Feldstein falsely claimed that Barack Obama supported "a British-style 'single payer' system in which the government owns the hospitals and the doctors are salaried." When the inaccuracy of Feldstein's claim was pointed out by, among others, Jon Chait and Paul Krugman, Hiatt refused to run a correction. Instead, he has rewarded Feldstein by publishing two more of his op-eds attacking "Obamacare," Feldstein's opposition to which may have something to do with his service on the board of directors of pharmaceutical giant Eli Lilly.

Hiatt published two op-eds by Sarah Palin last year, one of which repeated several already-debunked claims about climate change. The Post dragged its feet in running a response to Palin, doing so only after running a Palin letter to the editor.

Last October, Hiatt handed insurance company lobbyist Karen Ignagni op-ed space to tout a deeply-flawed "study" her organization commissioned — a study the Post's news pages had already debunked. In August, Hiatt ran an op-ed defending the "death panels" lie. Last spring, Hiatt published an op-ed by Charles Murray, darling of the "white nationalist" VDARE crowd. And just this month, the Post actually commissioned a column baselessly asserting that liberals are more condescending than conservatives.

It seems the real reason The Washington Times has never been able to make any money may be that its hard-right editorial stance is redundant in a city that already has Fred Hiatt's Washington Post.