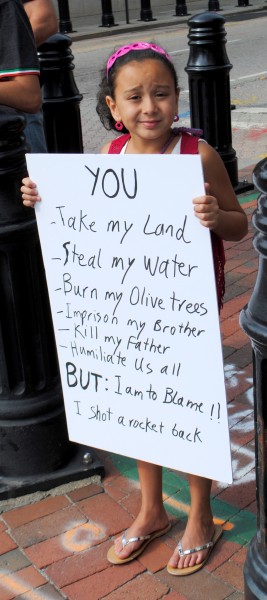 On Friday afternoon Providence joined cities around the world holding a rallies calling for an end to hostilities in Gaza. The local event, outside the Federal building in Downtown, across from Kennedy Plaza, was hosted by the American Friends Service Committee and attended by activists from several local groups, including Occupy Providence and East Bay Citizens for Peace. Those in attendance were against both the war as it is being perpetrated by Israel and the continued funding of Israel's military by the United States.
In a long conversation with Kevin, one of the protesters, we talked about how sad it is that being against war is an unpopular political position. Certainly everyone talks about wanting peace, but how many are committed to disarmament, and the cessation of military sales and preventing the development of new weapons systems?
I maintain that agitating for peace is more courageous than advocating for war.
Members of three other groups were also in attendance: The Providence Police Department, the United States Marshall Service and Homeland Security were all on hand, apparently to make sure that peace activists don't get out of hand and do… peaceful things…
I don't know why so much law enforcement needed to be there, actually.
Another rally is scheduled for next Friday at 4pm.