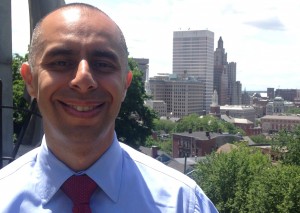 As the Democratic primary for mayor of Providence comes into focus, the Rhode Island Progressive Democrats have endorsed Jorge Elorza over Brett Smiley (and ostensibly Micheal Solomon).
"We believe he is both the most progressive and the most viable candidate in the race," the group said in a press release.
"Of the three candidates, he shows the strongest commitment to progressive tax policy. He is the only candidate to commit on our questionnaire to supporting a repeal of the state's 2006 tax cuts, which led to devastating cuts in municipal aid and an increase in the regressive property and car taxes. (The other candidates were undecided.) He is the most skeptical of the large tax breaks the city hands out to favored developments, and we trust him to take a rigorous approach to evaluating these deals."
You can read their full statement here.
"It's an honor to have the endorsement of such an engaged and thoughtful group of activists," Elorza said. "Our message of 'One Providence' is about focusing on the things that will bring us together and move us forward as a city, and I believe that the Progressive Democrats share those values. We continue to build a coalition in every neighborhood and every community that will push us to victory."
Smiley's press liaison Josh Block said Smiley has been endorsed by many members of the Rhode Island Progressive Democrats, such as Senator Gayle Goldin, Representatives Linda Finn and Edie Ajello, and Margaux Morisseau. "Brett's proud of his progressive background, and he looks forward to turning these values into practical solutions as mayor," Block said.
Meanwhile, Dan McGowan posted to this popular Facebook group he created that Elorza is leading Smiley in campaign cash on hand, too. According to McGowan Elorza has $217,729 and Smiley has $109,661. Solomon leads the four candidates with $526,203 and Republican Daniel Harrop has $130,986. "Buddy Cianci doesn't have to file until Oct. 7," he wrote.
Also today, the Smiley camp has called on Elorza to return a $2,000 donation from Gianfranco Marrocco. Marrocco owns the $3 Bar on Federal Hill that has been plagued by violence recently.
"Jorge Elorza has accepted thousands of dollars, and an endorsement, from Gianfranco Marrocco, a man who has been at the center of multiple incidents of violence in our city and just this week uttered a string of racist comments directed towards Mayor Taveras, said Smiley in an email. "Last Wednesday, I released my 'Good Government Plan' to prevent disproportionate access for people like Gianfranco Marrocco, people who donate to politicians and expect special treatment in return. This type of pay-to-play politics cannot be allowed to continue, and Mr. Elorza is sending the wrong message by cashing Marrocco's checks."
Elorza said he is not opposed to returning the donation. But on one condition: "If Smiley is willing to publicly stand 100% behind everything that every one of his supporters has ever said or done, then I will return Marrocco's contributions."
He also said: "Gianfranco Marrocco's comments about Mayor Taveras were unacceptable and a distraction from the real issue here. The violence on Federal Hill must be stopped and I stand ready to work with all of the business owners to aggressively hold any violators accountable, period. Now, as to Smiley's 'pay to play' accusations, that's just plain ridiculous. He is constantly itching for a fight. We have a race to win and I won't get distracted from communicating our message of One Providence to every neighborhood."
Correction: an earlier version of this post indicated they candidates had raised certain amounts of money. In fact, those numbers indicate how much money they have on hand.