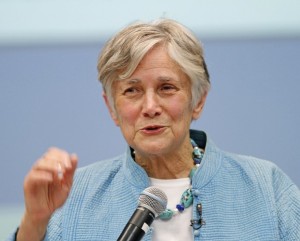 The Providence Journal published a highly misleading op/ed by Deborah Gist, that was discredited here, here, here and here (among some examples). So naturally, ProJo's Politifact team responded by fact checking Gist's biggest and most well-known critic, Diane Ravitch.
Politifact wrote: "Education critic Diane Ravitch said, 'Test scores had gone up steadily for 40 years until No Child Left Behind and Race to the Top.' There are a few problems with her statement. First, the time spans for the scores she cites are 32 and 38 years, not 40. Second, while the scores increased overall, there were a few dips. And for 17-year-olds, the overall increases were insignificant. Finally, despite her implication that the increases stopped after No Child Left Behind, scores actually rose for all age groups in 2008 and for nearly all in 2012, the next two testing periods."
Ravitch, a blogger, wrote a lengthy response today saying that Politifact "misinterpreted what I said or misunderstood what I wrote."
I contend in the book that test scores on the National Assessment of Educational Progress are at a historic high point for white students, black students, Hispanic students, and Asian students. Nothing in his article disputes those facts. It seems that his goal is to defend the high-stakes testing and accountability regime created by George W. Bush's No Child Left Behind law, passed in 2001 and signed into law in 2002.
You can read the whole thing here.
Ravitch responds to ProJo

,