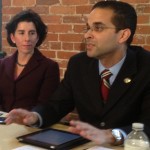 It's all well and good to know who the characters in the 2014 campaign for governor are, but we still need to know the major themes before we can know what the plot might look like.
Here's a list of some of the public policies I hope get a good vetting during the next 12 months.
Wall Street vs. Main Street: Hedge funds, the real estate bubble, municipal bankruptcies and retirement investments … they all speak to what role high finance should play in economic development. Good, bad or indifferent – and I think it is a very good thing – because someone from Head Start and someone from venture capital are running against each other in a Democratic primary, RI will get to see this popular talking point play out in the form of a political campaign.
Tests vs. teachers: High stakes tests will and should be a part of this conversation, but the bigger issue is the achievement gap between affluent suburbs and impoverished urban areas. If NECAP scores demonstrate anything, they show that rich kids are getting a decent public education and poor kids, by and large, are not.
Cuts vs. expenditures: Conservatives will claim we need the lowest tax rates in the region to improve our economy while it remains to be seen if progressives will campaign on making the rich and powerful pay their fair share. Note that these goals aren't necessarily mutually exclusive of each other. RI could, for example, the lower the small business tax rate and eliminate corporate tax expenditures (read: giveaways).  And here's hoping Clay Pell runs on a "tax me" platform!
Legal vs. criminal: There are a host of issues before the General Assembly that will likely spill over into the governor's campaign because of their national implications – think voter ID and pot prohibition. Payday loans will be a particularly interesting one, as both Angel Taveras and Gina Raimondo have worked together on this issue.
What am I forgetting? Let us know in the comments what issues matter most to you this campaign season…