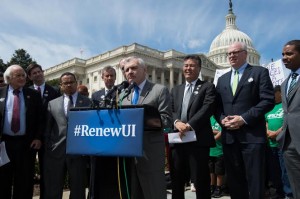 Senator Jack Reed's bill to restore unemployment insurance benefits for thousands of Rhode Islanders and millions of Americans passed his side of Congress on Monday. Now the Reed/Heller bill moves on the less liberal House of Representatives, where it's fate is uncertain.
And Reed is keeping the pressure on.
"Months ago, not many people thought we'd have a bill that would emerge from the U.S. Senate to restore unemployment insurance," Reed said at a press event today. "But something happened.  The voices of the American people were heard in the United States Senate.  They were heard by both Democrats and Republicans and we came together to pass bipartisan, fiscally responsible legislation that will restore benefits to over 2 million Americans."
Reed authored the bill with Republican Dean Heller of Nevada, and it was also cosigned by Senators Collins, Murkowski, Portman and Kirk – all Republicans. It would reauthorize unemployment insurance for as many as 12,000 Rhode Islanders and 2.35 million Americans who have been cut off, according to a press release.
"We need to finish the work," Reed said.  "And now that work is the hands of Sandy Levin, Steny Hoyer, Speaker Pelosi, and others who will help amplify the voices of the American people."
In the House, seven Republicans sent Speaker John Boehner a letter expressing their support for the bill. But still, the AP said, "despite the appeal, the bill's prospects are cloudy at best, given widespread opposition among conservative lawmakers and outside groups and Boehner's unwillingness to allow it to the floor without changes that Republicans say would enhance job creation."
According to Congressman David Cicilline, "the Speaker is the only thing standing in the way of renewing this vital lifeline and instead of blocking this legislation, he should immediately bring it to the floor for a vote," he said in a statement. "I will continue fighting with my Democratic colleagues to force a vote on this critical piece of legislation to ensure Americans receive the support they need in difficult times."
Reed's press secretary Chip Unruh said in an email, "We have facts, figures, and CBO scores on our side: reauthorizing emergency unemployment insurance will help save jobs, it will help improve our economy, it will help restore our nation's fiscal health, and most of all, it will help people.  And the real difference makers in this debate are not stats – they are people. If the House Leadership refuses to address this issue, they will be hearing from their constituents."
Here's today's full press conference. Reed speaks at 8:47.