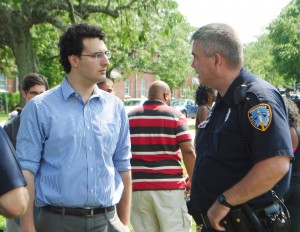 Aaron Regunberg, the progressive candidate to fill Gordon Fox's vacant District 4 House seat, wants to get the negativity out of the campaign.
So he's asked his two opponents to sign what he calls a "Clean Campaign Pledge" which a press release from his campaign says "would require signers to refrain from negative attacks and maintain a high level of honest debate in the race to succeed Gordon Fox."
Regunberg explained in the release: "Everywhere I go in our district, community members are talking about the need for ethics reform and clean elections in Rhode Island, and are fed up with the negative mudslinging that has become too common in politics today. If we believe in open, honest and transparent elections, then let's commit to refrain from engaging in these attacks. I have enjoyed running alongside the other committed, intelligent candidates in the race for State Representative."
So far, one of his two opponents has agreed. Heather Tow-Yick, another young Democrat vying for the District 4 House seat, agreed to sign Regunberg's pledge, according to her spokesman Rob Horowitz.
"Heather Tow-Yick  looks forward to a clean, constructive, but spirited campaign about the major challenges facing the East Side, Providence and Rhode Island and which of the candidates'  real world experience and accomplishments makes them the best prepared to turn progressive values into practical results," he said. "That is a contest we are confident of winning."
Miriam Ross, the third Democrat vying for Fox's former seat, did not respond to an email yesterday.
UPDATE: Ethan Gyles is also running for this seat, as an independent. He reached out on Twitter and said he likes the idea of a clean campaign and would be contacting Regunberg about it.