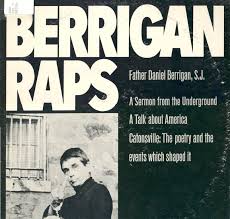 My friend Dan Berrigan – Jesuit priest, poet, and peace activist – died yesterday, April 30, at age 94.  April 30 was, of course, the anniversary of the end of the Vietnam war, a fact that had been much on my mind yesterday.
I first met Dan in September 1969, when he performed the christening of Peter Daniel Mayer, the new-born son of my friend Paul Mayer.  (In fact, Peter Daniel was named for Dan, a close friend of Paul's.)  And the last time I saw Dan was in New York in January 2014 – at Paul Mayer's memorial service:  a sad symmetry.  In between those times, Dan's life and my life intertwined in a number of ways.  Most obviously, we were both involved in draft-file destruction.  But there were other ways, as well.
On January 12, 1971, a grand jury in Harrisburg, PA., handed up an indictment charging several people with a supposed conspiracy to kidnap then-National Security Adviser Henry Kissinger and blow up underground heating tunnels in Washington, DC.  The indictment was big news at the time and appeared on the front page of the New York Times.  The indictment listed Dan as an unindicted co-conspirator; and the bill of particulars specified that I was supposed to have recruited people for the supposed plot.  (Former Attorney General Ramsey Clark represented the defendants, and the jury deadlocked 10-2 in favor of acquittal.)
In 1979, Dan and I did a speaking tour of college campuses together called "Power Plants and Weapons: The Nuclear Connection."  Dan talked about nuclear weapons and I discussed the link between power plants and proliferation of weapons-grade nuclear material.  See here.  Those of you who have been in my office may remember that there is a photo of me and Dan above my desk; that photo was taken during that tour.
Although Dan had been a public figure for close to 50 years, he was seriously misunderstood in at least two important ways.
First, many people did not realize that although Dan was certainly radical politically, he was theologically quite conservative.  While Dan was an outspoken critic of much official U.S. foreign policy, he was not an outspoken critic of Catholic Church policy, theology, or doctrinal teachings.  In the autumn of 1965, when his Jesuit superiors exiled Dan to South America in response to his early criticism of the Vietnam War, Dan meekly went to South America.  Dan's superiors had told Dan what to do, so he just did it.
The Catonsville Nine Action on May 17, 1968 – the action that solidified Dan's public image as a political radical – is an interesting exemplar of the religiously traditional side of Dan.  By no means all the draft board raids were carried out by religious Catholics.  (For example, when I burglarized four draft boards in Providence in June 1970, it was with a group of young, Jewish, recent high school graduates from a predominately Jewish suburb of New York.  When I burglarized six draft boards in Rochester in September 1970, it was with a group of mostly Quaker-leaning agnostics and atheists.)  But the Catonsville Action, in which Dan participated, gave rise to the (incorrect) idea of draft board raids being part of what was widely referred to at the time as "the Catholic Left."  This was because the Catonsville group was entirely made up of observant Catholics, including three priests (Dan, his brother Phil, and Tom Melville), an ex-nun (Marj Melville), and a Christian Brother (David Darst).  Their public statement – that explained why they had acted – said,  "We are Catholic Christians who take the gospel of our faith seriously."
And, most remarkably, fully five out of fifteen paragraphs of that same public statement were quotations from a (then-recent) papal encyclical.
By way of contrast, today it would be almost unthinkable for a group committing radical civil disobedience to explain their action by saying, in effect, "We are doing this because we are Catholics," and then explain further by reciting lengthy portions of a papal encyclical!  But that is exactly what happened at Catonsville.
In a sense, Dan really was an exemplar of a wider phenomenon – a religiously conservative Catholic whose traditional theology led him or her to radical politics.  This is a fair description of much of the broader Catholic Worker movement, including Dorothy Day, Tom Cornell, and Jim Forest.  Of course, if the mainstream Catholic Church operated in greater fidelity to the teachings of Jesus, it, too (like our friends at the Catholic Worker), would be more concerned with ending war and poverty than with opposing condoms and gay marriage.
The second way in which Dan was widely misunderstood is that it was he, not his younger brother Phil, that was often seen as the "leader" of the Catholic Left.  This stands history on its head.  It was Phil who "invented" draft board raids when he (and Tom Lewis, Dave Eberhardt, and Jim Mengel) poured blood on draft files in Baltimore on October 27, 1967.  It was Phil who organized the Catonsville Action (which took place after Phil had been convicted of the Baltimore blood-pouring, but before his sentencing).  Dan had been deeply reluctant to participate in Catonsville, but Phil had successfully cajoled him.
To its credit, the obituary in today's New York Times (on line, not hard copy) gets both of these points mostly right.  What the Times got wrong is this:  "Many faulted him for not criticizing repressive Communist regimes."  In fact, the opposite is true; he had actually leveled unfounded criticism against the post-war government of Vietnam.  Dan was a signer of the notorious public statements in 1977-1979 organized by Joan Baez and Jim Forest accusing Vietnam of widespread human rights violations – including holding hundreds of thousands of political prisoners.  The charges were factually incorrect (and deeply divisive).  Dan even signed Joan's full-page ad in the Times on May 30, 1979.  To his credit,  Dan later tried to undo some of that damage by signing a more factually accurate and nuanced statement about post-war developments in Vietnam that Noam Chomsky, Dave McReynolds, and I organized.

There is a famous photo of Dan that was taken here in Providence on August 12, 1969, outside the Federal Building on Kennedy Plaza.  The picture shows Dan in the custody of two of our local FBI agents, including Tom Lardner (left, in silly hat).  Dan (and Phil) were supposed to have started serving their prison terms for the Catonsville Action in April 1969.  Instead of surrendering, they went underground.  Phil was arrested a few days later (hiding in the closet at a Manhattan church rectory).  But Dan eluded capture for four months.  During that time, he led the FBI on a merry chase, meeting with friends up and down the east coast, appearing in church pulpits to preach, speaking to a crowd of thousands at an anti-war colloquium on the Cornell campus, being interviewed on network television and by a New York Times reporter.  Finally, Dan was arrested visiting his friend Bill Stringfellow on Block Island.  The photo I am describing shows Dan on the mainland after his arrest on Block Island.
Almost exactly a year after Tom Lardner arrested Dan for destroying draft files in Catonsville, Tom arrested me for destroying draft files in Providence.
The second photo that appears in the New York Times obituary (on line) this morning is another famous photo.  It shows Dan and Phil at Catonsville, match in hand, burning draft files.  The same photo appears in my book on page 68.  The difference is the cropping.  The cropping in the Times is the familiar one, showing only the two celebrity priests.  The cropping in my book is the original one, and includes a third priest, Tom Melville.
It is sad to think that Dan is now gone.
Remembering my friend Dan Berrigan

,