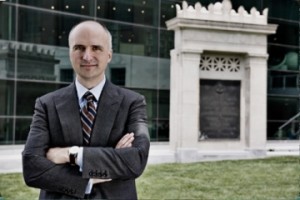 'll admit it. I love Urbanophile blogger Aaron Renn. He never fails to entertain and often makes some good points. But his hit job on Rolling Stone writer Matt Taibbi was profoundly deceptive.
If you clicked on the link or pay close attention to the local news cycle, you probably know I wrote my lede in a way to tease Renn. (Welcome to RI, Aaron!) But also to prove a point. My lede is virtually identical to the lede Wrenn wrote when he tried to discredit Taibbi's blockbuster Rolling Stone article in GoLocalProv yesterday, I just switched Taibbi for Renn and Raimondo for Taibbi! Now, I will systematically discredit Renn's reasoning in the same way he tried to do to Taibbi's.
But before I do, like Renn, I will disclose that I too have worked for an entity with a profound stake in pension politics. While Renn has done some freelance work for the Manhattan Institute and I've done some work for the union-backed cable access show Labor Vision and organized labor sometimes (though not as often as it should!) advertises with RI Future. If you think my previous relationships somehow matter more than Renn's, then either you are trying to influence politics yourself – as me and Renn are clearly doing! – or I would like to invite you to invest in the hedge fund I am starting later this afternoon (full disclosure, you may lose your money)
Here goes:
Renn says Taibbi blames Wall Street for Rhode Island pension cuts and lets Dems off the hook, including Providence Mayor Angel Taveras because he never worked on Wall Street.As a factual matter, this is not why Mayor Taveras does not reap the same treatment as does Raimondo. It's well-known that Taveras cut pensions by sitting down and negotiating with labor while Raimondo fist-pumped at rallies and pushed through severe cuts that union leaders vociferously and publicly opposed. He's just wrong on this point.As far as blaming Wall Street rather than Rhode Island Democrats. Yes, local liberals deserve much fault, and I would love to see a Rolling Stone article or MSNBC segment about how often Ocean State Democrats side with Wall Street interests over local retirees. (I believe we are still the only state in the nation to have a law that guarantees bondholders get paid before retirees.) But again Renn is wrong when he asserts that Taibbi says Wall Street and/or its shibboleths are "responsible" for pension cuts in Rhode Island. Rather Taibbi says they helped fund a campaign to do so and that they benefited from it.
"Where's the evidence," writes Renn. Taibbi "only makes two actual attempts to link Raimondo to a hedge fund plot." There it is, the evidence! Oh wait, only two pieces of evidence. Nevermind. Does journalism critical of Wall Street require at least three? Or just at least one more than the author can dig up?What's even more rich is that Renn does absolutely nothing to discredit the evidence!!First, he offers the ridiculous false equivalent of noting that labor supported Raimondo too, so they must be in on the scam as well. I don't believe Renn believes that. Labor bet that Raimndo could do less damage to their interests than Kerry King – a bet they lost in spectacular fashion, I might add. I'm sure most union members wish they backed Tom Sgouros rather than Raimondo to run for treasurer. Wall Street, on the other hand, I would guess is pretty happy with how it worked out.Secondly, he says Taibbi's evidence falls flat because he "quotes a third party." Not only is quoting a third party more commonly referred to as "sourcing" information in the act of journalism, but Renn doesn't even try to discredit Taibbi's source.
Renn's big picture isn't all that big. In fact, it read like what one might call "innuendo, not evidence.""Taibbi seems to think if the government is spending money on anything he doesn't like, from hedge fund fees to the bone-headed state investment in video game company 38 Studios, then the state cut the pensions specifically to fund those bogus expenditures," he wrote.
My favorite part is when claims that smaller risks are illogical. Vegas should hire Renn as a consultant for roulette players. Though maybe the Manhattan Institute pays better to convince taxpayers to bet big on Wall Street.