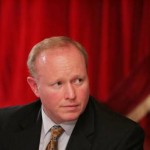 Rep. Paddy O'Neill became one of the most high profile Rhode Island legislators last session when he stuck up for the Ethics Commission instead of House leadership and was subsequently stripped of his committee membership for his actions. He told me yesterday, that he and Gordon Fox met recently and "at least as of [Monday]" are getting along better this year.
He also said bridge tolls need to be addressed more than 38 Studios (we talk a bit about the Newport Bridge toll too); that he hasn't heard from his constituents on voter ID repeal and therefore it won't be a priority for him and – in a sort of rebuke to those who would mock the calamari bill – that Rhode Island needs to embrace its role as a tourism-centric economy.
"We are a tourism, restaurant, beautiful shoreline … that's us, we have to own that," he said.
You can listen to our entire conversation here: