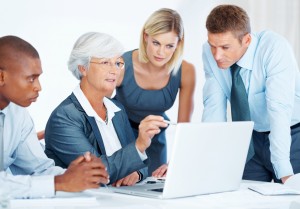 People know that race and gender play a role in keeping otherwise qualified people from getting a good job. But silver hair can also be a discriminating factor in the workplace. Ageism is rampant in America. And it's also bad for business.
A new study from the AARP discredits widespread myths and misconceptions about age 50 and over employees, showing that they have skills and abilities that can make them key to operating a successful business.
"Just as today's 50-plus population is disrupting aging and eroding negative stereotypes, today's 50-plus workforce is adding value by exhibiting traits that are highly sought after in today's economy," said AARP CEO Jo Ann Jenkins in her statement on the releasing the 92 page report. "Leading employers across all industries value the expertise and experience of workers 50+ and know that recruiting, retaining and engaging them will improve their business results."
The report, "A Business Case for Workers Age 50+: A Look at the Value of Experience 2015," says that the argument for employing older employees has grown even stronger during the last decade, reinforcing a 2005 AARP study that found that these experienced workers are highly motivated, productive and even cost effective.
Researchers claim that this study documents for the "first time why attracting and retaining experienced age 50+ workers is critical for businesses seeking an advantage in the labor market."
The AARP report comes at a time when experienced workers are playing an increasing role in America's workplace, research shows. In 2002, workers age 50 and older made up only 24.6 percent of the workforce. By 2012, they were 32.3 percent. By 2022, they are projected to represent 35.4 percent of the nation's total workforce.
The AARP new study addresses a widespread misconception that older workers cost "significantly more" than younger workers. In fact, adding more talented older employees to your workforce can result in only minimal labor cost increases, says the researchers, noting that 90 percent of large employers now base pay in part on job performance, rather than exclusively on length of employment.
In addition, in terms of retirement costs, only 22 percent of large companies now offer a defined benefit pension plan, down significantly from the 68 percent in 2004.
Looking at the 50-plus segment of the workforce from a performance standpoint, AARP and Aon Hewitt say that older workers remain the most engaged age group. The study reports that 65 percent of workers age 55 and oler are considered "engaged" while younger employee engagement averages 58 to 60 percent.
Although the generational differences in engagement might not seem large, "it takes only a five percent increase in engagement to achieve three percent incremental revenue growth," the report finds. This can translate into a large company with $5 billion in revenue achieving a $150 million revenue increase as a result of even a five percent engagement improvement, the study says.
An engaged older workforce can influence and enhance organizational productivity and generate improved business outcomes," says the report. Other advantages of older workers include their job experience, professionalism, strong work ethic, lower turnover, and knowledge.
Contributing to Rhode Island's Economy
"We have noted in the past the relevance of Rhode Island's so-called Longevity Economy," said AARP Rhode Island State Director Kathleen Connell. "Despite being just 36 percent of Rhode Island's population in 2013 (expected to grow to 38 percent by 2040), the total economic contribution of the state's 50-plus population accounted for 46% of Rhode Island's GDP ($24 billion). Now we see another reason to embrace the older population.
Connell notes the "report reinforces the value of older Rhode Islanders as they continue to be a key asset in the workforce. The truth is, that older workers increase labor costs minimally while contributing experience and stability to businesses across the spectrum.
"Many employers in Rhode Island understand this. AARP Rhode Island gets frequent calls from business actively seeking older workers. They know the value and the wisdom they bring to the workplace," says Connell.
But Oak Hill resident Hank Rosenthal, 64, says of his two year job search, after being laid off, he experienced job discrimination. "Having been interviewed by numerous Human Resource professionals, they just seem incapable of understanding that the years of experience someone has gained is an asset. They seem unable to appreciate that knowledge, experience, and even skills acquired over a lifetime can be transferred and used in virtually any organization or business," he says.
Rosenthal, now gainfully employed, views his older contemporaries as being "more stable, reliable, have better work ethics and generally make great employees, in line with the observations of the AARP report. With the difficulty in finding employment he believes that companies have not figured this out yet. "What a terrible waste of human capital," he says.
According to Charles Fogarty, Director of the Division of Elderly Affairs (DEA), the recently released AARP study helps his agency spread this message, "older workers are expected to play a key role in sparking Rhode Island's comeback."
"We support policies and programs to help this crucial segment remain active in the labor force by connecting older workers to services and training," says Fogarty, noting that AARP's study confirms, "our seniors are a valuable asset in our workforce given their wealth of knowledge, ability to mentor younger colleagues, and commitment to hard work."
While older workers may be forced to continuing working to pay their bills, many employees will take jobs for both psychological and social fulfillment. Hiring and retaining older workers may be a simple way for American businesses to maintain their competitiveness in a world economy. The report says that this can easily be accomplished by having "flexible workplaces, options for transitioning to retirement and fostering generational diversity and inclusion." The AARP report is a must read for any CEO or Human Resource Director.
For the full report, go to http://www.aarp.org/research/topics/economics/info-2015/business-case-older-workers.html.
Herb Weiss, LRI '12, is a Pawtucket-based writer who covers aging, health care and medical issues. He can be reached at hweissri@aol.com.