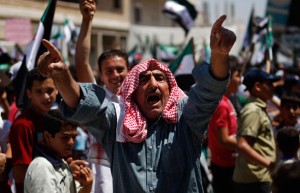 Rhode Islanders are mobilizing against a military intervention in Syria. Many will meet on Thayer Street Saturday for a rally at 1:00 p.m. Others have been contacting our congressional delegation to convince them to vote down the matter. WPRI reports today that Congressman Jim Langevin is still on the fence while Congressman David Cicilline is leaning against it.
Meanwhile, the Rhode Island Progressive Democrats sent this letter to the delegation:
The Rhode Island Chapter of PDA is as horrified as the rest of the world by the recent gas attack in Syria against citizens whose only crime was living in a district associated with opposition to the government.

We also deeply regret President Obama's issuing a 'red line' declaration over President Assad's alleged use of chemical weapons. President Obama now appears trapped by his own rhetoric.

We reject the prospect of a unilateral attack by the armed forces of the United States. Adding to the violence in Syria will not resolve the conflict there.

The only way to resolve the conflict by force is by invoking chapter VII of the United Nations Charter. If agreement cannot be secured for a massive intervention on the part of the entire international community, the intervention would not be effective in any case. Therefore we strongly urge you to vote NO on a unilateral intervention.

Thank you for your time and attention,

Ed Benson

On behalf the Executive committee of RIPDA
In the state, legislature so far only Rep Ray Hull has formally opposed military action, though worth noting I think that House GOP Leader Brian Newberry wrote on Facebook that he is opposed to striking Syria.