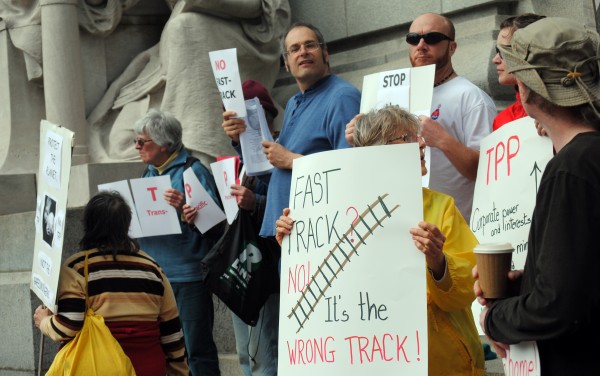 President Barack Obama is aligning with Republicans and corporations while openly bickering with Sen. Elizabeth Warren and is on the opposite side of "most Congressional Democrats" over a potential Trans Pacific Partnership deal.
The president is also largely at odds with Rhode Island's congressional delegation on fast-tracking a potential trade compact with 12 Pacific Rim nations. Of the Ocean State's four elected officials in Congress, three have now spoken out against giving Obama fast track authority. Only Senator Jack Reed is still holding his cards close as the Senate Finance Committee considers granting the president trade promotion authority today.
Senator Sheldon Whitehouse said he opposes fast track authority for the TPP deal, he told RI Future exclusively today.
"It would be a mistake to provide fast-track authority for trade agreements that could further undermine American wages, manufacturing jobs, and our environment," he said in an emailed statement. "We need the opportunity carefully review any proposed trade agreements to ensure we're not repeating the mistakes of past free trade deals."
In February, Whitehouse gave a speech against trade agreements in general on the Senate floor in February, saying: "I start with a state that has been on the losing end of these trade deals. People say that they are going to enforce the environmental and human rights and labor and safety requirements of these agreements. I haven't seen it. And I gotta say I don't like the process very much either. It is secret, we are kept out of it. Who's in it is a lot of really big corporations and the are up to, I think, a lot of no good in a lot of the deals."
Congressman David Cicilline is against it, too. He wrote this op/ed in the Providence Journal last month.
"Any agreement that promotes fast-track trade to advance the Trans-Pacific Partnership without thorough review and Congressional input is a bad deal for Rhode Island workers," he told RI Future yesterday. "Congress should play an important role in making sure trade policies are fair for American workers, businesses, intellectual property holders, and consumers. The fast-track model undercuts oversight of trade agreements and makes it more difficult to protect the interests of working families. We should be working to promote American manufacturing, implement flexible workplace policies that benefit middle-class families, and finally raise the minimum wage so everyone has an opportunity to succeed."
Also yesterday, Congressman Jim Langevin reaffirmed his opposition to a TPP deal. In February he and Cicilline signed onto a letter opposing it and yesterday he emailed this statement to reporters:
"The United States has been working with TPP negotiating partners for more than three years. This agreement could greatly shift global trading patterns and accordingly deserves the highest level of scrutiny to ensure it does not displace U.S. jobs or undermine our country's competitiveness. While I favor expanding global trade, it is important that any free trade agreement places American workers and companies on an enforceable level playing field with foreign trading partners when it comes to labor rights, environmental regulation, intellectual property protection and other critical issues. For that reason, I am opposed to passing Trade Promotion Authority legislation with respect to the TPP.
"Congress has the responsibility to set trade policy, and 'fast track' procedures largely circumvent this important review. There is a better way to make decisions of this magnitude that significantly impact America's place in the global economy, and that must include robust debate and discussion from all partners, including Congress. I will continue to work to ensure that trade agreements protect American workers and consumers and do not undermine America's ability to compete in the global market."
Reed, on the other hand, isn't as vocal, according to spokesman Chip Unruh, who said Rhode Island's senior senator "will take a look at the Finance Committee's proposal, but he wants to ensure any trade agreement benefits Rhode Island consumers, workers, and businesses." Unruh noted Reed rejected such TPA authority in both 2002 and 2007.
According to the Washington Post "most Congressional Democrats are opposed" but Oregon Senator Ron Wyden is pushing for a deal that he says has benefits for liberals.
In March the New York Times reported the "ambitious 12-nation trade accord pushed by President Obama would allow foreign corporations to sue the United States government for actions that undermine their investment "expectations" and hurt their business, according to a classified document." The Nation called the TPP proposal "NAFTA on steroids" in 2012.