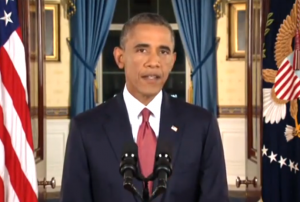 While Rhode Islanders were still celebrating or commiserating their candidate's primary performance earlier this week, President Barack Obama was addressing the nation about his plans to "destroy" ISIS without putting more troops on the ground.
Here's his 15 minute speech:
Taking the nation's temperature, The New York Times reports this headline: "Weary of War, but Favoring Airstrike Plan". It could as easily apply to Rhode Island's congressional delegation.
All four supported additional airstrikes and, for various reasons, agreed more troops on the ground would be counterproductive. Here are each of their full statements.
Senator Jack Reed (senior member of the Senate Armed Services Committee):
"Tonight, the President made a clear, compelling case that denying these terrorists safe havens will require a targeted, smart, and sustained multi-national effort.

"Like many Americans, I am skeptical of deeper military involvement that could lead to an open-ended conflict.  I don't want to see more U.S. combat troops on the ground because I think that is what ISIL wants: to try to bog us down in a bloody and costly fight that helps them recruit more terrorists.  Indigenous forces on the ground are going to have to step up.

"This President's deliberate and thoughtful strategy ensures we will not repeat the mistakes of rushing into ground combat as we did in Iraq in 2003.  Instead, he developed a comprehensive strategy that includes our allies in the region, together with the force of our diplomatic power, intelligence capabilities, and targeted military might."
Congressman David Cicilline (A member of the House Foreign Affairs Committee, Cicilline received a national security briefing from Administration officials on Thursday, before issuing this statement):
"Last night, President Obama addressed the nation and outlined a comprehensive strategy to defeat the terrorist group known as the Islamic State in Iraq and the Levant, including increased U.S. military action in the region and military and technical support for our allies. The President reaffirmed his position that our response will not include U.S. combat troops on the ground and the President made clear he has no plans to do so. I strongly support this position.

"It is clear that ISIL poses a serious threat to U.S. national security interests in the region and has expressly threatened the American homeland, and we must do everything we can to prevent another terrorist attack on American soil. We must also remain vigilant as a nation and ensure we're fully equipped to respond to all threats against America or American personnel. The President laid out a thoughtful strategy to work with Iraqi and Kurdish forces on the ground, as well as a broader international coalition, to defeat this grave danger to U.S. national security interests and regional stability."
Senator Sheldon Whitehouse (Whitehouse visited Syria in January 2013):
"After a decade of war, I share the concerns of many Rhode Islanders about further military engagement, but I also share their alarm over the rising influence of ISIL and their horror over the brutal tactics used by these extremists.  I will continue to oppose the deployment of regular ground troops, but we must take seriously ISIL's ruthless beheading of Americans, its threat to U.S. personnel and facilities in the region, and its ability to capture territory and resources to conduct terrorist attacks.  I believe the plan outlined by the President tonight – to build a coalition of regional partners and work with the newly formed Iraqi government to drive ISIL out of that country – is the right approach.  I also support expanding our efforts to provide military advice and airstrikes, and arming moderate rebels in Syria – a step I first called for after visiting the region early last year.  Syria and ISIL present a complex set of problems to which there are no easy answers, but I believe President Obama is pursuing the best set of options available to us at this time.
Congressman Jim Langevin (senior member of the House Armed Services Committee and the House Permanent Select Committee on Intelligence):
"The threat posed by ISIS demands the world's attention and action. They are the very definition of extremist, and their brutality knows no bounds. They have perpetrated unspeakable acts of violence against innocent people, including women, children and religious minorities who have been targeted for their refusal to adhere to an extreme and dangerous set of principles cloaked in religious sentiment.

"Intelligence officials estimate that thousands of Americans and Europeans have joined ISIS fighters, and these individuals could return home with the intent of doing harm to the United States and our allies.

"This terrorist threat, combined with existing sectarian tensions and an Iraqi government that, until now, has marginalized too many of its people, has created a complex challenge in the region, and it will take a multifaceted, collaborative effort to ultimately defeat ISIS. That approach must include a more inclusive government in Iraq, and I am encouraged by the improvements we are starting to see on that front.

"Like so many of my constituents, I do not want to see the United States embroiled in another ground war in the Middle East. We have learned over the past 13 years from our mistakes in Iraq. But on the eve of September 11, a date so deeply ingrained in the minds and hearts of Americans, we remember where we have been, and can see a clearer path forward. Evil cannot be left unchallenged. I applaud the President's speech tonight as a first step towards addressing this threat, and I appreciate his commitment to working with Congress and keeping the American people informed. Going forward, I expect to hear further details of the timing and scope of the strategy he proposes, and I will continue to exercise rigorous oversight of the military commitment to come.

"The challenges we face are tremendous, but in the face of this adversity, the United States of America is ready to lead a broad coalition of partners in the region and worldwide to address the threat posed by ISIS. And as we face this threat, I continue to be so grateful to the brave men and women of our military. To the service members here and abroad, and to the troops that will join this effort to defeat ISIS, thank you for your tireless commitment to preserving freedom and protecting our country."