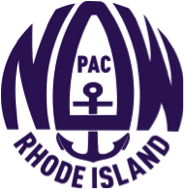 by Amanda Clarke and Melanie Carrazzo
The RI NOW Political Action Committee (RI NOW PAC) announced their endorsements in anticipation of the state primary elections on September, 13 2016.
The RI NOW PAC is excited to have so many candidates committed to improving the lives of women within the state of Rhode Island. Endorsed candidates have pledged their support on the issues of reproductive freedom, economic equality, ending violence against women, constitutional equality, civil rights for all, affirmative action and moving women out of poverty through empowering, non-punitive welfare policies.
"Currently women hold only 31 out of 113 seats in the RI General Assembly. The RI NOW PAC has endorsed 18 women so far in this election and we are thrilled to throw our support behind these candidates to increase gender parity in the General Assembly," said Amanda Clarke, Chair of the RI NOW PAC. "We are also pleased so many men are willing to stand with women and fight for policy change to improve social and economic conditions for women in Rhode Island."
The complete list of RI NOW PAC endorsements is as follows:
Rhode Island State Senate
Gayle Goldin, Senate District 3
Jonathan Hernandez, Senate District 6
Doris De Los Santos, Senate District 7
Matthew Fecteau, Senate District 8
James Seveny, Senate District 11
Dennis Lavallee, Senate District 17
Margaux Morisseau, Senate District 21
Stephen Archambault, Senate District 22
Jeanine Calkin, Senate District 30
Rhode Island House of Representatives
Edith Ajello, House District 1
Christopher Blazejewski, House District 2
Moira Walsh, House District 3
Aaron Regunberg, House District 4
Marcia Ranglin-Vassell, House District 5
Anastasia Williams, House District 9
Joseph Almeida, House District 12
Lisa Scorpio, House District 13
Art Handy, House District 18
Joseph McNamara, House District 19
David Bennett, House District 20
Eileen Naughton, House District 21
Jennifer Siciliano, House District 22
Julie Casimiro, House District 31
Carol Hagan McEntee, House District 33
Teresa Tanzi, House District 34
Kathleen Fogarty, House District 35
Larry Valencia, House District 39
William Deware, House District 54
David Norton, House District 60
Katherine Kazarian, House District 63
Jason Knight, House District 67
Susan Donovan, House District 69
Linda Finn, House District 72
Deborah Ruggiero, House District 74
Lauren Carson, House District 75
Local Races
Sandra Cano, Pawtucket City Council, At-Large
Meghan Kallman, Pawtucket City Council, Ward 5
Suzy Alba, Smithfield Town Council
Jeremy Rix, Warwick City Council, Ward 2
Elena Vasquez, Pawtucket School Committee
*Amanda Clarke is the RI NOW PAC Chair, Melanie Carrazzo is a member of the RI NOW PAC Board