Workers from Rhode Island and Massachusetts visited the Alta Stone Apartments in Melrose, developed and owned by Wood Partners, to demand payment for $34,000 worth of work done on the apartments at 72 Stone Place and 1000 Stone Place between July and October 2014. According to Fuerza Laboral, these workers were employed by a subcontractor hired by Wood Partners. As part of their demonstration workers delivered a "citation" calling on Wood Partners to pay workers their stolen wages.
According to Fuerza Laboral organizer Phoebe Gardener, "When workers formally brought complaints to the subcontractor for their unpaid wages in April 2015, Wood Partners denied all claims. Ten workers have submitted wage theft complaints with the Massachusetts Attorney General's Office. Since the subcontractor has refused to pay and Wood was the ultimate beneficiary of the work performed, workers are holding Wood directly accountable for their unpaid wages."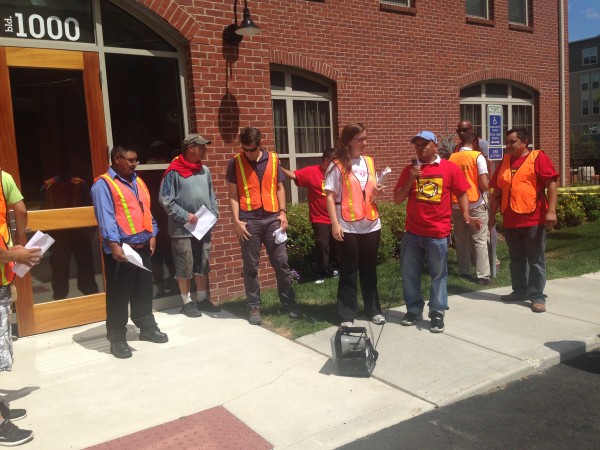 "They owed us money every week and didn't pay us at all the last two weeks of work," said Gianni Batres in a statement. Batres worked as a drywaller at the Alta Stone Place apartments. "This isn't fair for workers. Wood Partners needs to be ultimately responsible for making sure that the workers who are hired by their contractors and subcontractors get paid."
The workers previously demonstrated at the Hanover Development worksite at University Station in Westwood back in April.
Fuerza Laboral, along with sister organization Metrowest Worker Center, the Immigrant Worker Center Collaborative, Massachusetts Community Labor United, the Greater Boston Labor Council and other community and labor partners, "are working in more intentional ways to build campaigns around holding builders responsible for the working conditions of subcontracted workers," says Gardener.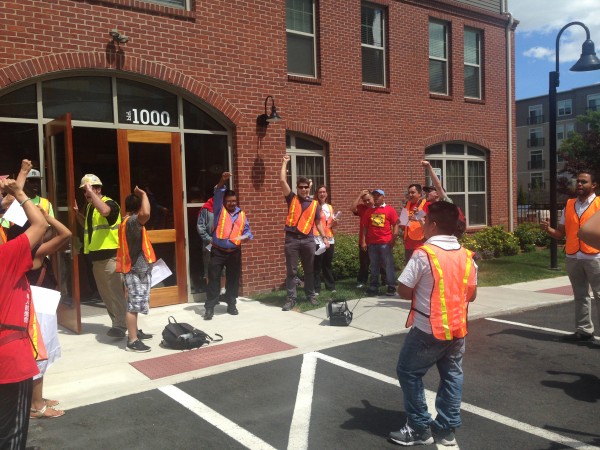 Gardener added that small subcontractors can easily change names or leave the state. Many builders use contractors and subcontractors that are based out of state to begin with, which means workers would have to travel out of state and deal with out of state agencies to recover their wages. Even if the court or the state decides that the subcontractor owes workers money, it can be hard to recover if the subcontractor moves or has no assets. When workers have tried to bring these labor rights violations to the general contractor, they are told that the general contractor is not responsible because the workers are not direct employees.
[This report is compiled from a press release and email correspondence with Phoebe Gardener.]
RI workers to Wood Partners: Pay us our wages!

,