Monday Jan 13, 2013
North Kingstown, RI – Good morning, Ocean State. This is Bob Plain, editor and publisher of the RI Future blog podcasting to you from The Hideaway on the banks of the Mattatuxet River behind the Shady Lea Mill in North Kingstown, Rhode Island.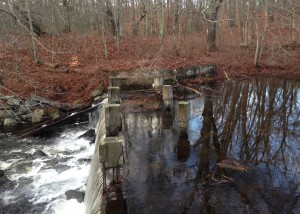 It's Monday, January 13 … and while last week we wondered if Rhode Island was the only state in the nation to have a governor who surfs, this week we'll be wondering if we're the only state to have a gubernatorial hopeful responsible for a traffic fatality.
The Providence Journal reports this morning that in 1989, a 19-year-old Allan Fung, now mayor of Cranston who is running for governor, was arrested for the death of a man after a car accident he caused on Interstate 95. The charges were later dropped. Fung was coming home from college for the weekend and he allegedly lost consciousness, or maybe he fell asleep at the wheel, crossed three lanes of traffic and hit and killed a man who was changing a tire in the breakdown lane.
Wow … what a life-changing event for Mayor Fung. A lot of folks wouldn't have the courage to enter public service after such an experience. I applaud him for telling this story, and more so for being able to move on from it.
That said, Sam Howard penned an important piece about both Republican candidates for governor late last week … both Fung and Barrington millionaire Ken Block agreed to boycott John DePetro and/or WPRO, but quickly abandoned their commitment as soon as the hateful shock jock's month in exile was over.
On NBC 10 News Conference this weekend, we debated the merits of legalizing marijuana. Justin Katz, the ostensibly small government libertarian-leaning conservative, said he's afraid it will lead to a government monopoly over drugs and prostitution. Ironically enough his opposition to marijuana smacks of paranoia.
I can't believe I actually have opportunity to say this, but the ProJo editorial page has a more nuanced and reasonable reason for opposing legalization this morning. They write the legalization could increase use among kids. Experts don't necessarily agree.
In December, East Greenwich school drug counselor Bob Houghtaling joined Jared Moffat and Rebecca McGoldrick of Regulate RI here in the RI Future newsroom to talk about just this topic. Houghtaling thinks it will be easier to teach kids how to make healthy choices about pot if we take a less punative approach.
In other news about potentially progressive legislation this year from the State House … Senate President Teresa Paiva Weed said last week that her chamber will focus on addressing poverty this session as a means to fixing Rhode Island's ailing economy.
And in New Hampshire this week, the talk is about campaign finance reform. Harvard professor and Rootstriker Lawrence Lessig organized, with Demand Progress and Rhode Island's own David Segal, a two week march through the Granite State to get residents to demand presidential candidates take a stand against money dominating politics.
Friend of RI Future Mike McCarthy is there for the entire two weeks and we hope he'll be checking in with us on occassion. In the meantime, here's my interview with McCarthy from Friday … he stopped by the Hideaway to borrow my sleeping bag for his trip. Listen to our conversation about his adventure here.
RIF Radio: Mayor Fung's accident, ProJo on pot, Paiva Weed on poverty, McCarthy marches for campaign finance reform

,