Click here until embed player refreshes.
Thursday Dec 19, 2013
North Kingstown, RI – Good morning, Ocean State. That was local musician Chris Monti kicking off today's podcast. You can hear him live and in person tonight at Nick-a-Nees, so I hope you can check him out.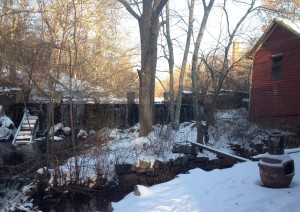 This is Bob Plain, editor and publisher of the RI Future blog podcasting to you from The Hideaway on the banks of the Mattatuxet River behind the Shady Lea Mill in North Kingstown, Rhode Island.
It's Thursday, December 19 … the first day that Gina Raimondo is officially a candidate for governor. The Providence Journal's Kathy Gregg has a great description of Raimondo in her hugely long story this morning:
"To her fans and political contributors, the 5-foot-3-inch Raimondo is the scrappy pension-reformer who saved taxpayers hundreds of millions of dollars annually. To her relentless critics within organized labor, she is the fist-pumping opportunist who used "pension reform" as a guise to enrich her "Wall Street friends" and possibly herself through blind trust holdings in the venture-capital firm she founded."
To me, she's both. A scrappy opportunist who saved taxpayers money by using pension reform to enrich her Wall Street friends.
The only thing the local media enjoys exaggerating more than the need for milk and bread every time it snows is the old saw about the overly-indulgent public sector retiree, most recently evidenced by the mass attention on the ex-fire fighter who was caught lifting weights while collecting a disability pension. Seriously … George Vecchione makes $8 million bucks a year running the local hospitals and good luck finding it in the Providence Journal but a union member makes $40,000 a year and it's stripped across the top of page A1. Not to begrudge – or defend – either of these economic actors, but which one seems to you to be more responsible for the sorry state of our economy?
Only 74 undocumented students have taken advantage of new state policy that allows them to attend state colleges for in-state tuition so long as they went to a local high school. says WPRI reporter and RI Future alum Dan McGowan.
Hey before you enjoy your next hamburger consider what factory farms feed their cows. According to Mother Jones it's an unhealthy diet of corn, soy, drugs, sawdust, candy wrappers and chicken shit. God bless the vegans. Yumm … I'm not saying I don't enjoy the occasional burger, I'm just saying us Americans have gross diets.
The New York Times asks why American schools can't compete with other first world nations around the world. Of the famous Finnish education model, they write it provides "daily hot meals; health and dental services; psychological counseling; and an array of services for families and children in need. None of the services are means tested." Here in America, we have high stakes testing which isn't means tested… See the difference?
Rest in peace, Billy Jack. Tom Laughlin, the man who wrote, directed and starred in the 70's counterculture classic Bill Jack movies died earlier this week. The New York Times called these indie classics, "a low-budget fusion of counterculture piety and martial-arts violence that struck a chord with audiences and became a prototype for independent filmmaking."