By Brandon Simmons, Michelle Devlin, Larissa Gusek, Alessanda Pozzouli, Emily Holtzman, Sabina Kariat and Karen Ko, RISD freshman Sociology students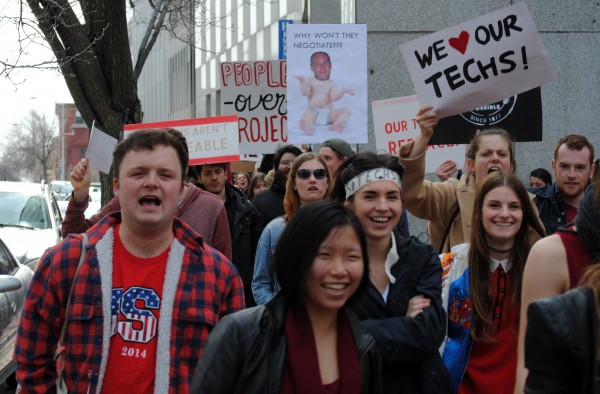 Since the five day long strike came to a resolution on Monday April 6, technicians have had time to reflect on their victory, the events of the past week, and also consider what life at RISD will look like in the future for them. Several technicians, who asked not to be named, described going on strike as a painful experience. Some even cleaned out their offices in preparation for not being able to return. But all agree it was necessary, worthwhile and would have continued for as long as it took in order for fair negotiations to happen.
"There was a wide range of reasons why we all chose to do this," one of them said.
Roots of the strike
The RISD Technical Association is a young union, formed in 2007, with about 44 members and almost half of whom are alumni. They acknowledge that circumstances like these are baby steps toward maturing as union.
"What the strike as an event has done is demonstrate our resolve, our ability to organize and be organized, where the majority of our members do think alike," one technician said.
The technicians had been trying to initiate contract negotiations since May of 2014, and were growing frustrated with the lack of response and the continuous dictation of the administration. This take it or leave it scenario dragged, with the administration stalling in contract negotiations, prolonging information on healthcare, and refusing to divulge contract details in advance, claiming it would be "fiscally irresponsible."
8 percent
When the strike launched and gained momentum throughout the community, the issue of 8 percent pension became "superfluous." Instead what transpired was visibility on the wider, deeper issue of why finances at RISD are so complicated for both employees and for students. And it also became clear that some community members may not be willing to tackle the issue.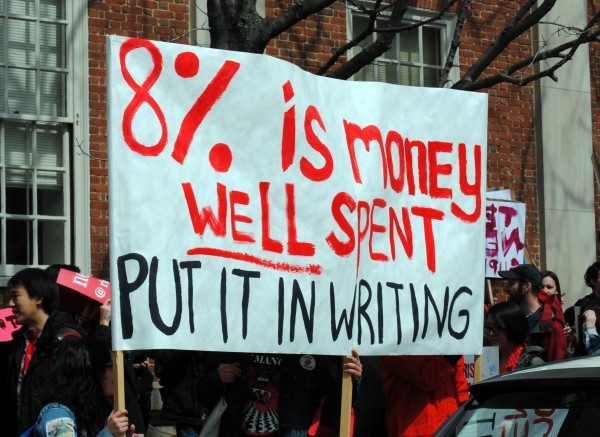 "I wasn't thinking about the 8%," said one technician, "but instead about the end of discrimination, the end of inequality, and the end of fiscal mismanagement And it is time for things to change."
Many technicians are still energized by the rally that took place on Monday, where over 900 people including students, members of the RISD Tech Association, and even representatives from three state unions gathered outside Washington Place march for technician contract negotiations. A group of students carrying signs, donning headbands, and wearing red clothes in support of the technicians circled the building, while another group of students congregated around the entrance to Prov Wash. Some students drove cars around the block, honking continuously along with the Teamsters truck blaring its horns. Every department had representatives from freshmen to graduate students.
'No Stephen, No Digital + Media'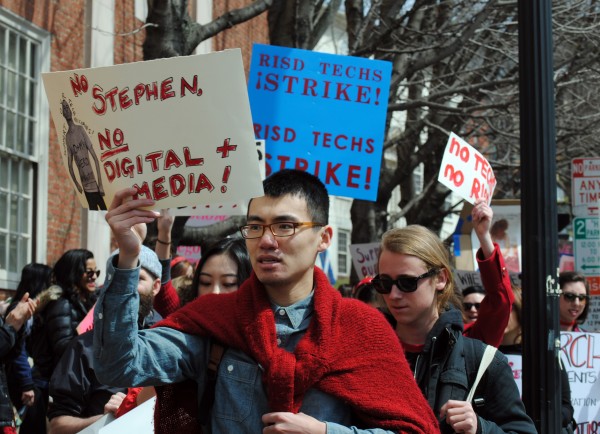 Some of the most striking signs to me were not the biggest nor the most aggressive ones, but the signs that acknowledged technicians by name, such as one that said "No Stephen, No Digital + Media."
Mark Johnston, woodshop technician who has been at RISD for almost 30 years, was deeply moved, calling the rally "priceless', and too unique, too special, and too wonderful" to put a dollar on.
"What was magical was the power of the individual student to be active, ask questions, and have a format," he said. "Those are the memories I will take with me for the rest of my life."
"As a freshman, I have not worked very closely with the technicians yet," said first year student Karen Ko. "However, after having spoken to some of the strikers, half of whom are RISD graduates, and seeing my upperclassmen friends so staunchly support them, I realized that the technicians and students not only should support each other, but that we need to. They supplement our education in an irreplaceable way and represent our futures as working artists. The 900 cheering, chanting students only served to reinforce this belief."
A matter of tactic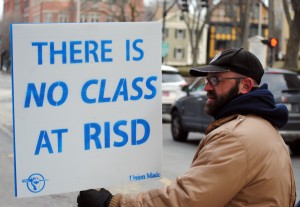 A second small rally in support of RISD Technicians occurred in Market Square outside of the RISD Auditorium on April 4th. People congregated as the speaker's voice grew louder with the tinge of his grievances. While rattling off startling statistics, he asked why his children didn't receive the same amount of college funding as other staff and questioned his own status as a "respected" employee of a private institution.
His tone changed between questions asked by bystanders. He seemed to detest his behavior yet found it necessary to have his voice heard. He felt he wasn't respected for his position in comparison to faculty or administration. Many of the strikers didn't want to strike just to cause trouble for RISD's faculty and students, but in order to assert their requests as employees and to receive what they feel they deserve.
Danika Mitchell
Johnston also commends Danica Mitchell, a RISD-Brown dual degree student and head of Students for Effective Labor Solutions (SELS).
"I don't consider myself an activist," Mitchell said. "I really try to avoid conflict and see both sides of the situation." But she can pinpoint the moment she realized that she wanted to take action."
"I think once their jobs went up online, that was the last straw for me," she said. "I understand that the administration was trying to help out the students and keep the studios running as smoothly as possible, but in my mind and I think in the minds of other students, that was a huge sign of disrespect. Give them a job description that more accurately reflects what they do, which is interfacing a lot with the students. They play a huge role in our education."
SELS, or the Students for Effective Labor Solutions, investigated further to discover the roots of the technicians' contention, and the reason they felt the need to strike.
"There were a few things they wanted that they got, and a few that they didn't get in the end," Mitchell said. "It mostly has to do with tuition remission. For staff it's a lot less than other employees, which at other schools is sometimes not the case. That was a point of contention. Another was the cost of living raise. Everyone got a raise, but the staff's was less. And healthcare costs went up because RISD's restructuring the way they do healthcare. So these were the things that pissed them off in the first place."
The RISD Student Body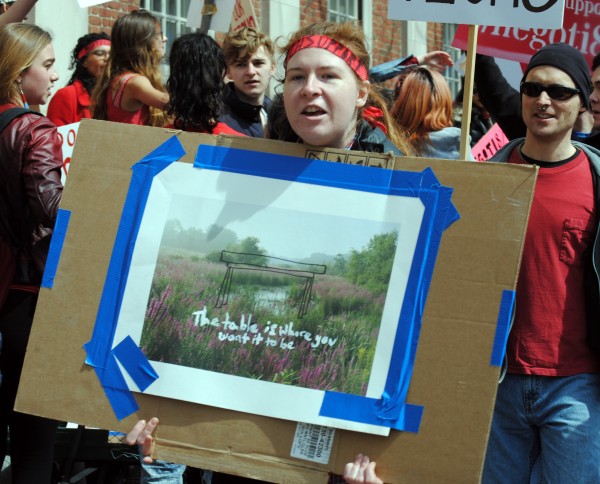 After the strike accelerated and the postings with the technician's job description went up, SELS spread the word throughout the community to initiate the student protest. The administration was aware of the plans for protest before the event, and Mitchell applauded them for allowing the students voice, explaining, "They could have tried to nip it in the butt before it even happened, but allowing the students that empowerment shows a lot of respect for the issue and for the students."
Overall, Mitchell assessed that the situation illustrated a need for a change in the system of large institutions like RISD. She emphasized the need for transparency, increased communication between the students, administration, and staff. She also criticized the system for being too "archaic," tied to the traditional hierarchy of "the whole staff, faculty, part time administrative structure, and the benefits and packages attached to that."
By forcing people to drive to the root of the problem, Mitchell believes that the strike has had a positive effect.
"I think the goal is that RISD can create a model for other institutions to go on," she said. "I know that's a big goal. And President Somerson's email already reflected that. So I think we're already moving forward."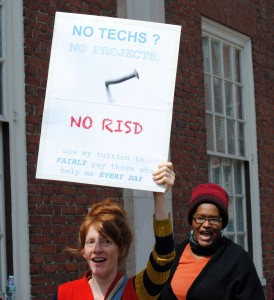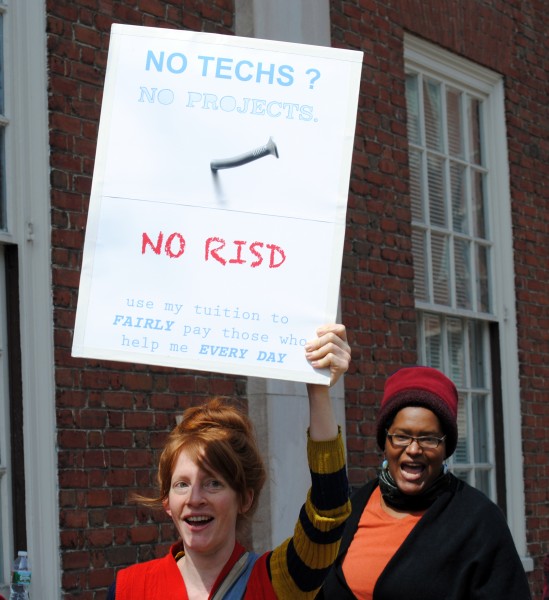 In talking with students, technicians said, one topic that came up repeatedly was the the corporatization of RISD, and of higher education in this country as a whole. Students are actively referred to as "customers" and the type of education offered – including the professors, facilities, etc. – as the "product", which needs to be pitched and sold.
"You have to understand your power as a student and as a consumer", one tech said. "The great thing about this is that essentially, the consumer helped to solve the problem."
The propagation and distribution of information at the school has also been brought into question, with many people passively accepting information from limited sources. The technicians interviewed for this article would like to encourage students to seek information from multiple perspectives and push questions beyond their initial responses, and avoid becoming complacent with the first information they receive.
Another issue brought to light is the fragmentation of unions within the school. Job categorizations prevent different staff members from joining one union, so the unions exist in smaller numbers, preventing larger groups from being formed and represented.
The tech union "will muddle on through," Johnston said. "What will resonate as a result of the strike is that we got justice in the form of accountability. It was about earning dignity and respect, not money or prestige."
Students also point to issues of communications that emerged during the strike, and a perception of bias within them. "The large majority of communication between administrators and students is relayed via email," said first-year Emily Holtzman. "Throughout the strike, we, the students, have been kept informed by the senders of 'the emails.'"
Conscious of who holds these emails, it is obvious that the information would favor the administrative views. These mass emails sent out to anyone with an @risd.edu address in one sweep essentially said a whole lot of nothing with a couple passive aggressive digs sprinkled in and a "stay informed!" tacked on for good measure- as if these faceless email handles could sway our own biases toward the techs, with whom we have meaningful face to face interactions on the daily.
"Of course  we are going to choose the techs' side," Holtzman said. "They help us think through out ideas for assignments and catch us before we mistakenly run drill press through our hand on account of it is midterms and we never actually went to bed the night before. How could the administration top that?"
Another important thing to keep in mind is that the memorandum formed on Monday, ensuring the 8 percent is an amendment to the contract, which is legally binding only until 2017. So in two years, when the contract expires, it vaporizes, and the effort to ensure at least 8 percent may very well start over again.
With the tensions of the strike gone, RISD Staff seems to be less under pressure. The setting now is a stark contrast of what RISD once was prior to the memorandum agreement.
While re-interviewing a RISD staffer, a physical change as well as a spiritual change in his demeanor could be detected.
"We are all – in our personal lives, eclectic lives, are going to have challenges, it's inherent to growth, it's inherent to being a healthy entity – right?," the staffer said. "Because if you don't have them, or you try to push them down, well they're gonna be there. It's how you deal with them that's important. This got too ahead because I think again we're dealing with things that have been existing for quite a while, and from whom I talked to on both sides, I feel like, there's relief that we're in a good place. There's a relief that techs feel love from the students, they feel that everybody knows the work they did and how much they effect students – that's a good thing – because when they feel that that isn't known, then that's not good."
The administration feels that they have been "dealing with things that have been existing for quite a while." Truthfully this issue dates back to when this issue was deeper than the circumstances that we found RISD at now. Partially because of our new president, Rosanne Somerson.
With all honesty the impact that Somerson has had has caused a lot of past corruption to come to surface. Of course after being thrown under the bus, you can slightly hear her frustration through emails relating to the subject. "Sometimes you – as a current administration- you inherit certain things," an administrator wrote. "This is one of those things, and the hope for all of us."