Starting Monday, Beyond Extreme Energy (BXE) will spend the week carrying out creative, non-violent actions throughout the Washington, D.C., area. We'll be targeting the Federal Energy Regulatory Commission (FERC) and the fossil fuel industry whose projects the rogue agency approves.
We'll be at the headquarters of FERC, 888 First St. NE, Washington, D.C., where the agency rubber stamps approvals for interstate fracked gas pipelines, export terminals and other infrastructure that is destroying local communities and super-charging the climate crisis. (Fracked gas is methane, and leaked methane traps 86 times as much heat per molecule as carbon dioxide.)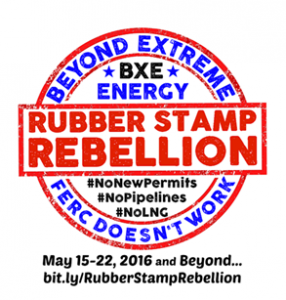 We'll be visiting the four FERC commissioners at their homes to hold them accountable for their decisions, which are made far from the communities affected and with no consideration of the harm from climate change.
In solidarity with frontline communities, we'll also visit the D.C. headquarters of some of the pipeline and gas companies, whose profit-driven arrogance overrides property rights and even a state constitution, as well as the Congressional offices of some elected officials who don't support their constituents' needs to stop the fracked gas build-out.
And, people in 21 frontline communities are holding their own events and have decided to link them to the Rubber Stamp Rebellion in order escalate our collective opposition.
Listen to these voices from the frontlines:
Megan Holleran, New Milford, PA: "The FERC allowed Williams and Cabot to clear over three acres of forest on my family's property without our permission, for the construction of the Constitution Pipeline, which, due to lack of permits, is now unlikely to be built. Irreparable harm was caused to our home and business, prematurely, for absolutely no reason, and that is entirely the FERC's fault. I think it's about time that someone holds the FERC accountable for the decisions it makes. BXE is doing something innovative in forcing the awareness that regulatory agencies are just as responsible and culpable as the corporations for the existence of the current fossil fuel infrastructure and for the future of the industry."
Hattie Nestel, Athol, MA: "Through an extraordinary uprising of grassroots opposition, support from many elected officials and honest, comprehensive news coverage, we stopped Kinder Morgan's N.E.D. (Northeast Energy Direct) pipeline. But FERC recently approved Kinder Morgan's Connecticut Expansion Project, which would tear through our constitutionally protected open space in Otis State Forest. In May, a superior court judge in western Mass. sided with the company, ruling that FERC approval is proof that it has determined the project 'advances the public interest.' So our fight continues."
It's Time For the Rubber Stamp Rebellion
No New Permits! Keep fossil fuels in the ground!
[From a press release by Beyond Extreme Energy]
Rubber Stamp Rebellion targets FERC and the corporations it serves

,