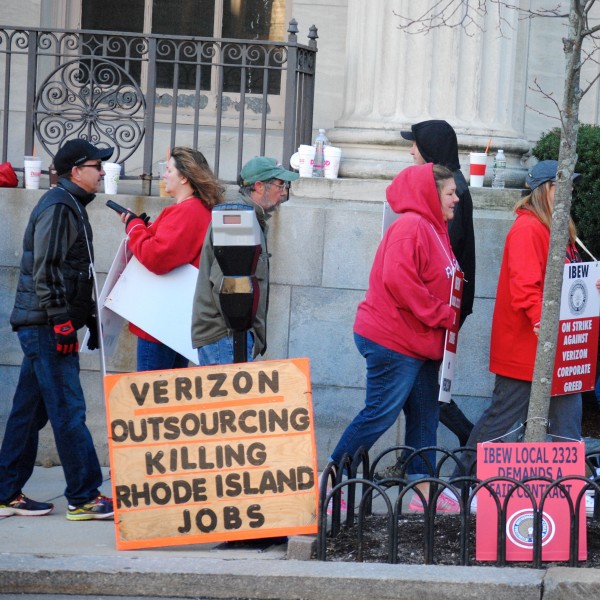 The Sierra Club's ally the Communications Workers of America (CWA) is currently on strike against Verizon and Verizon Wireless (Verizon) in 9 northeast and mid-Atlantic states, including Rhode Island, after contract negotiations broke down. (The other states are MA, NY, NJ, PA, MD, DE, DC and VA). CWA members have been critical allies to the Sierra Club on issues ranging from democracy to trade to climate disruption. Now it is our turn to stand up for them.
While Verizon employees are struggling for fair jobs, communities from Baltimore to Appalachia are struggling to transition to the 21st-century clean energy economy without access to high-speed internet due to Verizon's neglect. This denial of access to an essential tool of the 21st century economy is a prime example of the links between environmental and economic injustice.
Verizon has been raking in billions of dollars of profits every year, yet they are still trying to outsource good union jobs, transfer technicians away from their homes for months at a time, take away employees' health benefits and avoid paying federal income tax. At the same time, they are still refusing to expand their FiOS high-speed internet to low-income and communities of color, despite getting tax breaks and subsidies to do so. To make matters worse, Verizon is refusing to sit down and negotiate a fair contract with its employees.
In negotiations over their union contract, Verizon employees are coming together to fight the outsourcing of their union jobs and to make sure that everyone has access to quality service. If Verizon employees lose this round of contract negotiations, other companies will see that they too can get away with shoddy service, offshoring jobs, contracting out work, and poor treatment of their employees.
We must ensure that our friends and neighbors have jobs that sustain their families and bolsters the economy in Rhode Island. For good jobs and a just transition, Sierra Club stands in solidarity with Verizon workers.
[From a press release]
RI Sierra Club stands with striking Verizon Workers

,