By Randall Rose on March 20, 2018
On Tuesday, net neutrality bills are getting a public hearing at the State House, and it's a good opportunity for members of the public to speak or show support for an effort that could preserve net neutrality in Rhode Island. You can also sign an online petition in support, here. Net neutrality is the excellent […]
Posted in Featured, State House | Tagged net neutrality, State House, verizon | Leave a response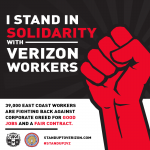 By Andrew Stewart on May 23, 2016
Sunday was a somewhat rainy day but the spirit of solidarity was not dampened as family members and supporters, including General Assembly member Aaron Regunberg and local candidate Jeremy Rix. Noisemakers and even a few costumes were to be found as there was a great deal of spirit within the crowd.
Posted in Labor | Tagged aaron regunberg, CWA, ibew, Jeremy Rix, verizon | Leave a response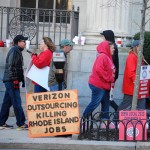 By Steve Ahlquist on May 15, 2016
For good jobs and a just transition, Sierra Club stands in solidarity with Verizon workers.
Posted in Civil Rights, Class Warfare, Climate, Corporate Greed, Energy, Featured, Infrastructure, Labor | Tagged CWA, ibew, IBEW 2323, sierra club, verizon | Leave a response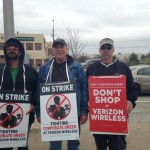 By Andrew Stewart on May 8, 2016
Today on the prompting of Lauren Niedel, the Rhode Island State Representative for the Bernie Sanders campaign, I took a tour of various picket lines featuring striking Verizon workers. The day proved to be very educational in a variety of ways. Over the past few weeks, I have ridden by Verizon pickets on a regular […]
Posted in Activism, Class Warfare, Featured | Tagged verizon | 2 Responses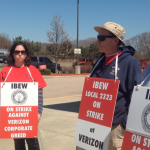 By Bob Plain on April 13, 2016
Almost 40,000 Verizon workers went on strike today, more than 1,000 of them work in Rhode Island. Four of them set up a picket line outside of the Verizon store on Ten Rod Road in North Kingstown. These Verizon employees told me one of their demands is for more high-speed FIOS to be installed in […]
Posted in Economics, Featured, Labor | Tagged Labor, north kingstown, verizon | Leave a response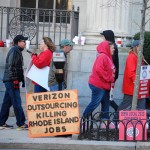 By Steve Ahlquist on April 13, 2016
As reported earlier today by Andrew Stewart, Verizon went on strike this morning, and picketers were out in front of the downtown Providence offices starting at 6am. Here are some pictures.
Posted in Corporate Greed, Labor | Tagged verizon | 1 Response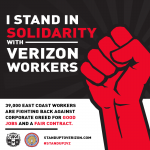 By Andrew Stewart on April 13, 2016
After several months of fruitless negotiations, unionized workers at Verizon have decided to go on strike. Sources indicate that, due to the training of non-union labor over the period of negotiations, this could be a long strike. The Verizon, union stand-off and the future of labor The Verizon, union standoff and the future of customer […]
Posted in Featured, Labor | Tagged verizon | 2 Responses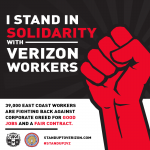 By Andrew Stewart on February 6, 2016
We have reported on issues throughout the past year related to the ongoing contract struggle between management at Verizon and the IBEW and CWA. A source familiar with these matters forwarded us this email from their bargaining unit which we quote in full: Regional Bargaining Report Friday February 5, 2016 As you know from prior […]
Posted in Class Warfare, Labor | Tagged CWA, ibew, verizon | Leave a response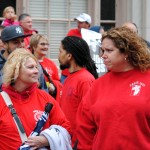 By Andrew Stewart on October 11, 2015
Verizon worker negotiations with the company have come to a major impasse and a strike now seems imminent, says a source close to the situation who asked not to be identified. In an email to members, the IBEW said: "The Business Managers informed us that the company has started the process toward a unilateral imposition […]
Posted in Activism, Corporate Greed, Featured, Labor, National News, News | Tagged CWA, ibew, Labor, strike, verizon | 3 Responses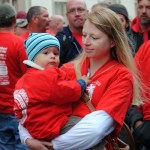 By Steve Ahlquist on October 2, 2015
Even as Verizon demands cuts in job security, health care and retirement security, and even seeks to eliminate benefits for workers injured on the job or caring for a sick family member, the company "made over $18 billion in profits over the last 18 months–$1 billion per month–and paid its top executives $249 million over the last five years."
Posted in Activism, Class Warfare, Corporate Greed, Featured, Labor, Photos, Rhode Island, Video | Tagged CWA, IBEW 2323, James Riley, Matt Taibi, Maureen Martin, Michael Sabitoni, Mike Araujo, RI Jobs with Justice, verizon | 1 Response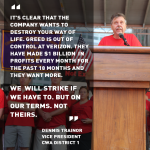 By Andrew Stewart on September 10, 2015
Within the past few years, the issue of privacy in telecommunications has become a major controversy. Following the revelations by Edward Snowden and the WikiLeaks organization, the role of the providers in collaboration with the National Security Agency, Federal Bureau of Investigation, and other law enforcement agencies has become a subject of debate. On August […]
Posted in Business, Corporate Greed, Economics, Featured, Labor, Technology | Tagged customer service, CWA, ibew, Labor, strike, Union, verizon | 1 Response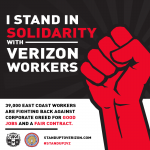 By Andrew Stewart on September 8, 2015
Previously I posted a story regarding the current standoff between the IBEW and CWA with Verizon in regards to its impact on the labor movement. This post will discuss how a strong unionized workforce impacts the customer service of subscribers. The issue of customer service is fundamentally an issue of unionized labor. If the call […]
Posted in Business, Class Warfare, Corporate Greed, Featured, Labor | Tagged customer service, CWA, ibew, Labor, strike, Union, verizon | 7 Responses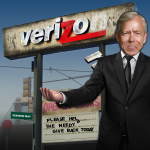 By Andrew Stewart on September 7, 2015
This is the first of a three-part series. Part two deals with customer service and part three deals with privacy issues. On August 1, 2015, the International Brotherhood of Electrical Workers and the Communications Workers of America contract with Verizon expired. However, unlike previous years, they decided to not strike – a move meant to […]
Posted in Activism, Business, Class Warfare, Corporate Greed, Economics, Featured, Labor, Rhode Island | Tagged CWA, ibew, Labor, strike, verizon | 9 Responses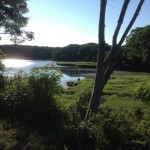 By Bob Plain on September 6, 2012
One has to like not only the name, but also the motivation, of a group backing progressive candidates for State House seats. According to WPRI's Ted Nesi: "People for Rhode Island's Future spent $26,500 this week to support six pro-gay-marriage candidates (David Gorman, Gene Dyszlewski, Lewis Pryeor, Adam Satchell, Laura Pisaturo and Roberto DaSilva) and […]
Posted in Featured | Tagged bill clinton, Elizabeth Warren, marriage equality, ri-can, verizon | 2 Responses